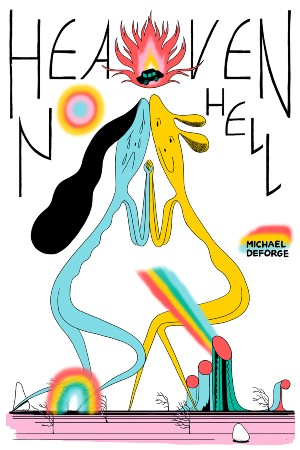 There is always a sense of trepidation mixed with excitement when one approaches anything created by Michael DeForge, like today's review subject Heaven No Hell. This may sound like a mild exaggeration, but that mix of feelings is genuine among long-time followers of his work. Adding to this fascination is the recognition of how far he has come since the anthology Lose first pushed him into the spotlight, a little over a decade ago.
I felt those emotions again a mere page into Heaven No Hell, his latest collection of short stories that somehow, in ways that can't be easily explained, leave us with profound statements on the human condition. The first story featured a character playing the role of a surgeon, apprehended by another character pretending to be a cop, who then laid bare the existence of a whole role-playing subculture. It was intriguing, shocking, and funny, all at once, making me realize just how perfectly formed DeForge's skills as a writer and illustrator are when he brings those two worlds together.
In hindsight, one can see how those elements of surprise were already deeply rooted in his work, even as far back as Lose #4, where shock, body horror, and humour trigger the kind of acute discomfort readers can attest to feeling while reading everything he has created ever since.
These short works function almost like parables, commenting on everything from the shallowness of human interaction to our overwhelming consumerist worldview. The figures populating these stories are always surreal, making them easy to identify as DeForge creations from a mile away, but once one begins to look beyond the blobs and patterns, it is the quality of the writing itself that rises to the surface.
Consider, for instance, 'My New Stepdad Is a Disgusting Bug, and I Hate Him': a tale about a bug's life that somehow manages to capture the loneliness and frustration of adolescence. A bug-like creature tries to cope with the indifference of egg-producing parents, waiting for a sister who will hatch and survive. Everything about this world is bizarre, yet recognisable. In 'My Darling Astronaut', two survivors of a catastrophe hurl through space in a pod that malfunctions, leaving one of them to suffocate alone in the vastness of space. It turns from what sounds like an awkward crush to a ruthless statement on survival. The unnamed narrator slowly justifies her decision to do nothing, while the man she claims to love dies before her eyes. There is no comic quite like it.
Over the course of 17 stories in Heaven No Hell, DeForge manages to shine a light on everything from child-rearing and infidelity to the ephemeral nature of pop culture, the overload of information in our daily lives, and the innumerable choices we are all offered in an increasingly fragmented world. One walks away at the end of it all with the feeling of having been immersed in a warm bath that has offered more discomfort than relief.
What Michael DeForge does is take the familiar and make it strange, compelling us to look at things as if for the first time. In the process, he ends up revealing truths about ourselves we didn't know existed. Some would call that the very purpose of why art matters, and why it needs to exist.
Michael DeForge (W/A) • Drawn & Quarterly, $24.95 CAD/$21.95 USD
Review by Lindsay Pereira