It has been three decades since John Porcellino began sharing his singular view of the world in the form of self-published minicomics. What began as an experiment in tune with the punk aesthetic of the time has evolved, over all these years, into a vision and body of work that continues to push the boundaries of artistic expression.
Drawn & Quarterly have reissued editions of Porcellino's now-legendary work — King-Cat Classix, Map of My Heart, and Perfect Example — and we had a few questions about what this meant for the American cartoonist. Here are his responses…
BROKEN FRONTIER: Looking at popular and small press releases in 1989, when King-Cat appeared, one finds mostly fantasy titles from The Adventures of Bayou Billy and Black Moon Chronicles to the Sandman series. Was your early work a deliberate reaction to what you found in bookstores at the time?
JOHN PORCELLINO: I had drawn comics since I was a little kid but was mostly attracted to the newspaper strips. I only had a handful of comic books as a child — I'm of the age that I would buy them from spinner racks at the train station. So, the world of comic books — superheroes, genre stuff etc. — was never much on my radar. I knew who Superman and Spider-Man were, but mainly through TV. I knew that comic books existed but had no real consistent way of finding them.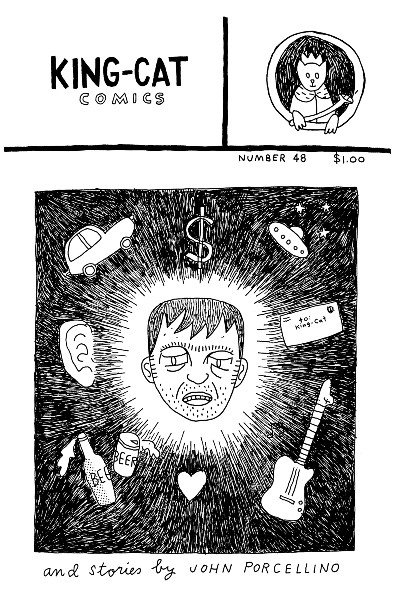 In the mid-80s a friend of mine got into Marvel comics, so I started tagging along with him to the comic shop on New Comics Day. This was the Golden Age of the Direct Market Comic Book Shop, where they stocked everything comics — Big Two stuff, black and white indie boom stuff, European comics, back issues, the first wave of alt-comics from Fantagraphics, etc. So, I read Marvel comics for about a year, along with all the other stuff, but I quickly gravitated to the weirder, more idiosyncratic books out there.
My early comics weren't really a reaction to any of this, they were just me making comics like I always did, only with the benefit of having access to a photocopier, so I could copy them and share them with people. I wanted to make comics that were about real life.
My main inspirations as an adolescent cartoonist were Matt Groening and Lynda Barry, whose work I found in the Chicago Reader, the alternative weekly newspaper, and the Imagists, a loose group of Chicago-based painters.
BROKEN FRONTIER: Reprints always generate mixed feelings. How do you look at Map of My Heart and Perfect Example with the benefit of hindsight, in terms of what you were hoping to achieve? You have admitted to spending years on Perfect Example, going back to it repeatedly until you were happy with the result.
PORCELLINO: When I started King-Cat, I'd been drawing comics for a long time, but without any real direction or focus. I would draw strips here and there for fanzines or literary zines. So, with King-Cat, those early years were really kind of a woodshedding experience for me. I just tried all kinds of stuff to see what worked and what didn't — made lots of mistakes and false starts, and tried to learn from it all.
The story that makes up the bulk of Perfect Example takes place over the summer of 1986. The first time I tried to make art about it was that next fall. I think at first it was a series of paintings. But it never really went anywhere. Perfect Example was a project where I knew it was important to me, but it needed to gestate a long time. Every year or two I'd pull out my notebooks and previous attempts and kind of hack away at it a little more, but then I'd put it away for a while again. By 1996 I felt I'd developed enough as a cartoonist to be able to tackle it properly and dug in… and all of a sudden it started coming together. It took all those attempts and misfires, and lots of time to get to that point where maybe I had enough perspective to finally put it all together.
I'm happy about the reprints. It's always been really important to me as an artist to have my work readily available to people. I write about mostly very small snippets of life. They are all important, and they all kind of stand on their own, but taken as a whole, the more you read, the more time that goes on, the richer the chord gets. The broader the experience gets for both myself and the reader. So, I want people to be able to find the older work easily.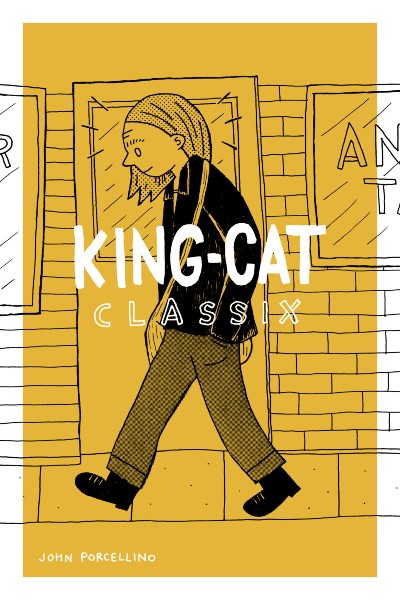 I don't look back at my older work much anymore after it's published. I always just wanted the work to interact with the moment, and then I'd move on. So maybe I could draw the old stories better now, or write more clearly, but I don't cringe or anything at the old stuff. It holds up in its own way and it's all part and parcel of the whole thing. I couldn't be where I am now without it.
BROKEN FRONTIER: A few years ago, D&Q published a book celebrating its twenty-fifth anniversary. An essay by Aaron Cometbus complimenting your work mentioned an episode at a fanzine expo where you reportedly said your parents were ashamed of what you did. Has that changed in the years since that event?
PORCELLINO: My dad wasn't really ashamed of what I did, he just worried about me. He always used to say, "Why can't you just draw some kind of Garfield strip?" He wanted me to have security. Doing a photocopied zine that you sold for $1 or $2 wasn't the way to security. But he also understood why I did what I did the way I did it. He just worried about me in a practical sense.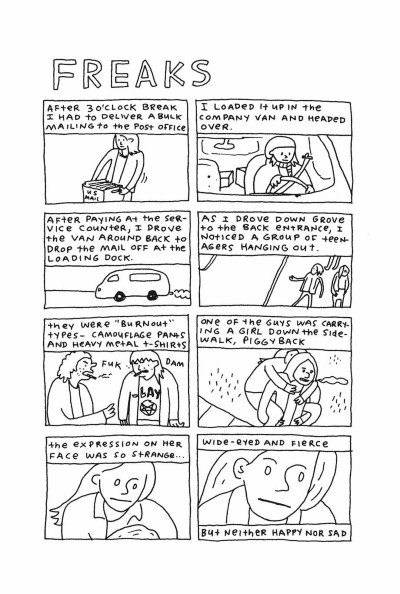 My mom is a very private person, and a very traditional, reclusive Midwesterner. What I do and my way of life is very alien to her. As time has gone on, she has kind of accepted it more.
BROKEN FRONTIER: King-Cat began as minicomics, and I can't help comparing that format to how technology works today, in the sense that everything is now consumed in bite-sized formats. Do you believe shrinking attention spans will have an impact on your chosen medium in the future?
PORCELLINO: Well, if people develop attention spans short enough that they can't or won't read my typical one- or two-page strips, then I'll be in trouble! But I think the people who read my comics have a slightly different approach to things. If anything, I look at my comics and the way I do things as a nice respite from all the internet craziness. I think people appreciate that about it.
BROKEN FRONTIER: There is a strong sense of idealism in your work, that things will work out no matter how bleak the world appears. Would it be fair to call you an optimist?
 PORCELLINO: I'm definitely no optimist. That things will work out no matter how bleak the world appears, to me, is just reality. It could be that it works out into a smoking pile of rubble. If so, I accept that. I think what I've looked for in my life is a way to just live in the world, with all its joy and sorrow, and find peace in that.
BROKEN FRONTIER: I spent some time on your website and found that King-Cat #80 was the latest edition up for sale. Do you have a trajectory in mind for how this comic will evolve in the coming years?
PORCELLINO: From very early on, my intention with King-Cat was that it would be a place for me to explore and share my experience of life. It would be open-ended enough that as I changed, as my life changed, King-Cat could change right alongside it. So, I don't know what's coming, but whatever it is I'll find some way to put it in King-Cat.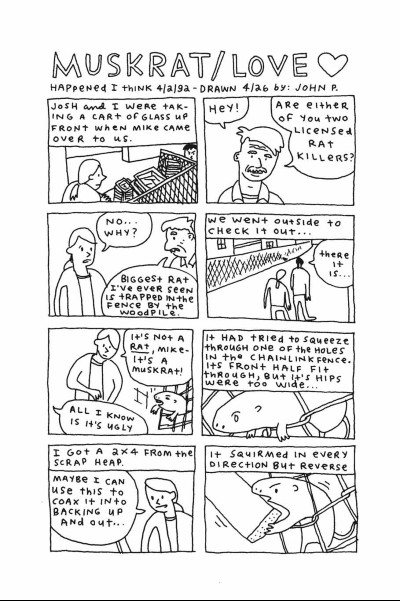 BROKEN FRONTIER: You recently tweeted about William Blake, which prompts me to ask what you are currently reading and if you have any recommendations for the rest of us.
PORCELLINO: I can't really read fiction anymore. I'm trying to read a little Raymond Carver now and then to rekindle that part of my brain. I usually read magazines, or biographies, or history, non-fiction. Lately, I've been too busy to read much. In the last year, I've read biographies of George Jones, and Nick Lowe. I read a lot of Buddhist texts and essays, some poetry here and there.
BROKEN FRONTIER: You have held some unusual jobs in the past. What did you hate the most?
PORCELLINO: Haha. Hate? I worked at a health food store once for five years. It started out as the quintessential hippie health food store. There was a big sign on the wall "Our Pledge to You" — and it listed all the things you would never find in their store. "No Artificial Sweeteners" "No Refined Sugars" "No Hydrogenated Fats" etc. As time went on, and they grew more corporate and profit-driven, they systematically broke all those pledges, one by one. It was just like Animal Farm. Finally, they just painted over it. The management got worse and worse and more diametrically opposed to the original creed of the company, and the staff, until most of the decent people had quit or been forced out. It became a psychotic, super-hostile environment. I still have nightmares about it a couple of times a week.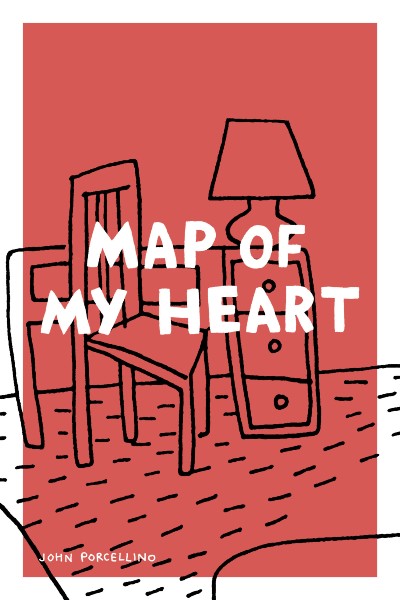 BROKEN FRONTIER: 2020 has been an awful, confusing, challenging year, and things don't seem to be getting any better in 2021. How do you feel, as an artist, about the state we have found ourselves in?
PORCELLINO: As time has gone on, I've felt the urge to retreat a little from the chaos of the world. I'm trying to find a place, a way of life, where I can exist alongside the brutality and stupidity of the modern world without being engulfed by it. Not to ignore the misery of the planet, but to not let it destroy me. My comics are one way for me to do that. What I've been very grateful to see is that a kind of little community of readers has grown up together along with my comics. People who've been following King-Cat for thirty years, and it's become a little part of their lives that they've come to appreciate. That means the world to me. And if I go one direction in the rest of my life it's going to be towards nurturing and supporting that community.
BROKEN FRONTIER: Comics occupy a much more important part of bookstores today than they did when you started. Why do you think audiences finally caught on?
PORCELLINO: Comics are an exceptional medium for sharing stories and information. As a creator, you have the benefit of using both words and text, together and independently. You have text that can be very explicit in its meaning and emphasis, and then you have pictures that can express things beyond words — emotions and transcendent states. So, comics can cover a lot of ground. You also have the benefit that they can easily and cheaply be produced by one person, so there can be a singular vision present in comics that's not as easy to pull off in other media. That makes them very personal and relatable to people.
For more on the work of John Porcellino visit his site here and follow him on Twitter here and on Instagram here. King-Cat Classix, Perfect Example and Map of My Heart are available now published by Drawn & Quarterly. 
Interview by Lindsay Pereira