Writer Si Spencer and his very own artistic fab four of Megan Hetrick, Dean Ormston, Phil Winslade and Tula Lotay achieve new heights in collaborative synergy in this time-jumping whodunit from Vertigo.
It's hard not to feel spoiled when one comes off an extended hiatus to discover a book like Bodies #1 waiting to be reviewed. In his latest mini-series from Vertigo, Si Spencer (The Vinyl Underground, Hellblazer: City of Demons) has dreamt up (literally, it turns out, as his afterword reveals) one of those ideas fans and fellow creators will be jealous of for some time to come.
Four detectives scattered across London's past, present, and future investigate the same brutally murdered body. Founded on an elegantly simple premise, Spencer and his colleagues make working their magic across four different timelines look like a cake walk.
Fusing elements of classic detective fiction, horror, and dystopian sci-fi, Spencer and his crew of artists weave a perfectly tangled web that transports the reader from Victorian London to the Big Smoke of 2050. The trick to laying a solid foundation for such a sprawling tale is a strict adherence to the established structure of the series.
Corralling the four seemingly disparate plotlines into something cogent yet still fluid enough not to get bogged down in extended exposition requires each issue to be separated into four six-page chapters, one for each epoch. Spencer does an admirable job in ensuring that each temporal setting feels different, and sometimes even a little alien, through well-developed characterization and detailed world-building.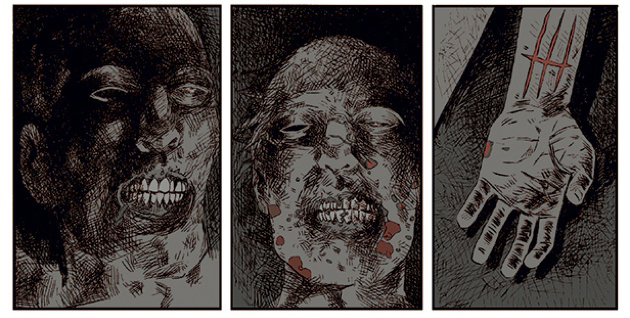 Any one of the four chapters in Bodies #1 could set up its own intriguing mini-series, such is the level of craft at work in this first issue. Each detective stands out as a fully realized and complex protagonist, with their own secrets and motivations.
Similarly, each setting feels truly lived-in and distinct – a most remarkable task considering each one is a version of the same city. In this way, London itself becomes an intrinsic, multi-layered character in its own right, another filter through which to trace the tendrils of Spencer's mystery.
A large part of Bodies' success can be attributed to the artists responsible for realizing Spencer's vision. The fact that the writer was able to persuade four different artists, each with their own strong creative voice, to buy in so fully and completely is a testament to the purity and strength of that vision, and allows each artist to really immerse themselves in their handpicked setting.
Simply put, there isn't a weak chapter in the book.
Original, disturbing, and extremely well-crafted, Bodies #1 is a prime example of experimental storytelling at its finest. In a book that's engrossing and wonderfully unique yet never alienating, Spencer and company take us on one of the summer's most intriguing journeys across time and space.
Si Spencer (W), Dean Ormston, Phil Winslade, Meghan Hetrick, and Tula Lotay (A) • Vertigo Comics, $3.99, July 30, 2014