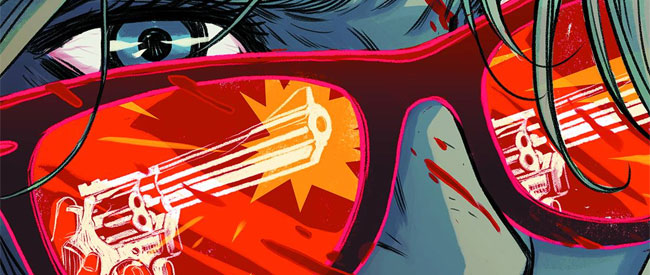 The Kitchen, Vertigo's period crime story set in the edgy environment of late-1970s New York, was one of last week's best received comics. Telling the story of three mob wives who pick up the business when their husbands are sent to prison, the first issue of the eight-part series was a confident and intriguing opener.
While the work of artist Ming Doyle and colourist Jordie Bellaire might have been familiar to readers, the book's emerging author, Ollie Masters, was probably an unknown quantity to most. We had a chat with Ollie to find out a little more about this new voice in the industry.
You'll be a new name to most readers. Why don't you start by telling us: Who is Ollie Masters?
I'm from Brighton, England. I've been writing for a while now but mainly doing short stories in indie anthologies up until now. I'd say my defining feature is that I'm not that great at talking about myself!
Can you tell us a little about how the project came together?
I'd been working on the story for a while, piecing together all these different influences and ideas, when I met Will Dennis (our editor) at a convention in London. We stayed in contact after the con, I pitched him a few stories and The Kitchen was the one he liked.
There are so many avenues for creator-owned comics these days; why did you choose Vertigo?
Well, Vertigo has published some of my favourite comics. I mean, 100 Bullets, Y: The Last Man, Scalped, Sandman, 100%, Preacher, Transmet – these are some of my favourite comics, by some of the greatest creators. To be a part of that is a huge honour.
Also a big part of it was to work with Will Dennis. I've got a huge amount of respect for him as an editor and he's a great guy to work with. He has a way of bringing out the best in people, and it shows in the books he's edited.
The period and setting of the story (1970s New York) are central to the book. What was it about that time and place that attracted you?
It's such an interesting time to write about. Crime was rife and places like Hell's Kitchen had a lawless feel to them. Gangsters were a part of everyday life and it could be a dangerous place to be, but there was also this sense that society was changing. You can hear it reflected in the music that was coming out of NYC at the time.
Also, as a guy from Britain, New York (especially in the 70s) is so iconic. It's somewhere I've seen in films and heard in music my entire life, so for me it has a real mysterious, exciting feel to it.
The first issue introduces a pleasing moral ambiguity. We feel we should be rooting for these women, despite their criminal activity. However, by the end of #1, Kath in particular is becoming intoxicated by her flirtation with 'the dark side'. Without giving too much away, is that ambiguity going to be key part of the book?
Yeah, I think the best crime stories (hell, maybe the best stories in general) need moral ambiguity, and that's definitely going to be a major part of The Kitchen.

Ming Doyle has such an incredible gift for portraiture in her work. Did her visualisation of the characters begin to affect your view of them and their characterisation?
I had a pretty strong idea of who these characters were before Ming got involved in the project, but when she started drawing them, they just came to life. Suddenly I wasn't just writing characters, I was writing these real people that Ming had brought into the world.
It seems unbelievable that until Stray Bullets exploded onto the scene in the 1990s, non-superpowered crime comics were seen as 'box office poison'. What are your essential picks from the crime comics renaissance?
Stray Bullets definitely needs to be on that list. 100 Bullets (which is one of my favourite ever comics), Scalped, Criminal, Jew Gangster and the Parker adaptations would all be my essential picks. I'm sure I'm missing some masterpieces from that list!
With the contributions of Ming Doyle, colourist Jordie Bellaire and cover artist Becky Cloonan, The Kitchen has a distinctive female identity, on and off the page. Given the debate in comics at the moment about the treatment of female characters and creators, was that a goal from the outset? Are you (as a team) consciously trying to reach out to a neglected audience?
Yeah, definitely. I (and I'm sure most people) want comics to be as inclusive as possible, whether that be in readership, characters or in the people who create them. I think things are getting better with female representation in comics. By no means is it perfect, but it feels like it's getting better and I hope it continues.
It must have been quite a learning curve to move from the small press to working for one of the industry's giants. Did anything about the process surprise you?
Getting paid was quite a shock!
I've got a few good friends who already work or have worked for the Big Two, so I had some idea of what I had coming, but it was a nice surprise to know that even when you're working for a big company, it still can have a really creative, supportive environment.
Finally, what else can we expect to see from Ollie Masters in the near future?
I've just had a Sensation Comic Digital First story out in digital and print, so people should go check that out. Other than that, I've got some things in the pipeline but nothing I can talk about yet.