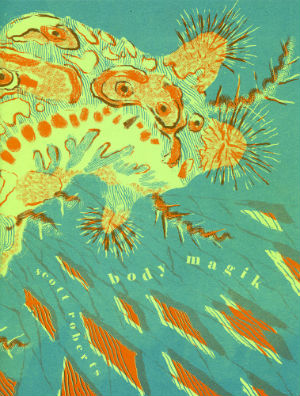 A look at the comics of Scott Roberts has been long overdue here in 'Small Pressganged'. Roberts is an artist whose practice both experiments with and interrogates the possibilities of the form, and one whose work invites us not just to engage with its themes but also to think about how we, as readers, interact with and interpret the very structure of his pages.
Body Magik, a risographed card stock comic published through his Ubutopia imprint, focuses on "the future of personal body identity" and follows a small group of friends as they make use of a new app that reads their subconscious desires to 3D print their ideal body into their DNA.
From the outset, with its vivid two-colour presentation and near abstract construction, Body Magik has an almost hallucinatory quality as we are asked to extract the sequential from the dizzying procession of busy imagery; Roberts' twisting and turning lettering, often embedded within the composition of each illustration, only adding to that hypnotically disorienting effect. The comic's chronological setting is nebulous, and relatively unimportant thematically, but appears to be the near future ("Chicago City, later" is the opening caption). Roberts gives us a world of fantastic technological developments that are nevertheless logically extrapolated from our own.
As the group play with the app the changes it makes – which range from the mythical to the representational in their realisation – will prove revelatory and in some cases surprising, emphasising not simply how the friends perceive themselves but also how they feel they should be perceived. For some it will mirror their own inner desires while for others it will reflect what they want or need others to see. From the symbiotic to the deeply hidden, each change asks profound questions about identity and self-perception, about whether form is defined by self or vice versa, and about the complex links between physicality, personality and how we envision ourselves.
The true power of Body Magik though is that in just 24 pages Roberts throws up so many philosophical posers for his audience to consider on an immediate level and in a minimal narrative space, and in so doing ensures we connect intimately with these characters on their differing journeys of self-discovery. It's a quietly thoughtful convergence of social relevance and more metaphysical issues of identity, made all the more pertinent for the symbolism of Roberts' art. The contrast between the high tech environment the characters exist in and Roberts' figurative, organic and dreamlike visuals feeling paradoxically complementary in tone. Consider this an excellent initial entry point to Scott Roberts' appoach to the form because I'll be returning to his work in the not too distant future here at BF.
For more on the work of Scott Roberts visit his site here and follow him on Twitter and Instagram. You can find his online store here. 
For regular updates on all things small press follow Andy Oliver on Twitter here.
Review by Andy Oliver