Initiatives that champion diverse and emerging talent will always take precedence at Broken Frontier so we're delighted today to be the first site to bring you the details of BHP Comics' new shared universe 'Bold Universe Collection'. The four issues – Storm Hunter, Principle, The Losers' Club and Agents of MI7 – can be pre-ordered on the BHP site or backed in an upcoming Kickstarter campaign. More details and cover reveals in the press release below!
BHP Comics announces new collection for 2022
The collection introduces the first British south-Asian superhero
BHP is proud to present the Bold Universe Collection; a new range of 'one-shot' comics available for pre-order on Kickstarter on 2 March 2022.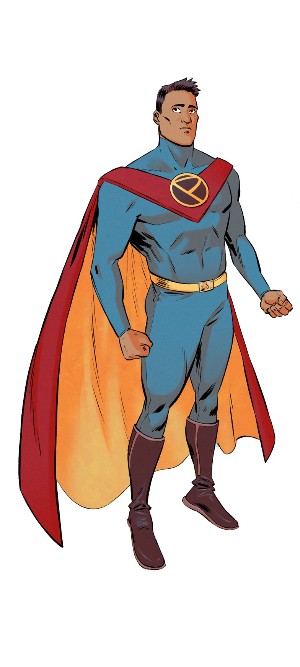 The collection has four separate comics, each jam-packed with adventure and their own diverse cast of exciting new characters. Readers can enjoy each comic on its own, but when combined, the four comics create a subtle overarching story that explores the dynamics and consequences of power.
Project co-director Gary Chudleigh said, "I'm immensely proud of these titles. We have poured a year's work into their conception and production, resulting in a collection of rich stories with three-dimensional, dynamic characters. These titles can easily stand side-by-side with the bigger publishers on the market."
The comics will be available to pre-order on the BHP website as well as Kickstarter from 2 March 2022. Pre-order rewards include retro corner box branding alternative covers, a 40-page A-Z guide of the Bold Universe characters, guest art prints, and much more. Backers who pre-order the comics will get their copies in April 2022, a whole three months before the collection reaches comic stores in August 2022.
The Bold Universe Collection was made possible with funding from Creative Scotland. As part of the project, BHP hired diverse emerging talent to create the comics, including people from Scotland, England and Spain. The hiring followed an extensive scouting process and call for submissions, and hundreds of portfolios were reviewed to find the right people for each title. The emerging talent are undergoing mentorship by the project directors, Sha Nazir (BHP Publisher) and Gary Chudleigh (BHP Creative Producer), to help develop their careers.
Project founder, co-director and BHP Publisher Sha Nazir said, "The world is diverse, comic readers are diverse, and we need to reflect that in our production team and in our stories. I'm delighted that we have gotten the chance to highlight these emerging creators and thrilled with what they've accomplished. Together, we have created brilliant contemporary comics that will launch our emerging talents' careers."
About the Books
1. STORM HUNTER
Written by Gary Chudleigh with Lorna King
Art by Kat Hall
Letters by Hassan Otsmane-Elhaou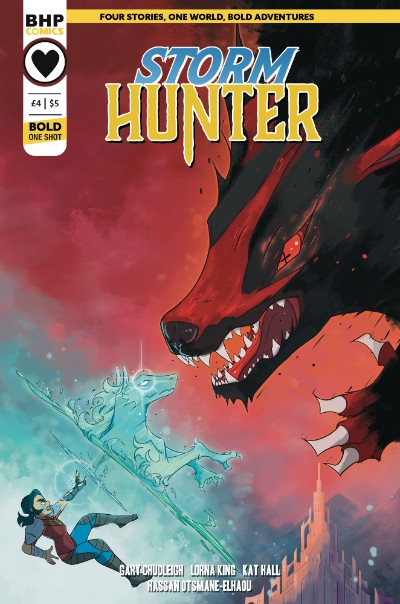 Storm Hunters protect their mythical Scottish realm, Scotia, using the power of ancient creatures to fight the Dochrach – evil beasts that reach the size of mountains.
But Storm Hunters fight no more. Centuries have passed with no incident. The Dochrach are thought long dead. But in their place a threat closer to home has emerged.
Trainee Storm Hunter Isla Barran's sister Hilda goes missing. And the violent rulers of Scotia's kingdom, who hate Isla's kind, are suspect number one. Isla foregoes her sacred duty in order to save Hilda. But she finds herself entangled in an active rebellion at Scotia's kingdom. And to make matters worse, dark magics are in play and the Dochrach may return once more…
2. PRINCIPLE
Written by Umar Ditta
Art by Robin Richardson
Letters by Hassan Otsmane-Elhaou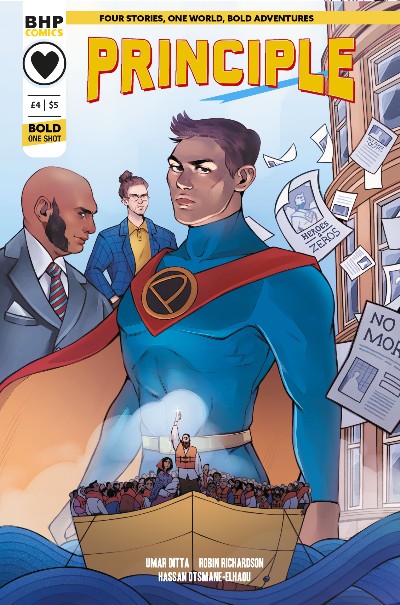 Principle – an immigrant who became the UK government's top superhero – lives a comfortable life.
After fleeing his country devastated by superpowered wars decades ago, he and his family have swapped terror for safety.
But more people are mysteriously becoming powered. And a small number of them are becoming villains and heroes, sparking more oversea wars and more refugee crises, which the UK Government is ignoring.
Principle now finds himself torn between overseas injustice and domestic threats, and his comfortable life is heading for disaster.
3. THE LOSERS' CLUB
Written by Tara Mallen
Art by Chris Stefanova
Letters by Hassan Otsmane-Elhaou
Jamie's the new kid in school. They've come to Hope Hill – a small Scottish town with a big secret – in search of answers.
Here they meet the Losers' Club – superhero sidekicks in hiding. Ever since powered people were declared illegal, superheroes, supervillains and people with powers just trying to live normal lives, have been captured or are on the run.
Jamie's arrival brings friendship and revelations that will put them all in danger. Buckle up, kids.
Things are going to get bumpy.
4. AGENTS OF MI7
Written by Kumail Rizvi
Art by Daniel Coloma
Letters by Hassan Otsmane-Elhaou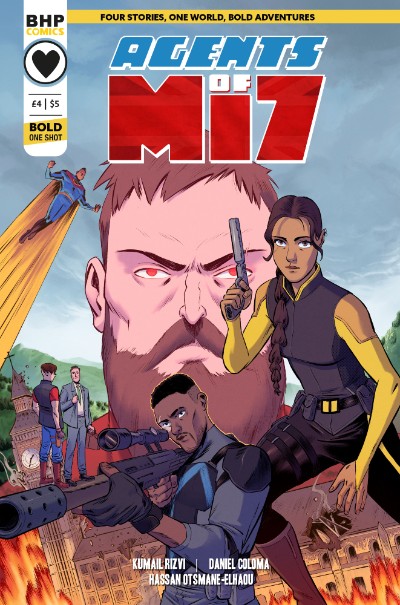 All superheroes are locked up. And a god-like supervillain, Magna Malus, is free to operate unopposed.
With intel that he was amassing power to overthrow the UK government, Government ministers resurrected MI7 to investigate the threat.
But time is running out. Malus has launched his attack and there's only hours before the UK is under his rule.
An MI7 special-ops squad now must go on an urgent mission to rescue the only superhero who could stop him before it's too late.