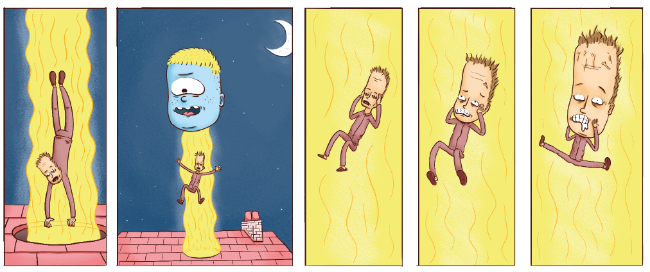 ELCAF WEEK!
When I last reviewed Todd Oliver's Boxes series I was particularly taken by the slapstick body horror on show – that cringingly funny and deliciously gross procession of bleak brutality that he inflicted on the characters in its pages.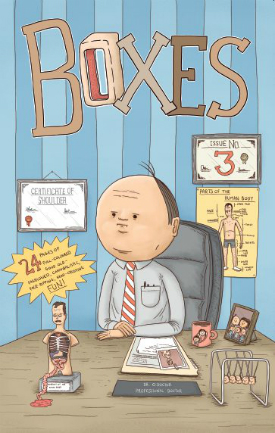 Since then Oliver has produced two more issues of Boxes, the third of which will debut at ELCAF this weekend. The series continues in much the same explicitly cartoony vein as the artist continues to mine a comedic seam which shows no sign yet that it is in any danger of being exhausted in terms of either inventiveness or wit.
Across these two issues we witness precocious aliens imaginatively inflicting horrifying consequences on their human playthings, inadvertent human on human consumption, extreme piercings, farmyard animals who embrace the rituals of the abattoir and an unfortunate soul who sees himself anthropomorphically reincarnated in every object he comes into contact with.
It's all dark and disturbing in delivery but somehow oddly whimsical at the same time. Perhaps it's the constant repetition of comedic carnage or the twisting turns of Oliver's pacing that rarely take us to the visual punchline we were expecting, but there's something strangely enticing about the humour of Boxes that belies its often rather caustic wit.
Oliver is never better than when he's playing with the boundaries of the form with a metatextual flourish. 'Perspected' in #3 (below) follows the misadventures of a character who suddenly realises he can affect reality when perspective within the panels of his strip suddenly stops having meaning. Oliver is also now capitalising on the running gag to great effect with recurring characters like The Accidental Cannibal and Worm Man, and continuing stories across issues that look set to run and run with playful takes on the same set-up.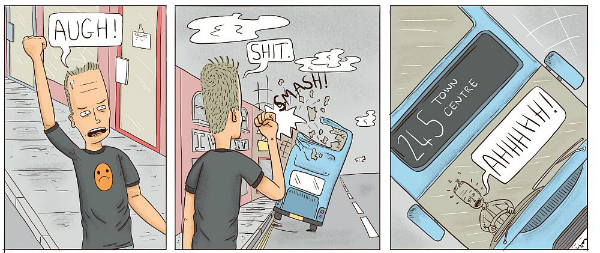 There's nothing especially profound about Boxes – despite occasional forays into vague social commentary – but it is a wickedly funny read and far, far more sophisticated in panel to panel storytelling terms than initially appears to be the case. Todd Oliver has a dexterous and fertile imagination that is quite unlike that of any creator I have ever covered in this column. Three issues in and this uncompromising fever dream of a comic continues to gleefully appeal, appal and entertain in equal measure. Another book that should be on everyone's ELCAF lists this weekend!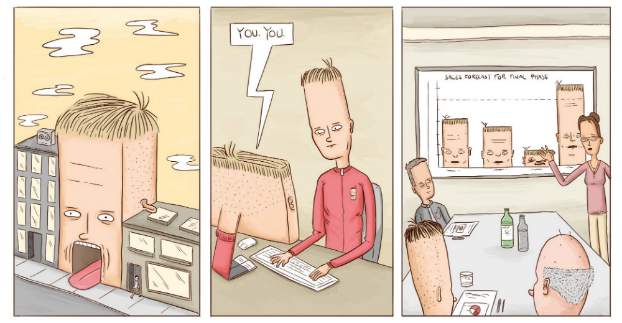 Follow Todd Oliver on Twitter here and purchase Boxes from his online store here. Boxes/Todd Oliver will be at ELCAF this Friday only at Table 1. 
For regular updates on all things small press follow Andy Oliver on Twitter here.
Todd Oliver will also be a guest at the Gosh! Comics and Broken Frontier Drink and Draw on Tuesday June 20th for a post-ELCAF evening of comics socialising. Full details here.