Infused with Norse mythology and served up with a healthy dose of viscera, Bunn and Jones' ongoing saga of their undead Viking warrior is a sweet draught that will quench your thirst for bloody, high-paced action-adventure.
Quite possibly the busiest man in comics today, with books published by Marvel, DC, Dynamite, and IDW this year (just to name a few), perennial Oni Press creator Cullen Bunn turns once again to the publisher that helped to put his name on the map, with a return to his creator-owned Helheim universe.
Teamed up once again with the talented Joelle Jones, Bunn continues the saga of his monstrous hero Rikard, the undead draugr doomed to walk the earth in restless pursuit of the final battle that will grant him peace and access to the fabled halls of Valhalla.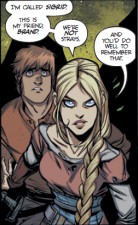 When last we saw the unfortunate Rikard, he had seemingly sacrificed his life to end a brutal conflict between the witches Bera and Groa that threatened the lives of his kith and kin.
As the final page of the last limited series revealed, however, it seems Rikard's young companion Kadlin had other plans for the major combatants of the Witch War.
Six years have passed since Rikard defeated the witches, and he now haunts the ruins of his former home, searching for purpose and a ready end to his abominable existence.
When the intrepid duo of Brand and Sigrid seek him out to enlist his aid to combat a new demonic threat that is murdering the people of their village, Rikard sets his sights on the deadly Mórðvíg.
Both Bunn and Jones are at the top of their game in this return to the realm of Helheim. Having ironed out any minor kinks evident in the first series, Brides of Helheim showcases the evolution of their collaboration with slicker art, spot-on character development and a breakneck pace that refuses to be bogged down with unnecessary exposition.
Bunn's talent for distilling the most popular or "known" qualities of a given genre or historical period, as he did to stellar effect in The Sixth Gun, lends his work on Helheim an easy accessibility that welcomes new and old readers alike. There has always been a natural, organic feel to his world-building that allows his audience to immerse themselves quickly and completely in his fantasy mash-ups.


He's perfectly matched with Jones, who has smoothed out some of the rough edges of her art – particularly in her rendering of exaggerated anatomy – in this sophomore Helheim series. The overall effect is a sleeker, even more reader-friendly product that evokes the same creative synergy Bunn shares with his Sixth Gun co-creator Brian Hurtt.
Fun, fast-paced, and slickly produced, Brides of Helheim is another creator-owned feather in Bunn's cap and a story well worth the price of admission. I won't predict another breakout hit – as I did upon reviewing the first issue of The Sixth Gun for Broken Frontier – but this is still one *ahem* hell of a series.
Cullen Bunn (W), Joelle Jones (A) • Oni Press, $3.99, October 1, 2014.