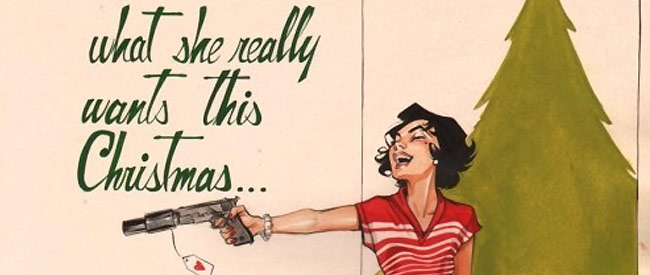 "When was the last time you took time out for beauty?"
So asks Josie Schuller on the opening pages of Lady Killer, the upcoming ongoing series Lady Killer by Joëlle Jones and Jamie S. Rich launching from Dark Horse in January.
Josie herself will make sure she looks all tidy when she goes out the door, selling make-up in 1960s America. Good looks are a requirement of the job. Staying speck-free is a whole other ordeal though, as Josie's normal job is a front for who she really is: a ruthless and trained assassin for hire! Oh and does she enjoy killing people as violently as she can? You bet, as long as she can get home in time to put her little twins to bed and sing them a sweet lullaby.
Lady Killer is a true work of love for Joëlle Jones and it shows. Although she's penciled some of Jamie S. Rich's scripts before – the Oni graphic novels 12 Reasons Why I Love Her and You Have Killed Me – she's very much in the driver's seat on this one.
Inspired by 1960s romance and pulp culture and the works of artists like Pete Howley and Robert E. McGinnis, Lady Killer is a book where the creative fun just leaps off the pages. In our opinion, it's Jones's best work to date and another fine example of what great comics originate when a creator gets to do their thing.
Definitely one of the books to watch when the new year starts. Mark our words, or be slaughtered by a vintage Electrolux vacuum cleaner!
For more, visit the Lady Killer tumblr.