It's almost Wednesday, and you know what that means: a fresh load of comics and graphic novels! With so many publications hitting your local comics store or digital storefront, BF is here to lead you through the woods. If you want to know which books should be on your pull list, look no further…
Comic of the Week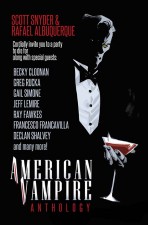 American Vampire Anthology #1
While the critically acclaimed American Vampire is on an extended hiatus, fans need not fear; Vertigo is keeping the series moving full speed ahead with the American Vampire Anthology, a giant-sized issue featuring eighty pages of all-new material.
On the line-up are eight stories from an all-star creative team, including writers, Greg Rucka, Gail Simone, and series creator Scott Snyder, and artists Becky Cloonan, Jeff Lemire, and Rafael Albuquerque. If you've been eagerly awaiting your next American Vampire fix, here it is! And if you haven't dipped your toe into the franchise yet, what are you waiting for? Now is as good a time to jump in as any.
Scott Snyder, Jeff Lemire, Greg Rucka, Gail Simone, Gabrial Ba, Fabio Moon (W), Becky Cloonan, Rafael Albuquerque, Jeff Lemire, Gabrial Ba, Fabio Moon, Francesco Francavilla, Declan Shalvey (A) • Vertigo Comics, $7.99
– Evan Henry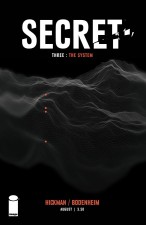 Secret #3
It's no secret that I am a huge Jonathan Hickman fan, especially when it comes to his independent books. Secret spared absolutely no time in it's first two issues creating a massive and daunting conspiracy story to delve into.
Hickman's story, in typical fashion, is loud, dangerous, complex, and is perfectly captured by Ryan Bodenheim's art. It's been more than a year's wait in between issue #2 and #3, but worry not, Hickman's stories pay off huge in the long run, which will make catching up more than worth it.
Jonathan Hickman (W), Ryan Bodenheim (A) • Image Comics, $3.50
– Jason Clyma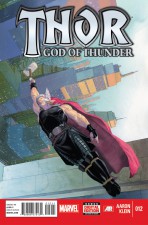 Thor God of Thunder #12
After the events of the 'God Butcher Saga', Thor heads to Earth for some much needed down-time. This issue sees the return of Jane Foster and a potential new love interest in Thor's life as we find out what a Thunder God does when he takes some time off.
After the high-stakes action mode that this comic has been in since its Marvel Now relaunch, it'll be great to see what Aaron can do with a more laid-back one-shot. The addition of Nic Klein on art should also be worth checking out!
Jason Aaron (W), Nic Klein (A) • Marvel Comics, $3.99
– Ricky Miller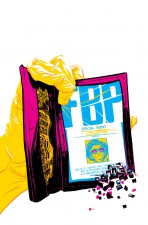 Federal Bureau of Physics #2
Though Collider was quickly renamed Federal Bureau of Physics, there is little doubt that this month's release of the series will be just as fun, colorful, and exciting. Last month saw localized gravity fields collapsing, sending FBP agents rocketing through the air while being exposed to parallel universes.
In this follow-up issue, lead agents Adam and Jay discover the existence of "bubble universes," or tiny pocket universes within our own. With the rules of physics being shattered across almost every page, any fan of sci-fi needs to catch onto the insanity that is FBP.
Simon Oliver (W), Robbi Rodriguez (A) • Vertigo Comics, $2.99
– Jason Clyma