It's almost Wednesday, and you know what that means: a fresh load of comics and graphic novels! With so many publications hitting your local comics store or digital storefront, BF is here to lead you through the woods. If you want to know which books should be on your pull list, look no further…
Comic of the Week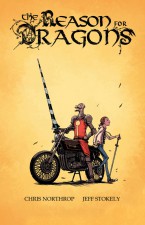 The Reason for Dragons
Writer Chris Northrop and artist Jeff Stokely bring high fantasy and high school together in a gorgeously illustrated graphic novel, already the topic of film buzz ahead of its release.
Our story begins when Wendell, a teenage bookworm, makes an unexpected discovery on the derelict grounds of an old renaissance fair. Accompanied by a man who claims to be a medieval knight by the name of Sir Habersham, our hero sets out on the quest of a lifetime, all while coming to grips with school bullies and a difficult family situation.
Arguably Wendell's most pressing concern, though, is whether Habersham's tale of a dragon roaming the nearby forest is true, and if it is, just what he can do about it.
Chris Northrop (W), Jeff Stokely (A) • Archaia Entertainment, $19.95
– Evan Henry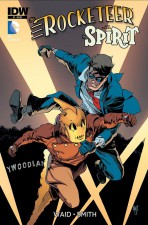 The Rocketeer/The Spirit: Pulp Friction! #1
Two pulp fiction fan favorites are teaming up to solve an unthinkable crime. Worlds collide as The Spirit and Ellen head out to sunny Los Angeles at the behest of Commissioner Dolan and right into the territory of The Rocketeer and Betty.
Mark Waid is going to enjoy playing with the juxtaposition of these characters who possess opposing personalities and live in opposite worlds. Denny and Cliff are up against two criminal masterminds, and it's going to take real teamwork to save the day.
Mark Waid (W), Paul Smith (A) • IDW Publishing, $3.99
– Karen O'Brien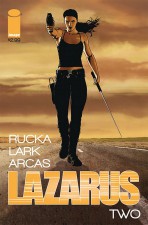 Lazarus #2
Greg Rucka ratchets up the intensity level in this second issue of his critically-acclaimed collaboration with artist-extraordinaire Michael Lark.
Set in a stark, dystopian future ruled by a manipulative network of scheming families, Lazarus follows the story of the Carlyle Family's genetically-enhanced protector, Forever. In this second installment, fearing an internal conspiracy amongst his own kin, the patriarch of the Carlyle Family sends his Lazarus on a dangerous mission to the south into the midst of his mortal enemies the Family Morray, intent on uncovering the plot before it starts a civil war.
Sleek, stylish, and sexy, Lazarus continues to fulfill its promise as one of the breakout hits of the year.
Greg Rucka (W), Michael Lark (A) • Image Comics, $2.99
– Jason Wilkins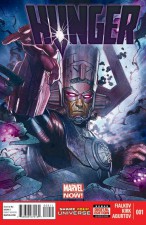 Hunger #1
Sporting a cover by the legendary Adi Granov, the premiere issue of Hunger, a four-part miniseries following up on the events of Age of Ultron, has finally arrived.
The time travel-heavy events of Marvel's last event have damaged the fabric of space-time itself, enabling Galactus, the insatiable Devourer of Worlds native to mainstream Marvel continuity, to slip into the world of Marvel's Ultimate characters. He's on the loose, he's hungry, and he has his sights set on Earth. Now, led by perennial sidekick Rick Jones, a small group of heroes is all that stands between Galactus and the total destruction of the Ultimate universe.
Written by Joshua Fialkov and penciled by Leonard Kirk, Hunger promises to be an action-packed series with far-reaching consequences for both the Ultimate universe and Earth-616.
Joshua Hale Fialkov (W), Leonard Kirk (A) • Marvel Comics, $3.99
– Evan Henry
Porcelain: A Gothic Fairy Tale GN
More like Dickens than Disney, Porcelain is a wonderfully structured, hard to resist fantasy tale.
Seeing what magic lies behind the gates of this delightful 96-page OGN, reading Porcelain is a very good idea, as writer Benjamin Read and artist Chris Wildgoose have crafted a restrained, mature story. There are no blank backgrounds or skimped details on these pages, and the costumes, hairstyles, and architecture are befitting of the Victorian era.
Porcelain is a very pretty book. It's well-paced and never dull, and is just the right length. [Read the review]
Benjamin Read (W), Chris Wildgoose (A) • Improper Books, $19.99
– Kris Bather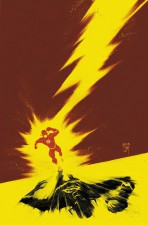 The Flash #22
Brian Buccellato and Francis Manapul's Flash has consistently been one of DC's most innovative and fresh-looking books over the past two years.
It's going to be beyond exciting to see what Manapul pencils as The Flash meets his arch-nemesis, The Reverse-Flash, for the first time in The New 52. One speedster that dashes across the comics page and through "The Speed Force" is one thing, but now Manapul will be able to double the swiftness of his art and create something wholly new.
The Flash has some of the best rogues in the entire comics industry, and the reintroduction of The Reverse-Flash is definitely something to witness.
Brian Buccellato (W), Francis Manapul (A) • DC Comics, $2.99
– Jason Clyma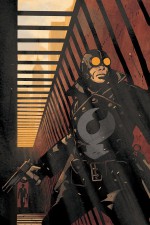 Lobster Johnson: A Scent of Lotus #1
Fan-favorite pulp hero Lobster Johnson returns to the Hellboy universe in a two-issue suspense-filled thriller set in the exotic streets of Chinatown.
A vicious string of murders precipitates the desperate hunt for Imperial Japanese operative the Crimson Lotus. First appearing in 2005's B.P.R.D.: The Dead, the mystery of the Crimson Lotus has haunted Lobster Johnson ever since. Now, as the city reels from the bloodshed in Chinatown, Lobster has the chance to close the book on this case once and for all!
Chock full of bizarre creeps and good, old-fashioned pulpy fun, A Scent of a Lotus smells sweet, indeed.
Mike Mignola and John Arcudi  (W), Sebastian Fiumara (A) • Dark Horse Comics, $3.50
– Jason Wilkins
Batman/Superman #2
Superman and Batman aren't in Kansas anymore, or are they? After Bruce and Clark's uneasy meeting in the first issue, and the supernatural hitchhiker now no longer attached to Catwoman, these heroes need to work together if they are going to survive an unexpected trip to Earth 2.
Greg Pak effectively reimagines the development of two young heroes who will become the world's finest, if they can stop punching each other first.
Greg Pak (W), Jae Lee (A) • DC Comics, $3.99.
– Karen O'Brien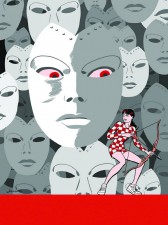 Hawkeye Annual #1
Matt Fraction has created one of the most fun books at Marvel with his Eisner Award-winning run on Hawkeye, and this week offers fans an extra dose of Clint Barton in Hawkeye Annual #1.  This oversized issue focuses on Kate Bishop as she hopes to escape trouble, Clint, and start a new life out west.
It's safe to bet, however, that Hawkeye Annual #1 will be far from that simple.  Any week with a Hawkeye release is a good week, but an additional chance to catch up with Fraction's Clint is like Christmas come early.
Matt Fraction (W), Javier Pulido (A) • Marvel Comics, $4.99
– Jason Clyma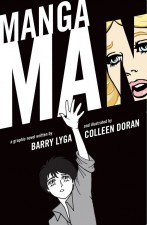 Mangaman
Sci-fi adventure meets love story in Mangaman, an original graphic novel for teenagers.
Ryoko, a manga character from a manga world, falls through the Rip into the "real" world and tries to survive as the ultimate outsider at a typical American high school.  Ryoko has to figure out how to get back to his manga world, but he has hearts for eyes for a girl from the wrong kind of comic book.
This intriguing, metafictive storyline is realized in art that combines manga techniques and conventions with Western comic book storytelling to create a graphic novel hybrid.
Barry Lyga (W), Colleen Doran (A) • Houghton Mifflin, $9.99
– Ricky Miller