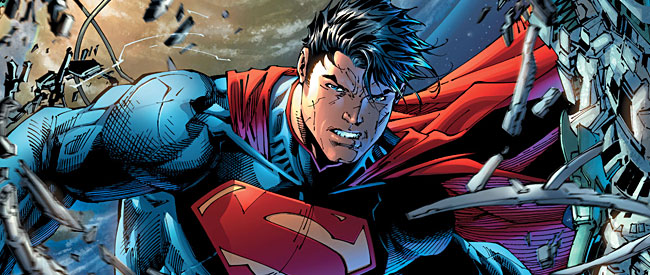 The dynamic duo of Scott Snyder and Jim Lee offer an irresistible Superman story that sets a new standard for sequential art storytelling. Not a panel is wasted as each seamlessly builds tension into the brewing mystery of the falling satellites.
As if the pulse-pounding action of Superman saving two astronauts while preventing a falling space station from harming anyone on the fast-approaching ground isn't enough, Snyder also offers our hero's inner perspectives and shows that saving the day is no simple task. Superman reminding himself to talk to the astronauts in order to alleviate their fears is a unique insight: "The astronauts are terrified. Talk to them before the station's atmosphere dissipates. Let them hear your voice." Beyond his thoughts, however, that inner monologue presents the vital catalog of clues Superman uncovers as we move through the issue.
In order to offer a successful Superman, a writer must craft a believable Clark Kent. Snyder's Kent is a home run. The youthful Kent created by DC's New 52 shines here with terrific dialogue exchanges courtesy of the book's supporting cast, Jimmy Olsen and Lois Lane. When Jimmy complains about a photo assignment to shoot a shirtless Bruce Wayne, "Have you seen the guns on that guy?" Clark doesn't miss a beat, replying "He pads his jackets." Clark Kent has a dry sense of humor. Who knew? Even better is Clark's conversation with Lois where he learns that the eighth satellite landed in the water rather than on a deserted military installation. Only Lois could fend off Perry White while rearranging the Planet's ads to accommodate her own overly long story and simultaneously berating Clark for his 'inaccurate' reporting.
Jim Lee's art is stunning. Consistency from every angle, incredible line work, and an extraordinary attention to detail are what you expect from the pencils of Lee, and you'll need extra readings to discover all of the details present, including the text of the Iliad that Lex is reading, the gibberish headlines on the newspaper pages Lois manipulates, and Clark's Smallville Crows pennant. Subtle expressions of Superman's facial features and posture physically distinguish him from Clark without creating a permanent separation. In the backmatter of the book Lee explained, "I personally don't think there is a distinction between Superman and Clark…. In my mind they are each as much a part of a whole rather than one identity made secondary to the other. The secret identity is not a pretense."
Superman Unchained #1 lives up to the considerable pre-release attention it's received. The mystery is compelling, which means that in addition to using brains and brawn to solve it, Superman will likely face a moral crisis brought to light by the revelations in the last page. The artwork is reason enough to pick up this comic—you could follow the story without any of the text. Go read the book three or four times, you'll be glad you did.
Scott Snyder (W), Jim Lee (A) • DC Comics, $4.99. Released June 12, 2013.