It's almost Wednesday, and you know what that means: a fresh load of comics and graphic novels! With so many publications hitting your local comics store or digital storefront, BF is here to lead you through the woods.  If you want to know which books should be on your pull list, look no further…
Lazarus #1 (Comic of the Week)
Dystopian sci-fi stories, well told, are one of my favorite genres in comics, books and film. When it's done by two thirds of the creative team behind one of the best detective/crime series of the 21st Century (Gotham Central), I'm pretty sure I won't be disappointed, and neither will you.
Lazarus is Greg Rucka's first big project for Image Comics and re-teams him with Michael Lark, in my opinion still one of the most underrated artists in the business. Together, they've created a near-future society in which the world is no longer ruled by governments but by families, each protected by a lazarus, a super-strong defender who looks after its family's interests using force as its primary weapon.
Forever Carlyle is one such lazarus, but there's more about this woman than meets the eye. Read and be amazed as Rucka and Lark unfold the mystery one step at a time.
Greg Rucka (W), Michael Lark (A) • Image Comics, $2.99
– Frederik Hautain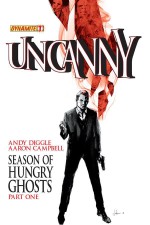 Uncanny #1
With the creator-owned Uncanny Andy Diggle takes another bite out of crime, following up Garth Ennis' Red Team, as the latest offering in Dynamite Entertainment's Crime line of books. Teamed up with rising star artist Aaron Campbell, Diggle's latest foray into society's grimy underbelly follows the recent trend of genre mash-ups, fusing the noirish qualities of crime fiction with elements of sci-fi and superhero power fantasies.
With its international scope and its stylish, atmospheric visuals, Uncanny seems poised to push comics' newest burgeoning genre of crime fiction to the next level, even as it seeks to subvert it.
Andy Diggle (W), Aaron Campbell (A) • Dynamite Entertainment, $3.99
– Jason Wilkins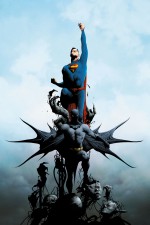 Batman/Superman #1
Superman/Batman, Batman/Superman, World's Finest. What's in a name, right? The team-up book featuring DC's two biggest heroes is back with Greg Pak and Jae Lee at the helm. For Pak, it's his first major book at DC, and he's looking to make a mark by putting the 'heavy' into 'heavy hitters', which Supes and Bats certainly are.
The opening arc tells the true story of how our two heroes first met in the New 52 universe, somewhere at the time of (the new) Action Comics #1. And they're not exactly seeing eye to eye…
Greg Pak (W), Jae Lee (A) • DC Comics, $3.99
– Frederik Hautain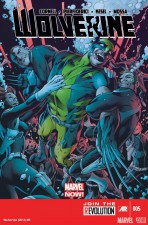 Wolverine #5
Paul Cornell's Wolverine starts a brand new arc this week with SHIELD Agents closing in around Wolverine while their rapidly flooding helicarrier plunges towards a watery grave.
Cornell is well-known for crafting great character focused works (I'm looking at you Captain Britain and MI: 13), which makes the possibility of growing everyone's favorite scrappy hero as exciting as the rip-roaring setting.  Logan may be able to heal from any deadly wound, but that surely doesn't make him Namor.
Paul Cornell (W), Alan Davis (A) • Marvel Comics, $3.99
– Jason Clyma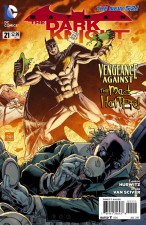 Batman: The Dark Knight #21
This issue marks the conclusion of the Mad Hatter's origin story and will see Batman reacting to the death of another loved one. This series has seen its share of criticism for incongruities of characterizations. Indeed, why would the world's greatest detective drop his girlfriend off on a rooftop in plain sight knowing that people close to him are targets?
There is a high expectation that with this issue Hurwitz will coalesce the loose strands exposed in previous issues and transform them into a cohesive portrait of grief, revenge, and the dark side of the Dark Knight.
Greg Hurwitz (W), Ethan Van Sciver (A) • DC Comics, $2.99
– Karen O'Brien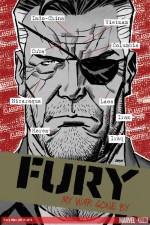 Fury Max #13
Garth Ennis and Goran Parlov's epic Fury Max comes to a close this week after its all too brief run.  Ennis has crafted a succinct and powerful story for readers over the year and a half and it will be sad to see such a high-quality character study end, but it goes without saying that with Ennis at the helm this final issue will be one of the most intense offerings of the year.
Any extra nod must too be given, moreover, for the fantastic cover for this final issue by Dave Johnson, which alone tells the tale of Fury's taxing career with stark detail.
Garth Ennis (W), Goran Parlov (A) • Marvel Comics, $3.99
– Jason Clyma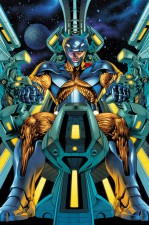 X-O Manowar #14
Billed as the brutal finale of "Planet Death", this issue of Robert Venditti and Cary Nord's sci-fi epic chronicles Aric of Dacia's final solution to the Vine empire's despotism as he leads a horde of freed slaves in a global revolt against their mutual oppressors.
With eradication of the Vine almost a foregone conclusion, it remains to be seen how Aric approaches the next chapter in his life as the alien empire's "Chosen One". Does the onetime prince have what it takes to rule an entire planet? Or will vengeance and the trappings of power undermine even Aric of Dacia's vaunted personal honor?
Robert Venditti (W), Cary Nord (A) • Valiant Entertainment, $3.99
– Jason Wilkins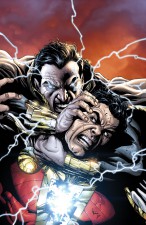 Justice League #21
Shazam's origin story takes center stage in Justice League #21. The long-running second story in DC's flagship team title reaches its epic conclusion as Black Adam threatens to gain control over all magic.
Billy Batson will need some help from the unlikeliest of places to stop him, and I hope Billy's fellow orphans have a big impact. We'll finally learn what place Shazam will play in the New 52 DC Universe and how the Justice League will figure into his future.
Geoff Johns (W), Gary Frank (A) • DC Comics, $3.99
– Karen O'Brien