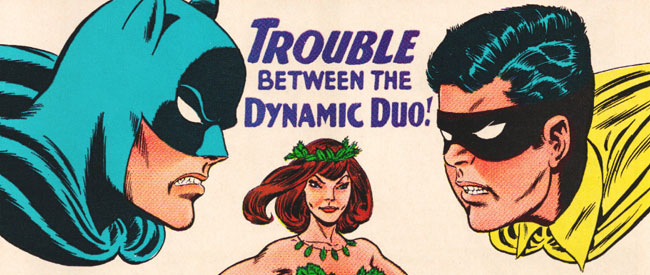 Jump in the Bat-Time Machine kids. You've read the Batman '66 digital comic by Jeff Parker and Jonathan Case already and you've seen the show it's inspired by, but what was it like actually reading comics from 1966?
Biff! Bam! Pow! Comics are just for kids again. Here are the Batman comics you would've been reading as a kid of 1966.
January, 1966
Detective Comics #349 "The Blockbuster Breaks Loose"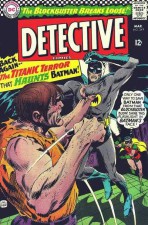 Batman backs banks as The Blockbuster breaks in in this story written by Gardner Fox and drawn by Carmine Infantino with a cover by Joe Kubert.
Blockbuster, who first appeared one year prior in Detective Comics, was a regular scrawny kid until years later when as a scientist he created a steroid like serum that gave him superior strength. His one slight claim to fame came when he joined the Secret Society of Super Villains for a battle with the Justice League.
On the cover of this issue, Robin realizes that there's "only one way to save Batman from that Blockbuster blow. Shine this flashlight in Batman's face!", which of course, makes no sense until you read the issue. Come to find out, the duo have invented a special flashlight that when pointed at Batman's cowl creates the image of Blockbuster's brother. A logical plan.
Batman #179 "The Riddle-less Robberies of the Riddler"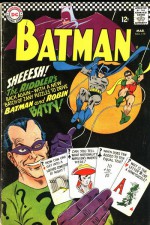 What is The Riddler without his riddles? Realizing that leaving riddles at the crime scene just keeps leading to more jail time, The Riddler decides to continue his crime wave without leaving behind his signature riddles. But in the end it turns out that subconsciously, Edward has been leaving his e-nigmas behind him as he went. Batman and Robin once again solved the case.
February, 1966
Detective Comics #350 "The Monarch of Menace"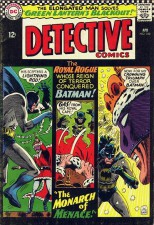 The first appearance of a truly memorable villain. Honestly, who could forget the Monarch of Menace? His royal red coat, his plain purple mask, and his furry fluffy crown still strike fear into Bat-fans to this day.
Batman #180 "Death Knocks Three Times"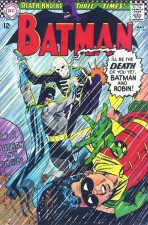 Death-Man, a character who Grant Morrison would later repurpose for a small part in his Batman, Incorporated run, is a villain who befuddles Batman by dying but then robbing again days after being buried. As it turns out, Death-Man is a master at acting dead. Figuring this out, Batman confronts the villain in the cemetery, where Death-Man ultimately dies by lightning bolt.
March, 1966
Detective Comics #351 "The Cluemaster's Topsy-Turvy Crimes"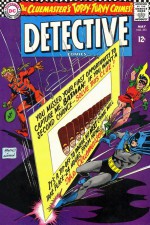 Because the colossal cunning of Cluemaster's clever clues is so clearly, concisely and confidently a cut above The Riddler's ridiculous rubbish riddles, I'll take this moment to remind you dear readers, that while they weren't Batman stories (thus not qualifying for this list) that this was the era where every issue of Detective Comics included a backup story starring Elongated Man. If Identity Crisis still has you ticked, go back and pickup a detective story starring the Dibneys.
Batman #181 "Beware of – Poison Ivy!"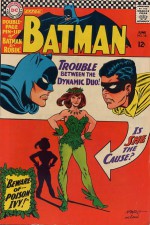 In all seriousness, this is a somewhat important story because it features the first appearance of Poison Ivy. Co-created in this installment by Robert Kanigher (perhaps best known for his 22-year run on Wonder Woman) and Sheldon Moldoff, this early incarnation of Poison Ivy has all the seductive powers but none of the plant obsession that she would later be known for. Poison Ivy popped up again one month later in Batman #183.
May, 1966
Detective Comics #353 "The Weather Wizard's Triple Treasure Thefts"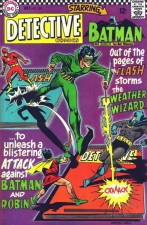 Any time you can pick up a comic and get Carmine Infantino drawing Flash characters, you know you're in for a treat. Flash's rogue, Weather Wizard, makes his way over to Gotham in this story where he poses as an appraiser. Batman has to fight Weather Wizard solo in this one because Robin has injured his wrists in a school basketball game. I love this decade.
June, 1966
Detective Comics #354 "No Exit for Batman"
"Featuring Batman's Newest Arch-Villain – Dr. Tzin Tzin" this issue warns readers on the cover. If you couldn't guess by the name, Dr. Tzin Tzin was among the worst of the racist Yellow Terror Asian villains if for no other reason than he wasn't as memorable as some of those other caricatures. Though he would later appear in a small, repurposed role in Grant Morrison's Batman, Incorporated in what appears to be a pattern. Morrison apparently liked his Bat-villains like he liked his Bat-TV, made in 1966.
Batman #183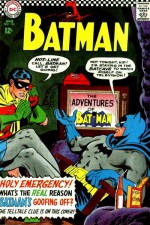 And speaking of the TV show, this issue's cover featured Batman watching the 1966 Batman series.
August, 1966
Detective Comics #356 "The Inside Story of the Outsider!"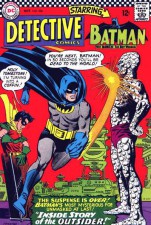 In a rare case of 60s serialized storytelling (I didn't even mean to do that one) Batman and Robin have a climactic battle with The Outsider, a villain who has been taunting the duo and orchestrating events (The Outsider played a key role in the Blockbuster issue from January) for quite some time.
As an avid reader of the era, you already know that Alfred Pennyworth had died two years earlier in the comics, in 1964's Detective Comics #328 where he was crushed to death under a boulder.
In this issue it turns out that the Outsider, who has been taunting them for roughly the same amount of time, is none other than Alfred himself. He wasn't quite dead yet when a friendly scientist discovered his body and decided to douse him in radiation. Alfred became the mutated Outsider as a result of this.
The only logical way to counter this is for Batman to bombard him with even more radiation, which actually restores him to good health.
Of course!
Sixties!!
September, 1966
Batman #186 "The Joker's Original Robberies"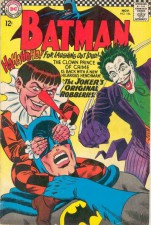 1966 would see the first appearance of a few more failed Bat-villains including Spellbinder in Detective #358 a villain who causes fear through his hideous checkered and spotted, yellow-orange-black and white costume (or hypnosis, I'm not sure which) and Batman #188's The Eraser (literally dressed like a pencil, need I say more?).
But the best failed villain of the era came from this comic. Ladies and gentlemen, may I introduce to you, for the very first time, Joker's sidekick; Gaggy. A disturbing midget wearing a checkered onesie and a snowman's carrot strapped on his nose. I have stolen the royal scepter and crown from the Monarch of Menace and as such I decree that in the next Batman movie, Joseph Gordon-Levitt faces off against Gaggy. Mentee vs. mentee.
November, 1966
Detective Comics #359 "The Million Dollar Debut of Batgirl!"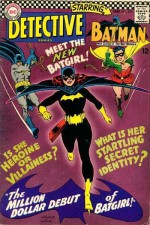 While this one wasn't the last noteworthy event for the Batman universe in 1966 (Batman #189 in December introduced the modern Scarecrow in an origin that is surprisingly close to the Scarecrow we know today) it certainly was the biggest.
This issue introduced Barbara Gordon, a character so well loved by her fans that she needs no introduction. What's funny about this introduction was that the Batgirl costume that Barbara had designed was simply for a policeman's masquerade ball. But when Killer Moth showed up, Barbara showed early signs of the character she would grow to be, saving Bruce Wayne. She doesn't just team up with the Bat though, as Barbara-Dick-shippers will swoon to know that Robin also appears in this issue.
As far as first appearances go, this is pretty solid. She gets to save the boys, save the day. But it's just a hint of what's to come in an introduction that paves the way for future stories.
But more on that later Bat-friends. We've reached the end of our tour of 1966.
See you at the same Bat-time next year on the same Bat-channel!
Note: all dates came from subtracting two months from the cover date, which is the general rule for comic book cover dates. For instance Detective #359 was cover dated January, 1967 which means it came out in November, 1966.