Issue #29 never finds its groove, and the series ends not with a bang but a whimper.
When you're operating above the law, do you have limits and who is to say how far you can go? Are you the bad guy because you believe that some people matter more than others? Are you a good guy because you believe that every life counts? Or are you just being realistic when you admit that tough decisions have to be executed by people in the position to do so?
Many Batman scribes have touched upon these questions – and more – in their efforts to put on display the Dark Knight's morality and the lines he will and will not cross.
Juxtaposing those limits with others acting beyond the law is often a source of conflict and growth for the World's Greatest Detective, and that has been employed to good effect by writer Gregg Hurwitz in the concluding Man-Bat storyline.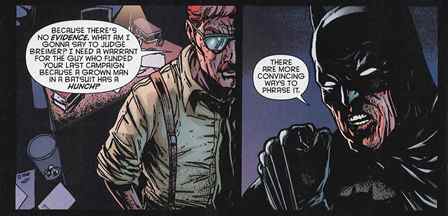 Abraham Langstrom is the Man-Bat, who has been preying on Gotham's homeless. Believing them nothing more than parasites who fail to add any redeeming value to the city, Langstrom is unapologetic about his alleged activities. But Batman has no proof of his involvement, and needs to catch him in the act.
"Why the homeless?"
"Theoretically, of course?"
"Of course."
"Well, I believe Man-Bat's cleaning up those who take a toll on the city, those who don't contribute."
I won't offer spoilers as to how Batman reconciles his solution and the end of the book, but suffice to say that Abraham Langstrom won't be Man-Bat any longer. Despite his defeat, however, Langstrom's perspectives on himself and his goals for the city remain unchanged. It's a hollow victory for Batman, and the door is open for future conflict between these characters.
I really wanted to like this issue, and I'm fine with Batman not achieving a clear-cut victory. However, I was hoping for the polished tones of previous issues and didn't get them.
I think Hurwitz and artist Jorge Lucas were in a hurry. It reads like the whole story was too short and stretched to fit the pages. The transition from the determination of the solution to the conclusion of the story isn't smooth in script or art. The exchanges with Alfred and Gordon are forced and not quite true to character. The scenes with both Langstroms are too long, and the pace is slow.
Lucas took over the issue's artwork after an exciting opening action sequence by Ethan Van Sciver, and while he includes the requisite dark and brooding elements, it seems that the art and text fight for cohesion.
Unfortunately, this final issue looks and reads like a first draft that needed another round or two of polishing.
Gregg Hurwitz (W), Ethan Van Sciver, Jorge Lucas (A) • DC Comics, $2.99, March 26, 2014