It's almost Wednesday, and you know what that means: a fresh load of comics and graphic novels! With so many publications hitting your local comics store or digital storefront, BF is here to lead you through the woods.  If you want to know which books should be on your pull list, look no further…
A
ge of Ultron #10
(Comic of the week)
The book that Marvel says will really break the internet in half is here!
Will this be the end of the Marvel Universe as we know it? While Age of Ultron hasn't wowed many heads thus far – partly because the events are mostly taking place in parallel/at a different time than your regular monthly Marvel NOW! proceedings, partly because it hasn't been all that jazz – its ending will be BIG. So big in fact that Joe Quesada himself drew the final pages so the outcome wouldn't leak beforehand.
The hype is huge; let's hope the payoff will be too.
Brian Michael Bendis (W), Brandon Peterson/Carlos Pacheco/Joe Quesada (A) • Marvel Comics, $3.99
– Frederik Hautain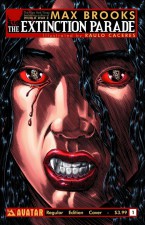 Extinction Parade #1
On the eve of World War Z's release, series creator Max Brooks is poised to deliver a brand new addition to his zombie mythos.
With Extinction Parade #1, Brooks adds a little something new to the zombie horror genre… vampires.  As the vampire horde joins the fight to save humanity in order to protect to their food source, it is entirely possible that Extinction Parade could turn into one hell of a fun mash-up.
It will surely be difficult to mix elements from two rapidly wearing out genres, but if done correctly Extinction Parade just may be the perfect comic companion to Brooks's movie adaptation.
Max Brooks (W), Raulo Caceres (A) • Avatar Press, $3.99
– Jason Clyma
Demeter
June is a big month for Becky Cloonan. Not only is she drawing the spectacular The True Lives of the Fabulous Killjoys, of which the first ish hit last week, but she's also releasing her third and (momentarily) final mini-comic, Demeter.
Demeter is a love story set at sea underscoring the universal truth that even love can't escape the circle of life. Set free from editorial shackles, Cloonan uses the freedom found in self-publishing to great effect. She wonderfully experiments with panel compositions and lettering techniques to turn up the drama of the comic, but as always her art itself is worth the meal ticket by itself.
Demeter is available digitally at Comixology and Graphicly and you can order the print edition here.
Becky Cloonan (W/A) • Self-published, $5.00 (print), $0.99 (digital)
– Frederik Hautain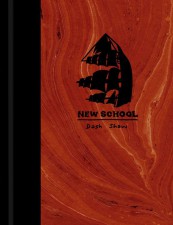 New School HC
Loosely inspired by his own experiences as a teenaged foreign exchange student, cartoonist Dash Shaw (Bottomless Belly Button) offers New School, a 340-page graphic novel that dramatizes the story of a boy moving to an exotic country and his infatuation with an unfamiliar culture that quickly shifts to disillusionment.
Young Danny grew up on '90s adventure stories like Jurassic Park and X-Men, but he never dreamed he'd end up living one as he attempts to return his brother from the enigmatic and remote island amusement park, ClockWorld.
Dash Shaw (W/A) • Fantagraphics, $39.99
– Karen O'Brien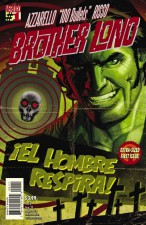 100 Bullets: Brother Lono #1
Have Brian Azzarello and Eduardo Risso ever let you down? No they haven't. That alone should be the reason why you should grab this comic first chance you get.
Brother Lono spins off from Azzarello and Risso's mega Vertigo hit 100 Bullets, and they've brought their entire creative supporting cast with them (colorist Trish Mulvihill, letterer Clem Robbins and cover artist Dave Johnson) for a mini-series that focuses on where life has taken Lono four years after having fallen out of a window in 100 Bullets #100. Turns out to Mexico,  where he's working on the side of the angels. Has the most rogue of all Minutemen finally seen the light? Find out on Wednesday.
Brian Azzarello (W), Eduardo Risso (A) • DC Comics/Vertigo, $3.99
– Frederik Hautain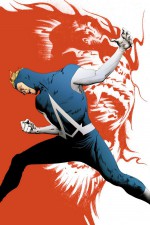 Animal Man #21
The fallout from Jeff Lemire's 'Rotworld' story-arc occurred issues ago, but little has happened in the following months that convinced me a death in Buddy Baker's family was truly necessary.  Despite these grievances, Lemire deserves a little more faith, patience, and time to develop the new direction of Animal Man. In issue #21, the new 'Splinter Species' arc begins, where Buddy's new fame continues to exact its toll on the famous hero, while the seeds of a new foe are planted.
Jeff Lemire (W), Steve Pugh (A) • DC Comics, $2.99
– Jason Clyma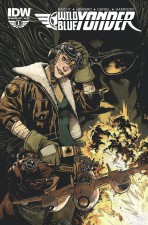 Wild Blue Yonder #1
Wild Blue Yonder came to life as a Kickstarter project and is now the newest creator-owned mini-series from IDW. This original action-adventure sci-fi series with gorgeous art by Zach Howard takes place high above the ruined Earth as the world's remaining tribes compete for survival amid dwindling natural resources.
A fresh take on the post-apocalyptic thriller, teenage fighter pilot Cola and her family protect The Dawn, their flying fortress and home, from the Judge, ruthless commander of the planet's largest air force. Jet-pack warriors, makeshift flying machines, and a survival drama with stellar art? Sign me up.
Mike Raicht (W), Zach Howard (A) • IDW, $3.99
– Karen O'Brien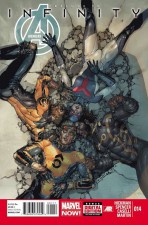 Avengers #14
Jonathan Hickman's tenure on the two biggest Avengers titles started with a boom, but the pace of Avengers slowed in the subsequent months since its launch.
This coming Wednesday, however, sees Hickman build momentum towards the upcoming Infinity event, where the threads from Hickman's two titles result in dire consequences as Thanos attacks the vulnerable planet Earth.
Being a longtime Hickman fan forced me to wonder just how long it would take for Marvel to hand over the reins of their universe to the master science-fiction writer, but now the time has finally come for Hickman to leave a universe-wide imprint on the publisher.
Jonathan Hickman (W), Stefano Caselli (A) • Marvel Comics, $3.99
– Jason Clyma