It's almost Wednesday, and you know what that means: a fresh load of comics and graphic novels! With so many publications hitting your local comics store or digital storefront, BF is here to lead you through the woods. These are the books that need to be on your pull list this week.
Comic of the Week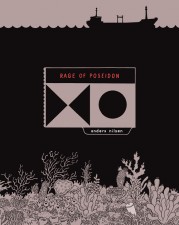 Rage of Poseidon
From Anders Nilsen, the award-winning creator of Big Questions and the incredibly moving memoirs Don't Go Where I Can't Follow and The End, Rage of Poseidon originally appeared last year in a handmade limited edition. Drawn and Quarterly are now making it more widely available, in what looks like a beautifully produced 80-page concertina book.
Nilsen uses a bold silhouetted illustrative style to take a mythic look at the modern relationship between gods and men; in the title story, the god of the sea is forced to ponder his role in a world where the oceans are dying and sailors no longer pay tribute to him. Mixing philosophy, humour and artistic invention, this looks like another welcome addition to Nilsen's bibliography
Anders Nilsen (W/A) • Drawn and Quarterly, $29.95
– Tom Murphy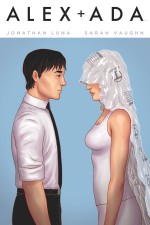 Alex + Ada #1
In a high-tech not-too-distant future, down-on-his-luck Alex experiences an unforeseen turn-around in his life with the arrival of Ada, a lifelike X5 "companion" android. In a world permeated by technology, Alex faces the very real possibility of finding true love where he least expected it.
Image's latest sci-fi title comes at us from the minds of Girls and The Sword co-creator Jonathan Luna and Sparkshooter scribe Sarah Vaughn. With a premise as intriguing as this, Alex + Ada promises to provide a full dose of cyberpunk twists and turns wrapped up in a surprisingly romantic 12-issue limited series.
Sarah Vaughn (W), Jonathan Luna (W/A) • Image Comics, $3.99
– Evan Henry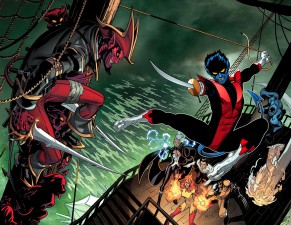 Amazing X-Men #1
Nightcrawler was given one of the most final deaths in the history of comics. He wasn't caught in an explosion that "disintegrated" his body, or lost in space, or trapped in an alternate dimension facing unbeatable odds. No, Kurt Wagner was impaled through the chest by a robotic arm and the life left his body right in front of his friends.
That being the case, readers can expect a way more interesting explanation for his return than "he was never really dead". The other X-Books have been teasing this for a while so I'm excited to see how it all comes together.
Jason Aaron (W), Ed McGuinness (A) Marvel Comics, $3.99
– Jonah Lang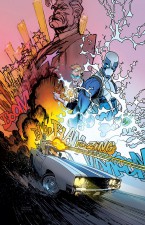 Quantum & Woody #5
Foster bros Eric and Woody Henderson – a.k.a. Quantum & Woody (why pick a nifty codename when you're proud to be named 'Woody', right?) – each month provide some of the most light-hearted and quirkiest moments you'll find in superhero comics today.
Although they don't really get along all that well, there's no escaping one another, as the duo's bound by wristbands they have to clang together every 24 hours to avoid vaporising on the spot. That's why they've decided to move in together, but it's not exactly a recipe for success.
This issue gets the staff pick nod because it's the start of a new arc featuring splendid artwork by Ming Doyle of Mara fame. And, well, because it also has men getting licked by goats. Meh!
James Asmus (W), Ming Doyle (A) • Valiant Entertainment, $3.99
– Frederik Hautain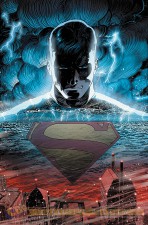 Action Comics #25
The Zero Year storyline in the pages of Batman is successfully reimagining the brash exploits of a younger, less-polished Bruce Wayne, and this week it spills over into Action Comics #25.
Writer Greg Pak gives us a young Superman still cocky enough about his amazing abilities to rely on them to solve all problems. Saving Gotham from a natural disaster is certainly a job for Superman, however, and artist Aaron Kuder is up for the challenge. Kuder's Superman in Gotham is suitably presented in darker tones to complement the setting and reflect the fact that he isn't the Man of Tomorrow yet.
Greg Pak (W), Aaron Kuder (A) • DC Comics, $3.99
– Karen O'Brien

Drumhellar #1
An original surreal mystery hits the shelves this week courtesy of writer Alex Link and artist Riley Rossmo, the creative team that brought us Rebel Blood. Paranormal private eye Drum Hellar is on the trail of "something big" coming to a small town.
Solving the mystery that moves between reality and dreams will lead him to deal with ghosts from his past including two ex-girlfriends (one of which is a werewolf), an imaginary cat that might not be so imaginary, a good quantity of psychedelic drugs, and a bog man who adds a fresh dose of horror.
Alex Link (W), Riley Rossmo (A), • Image Comics, $3.50
– Karen O'Brien

Sandman Omnibus Vol. 2
Your wallet has finally recovered from your $150 purchase of the first Sandman Omnibus just in time. Now you've already read the first 37 issues of Sandman, along with the new (gorgeously illustrated) Sandman Overture. Well, now it's time to read or reread the final half of Neil Gaiman's comic book opus.
This hardcover collects issues #38-75 of the highly influential series in a beautiful format for bookshelf junkies. This is a no-brainer for the comic book fan that can afford it.
Neil Gaiman (W), Various (P), • DC Comics/Vertigo, $150
– Levi Hunt