It's almost Wednesday, and you know what that means: a fresh load of comics and graphic novels! With so many publications hitting your local comics store or digital storefront, BF is here to lead you through the woods. These are the books that need to be on your pull list this week.
Comic of the Week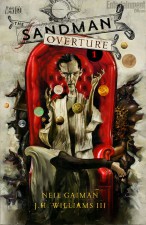 The Sandman: Overture #1
The original Sandman series forever changed the way many people look at comics. It's brilliantly intricate, powerful, and established a mythology so visceral and compelling that its hallowed footprints can still be seen in DC Comics today. Master storyteller Neil Gaiman returns to craft a prequel story that's been bouncing around in his head for almost 25 years, so you know the things you love about the original will be respected.
Finally, I could not be more excited about J.H. Williams III's art on this. His style is perfectly suited to the magical ethereal quality that accompanies Dream of the Endless, and if his teasers are anything like what his interiors will be like, this is going to be an epic ride.
Neil Gaiman (W), J.H. Williams III (A) • DC Comics/Vertigo, $4.99
– Jonah Lang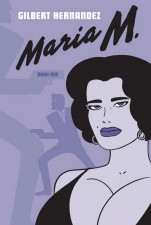 Maria M, Book One
More than 30 years into his career, there's no stopping Gilbert Hernandez. So far this year we've had Marble Season (Drawn & Quarterly) and Love and Rockets: New Stories #6 (Fantagraphics), as well as two new collections of his earlier work. And now he's putting out another 140-page graphic novel in his "B-movie" series!
There's an added dimension to this one: it's actually a pulptastic "adaptation" of Poison River – the dense prequel to his Heartbreak Soup stories published in Love and Rockets Vol.1. Poison River wasn't the easiest of works, published in 11 parts over four years, so it'll be intriguing to see how the comic of the pretend-film of the difficult comic turns out…
Gilbert Hernandez (W/A) • Fantagraphics, $22.99
– Tom Murphy
Damian: Son of Batman #1
The surprisingly not-dead son of Bruce Wayne and Talia al Ghul makes his solo title debut in this miniseries from writer-artist Andy Kubert. Pitched as taking place in "a possible future that may never be," the book features Damian Wayne, the latest bearer of the Robin mantle, who met his end at the hands of his own clone earlier this year.
In a dark future, Damian has taken on the identity of Batman himself, but what exactly brings Damian back from the dead, and what relationship this miniseries may have to mainstream DC continuity remains to be seen. One thing is certain — recent fans of the Batman franchise won't want to miss the legendary Kubert's take on Batman's only son.
Andy Kubert (W, A) • DC Comics, $3.99
– Evan Henry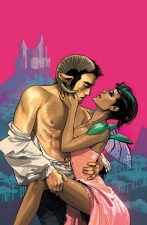 Saga #15
All Image is willing to tell us about this issue is that, "Everything starts coming together." And that's all we need to know. Face it, thanks to the stellar storytelling of Vaughan and Staples we're all hooked on this edgy and remarkable mix of fantasy and sci-fi.
It won't be a jumping-on point for the series, so share the two trades if the uninitiated ask questions about your Saga addiction. And someone should probably start filling out the Eisner nomination form for Best Continuing Series.
Brian K. Vaughan (W), Fiona Staples (A) • Image Comics, $2.99
– Karen O'Brien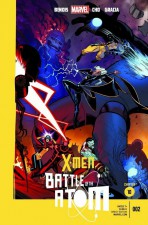 X-Men: Battle of the Atom #2
Much like the similarly organized event, Infinity, Battle of the Atom's current style of an enclosed line-wide crossover is a fantastic break from the universe-spanning events of the past. While still offering big, exciting, status-quo changing stories, events like Battle for the Atom keep the direction more focused and purposeful, which makes their reading all the more fun.
In this tenth and final part of the most recent X-Men crossover, Marvel promises X-Men: Battle of the Atom to not only thrill, but change the mutants standing in the entire Marvel Universe, and prepare readers for an exciting start to 2014.
Brian Michael Bendis (W), Frank Cho (A) • Marvel Comics, $3.99
– Jason Clyma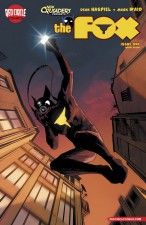 The Fox #1
Perhaps one of the oldest yet most unknown superheroes ever to slip a mask over his face, The Fox explodes into action this month in a new ongoing series from original publisher Archie Comics. Both the victim and benefactor of numerous reboots over the years, The Fox gets a new lease on life courtesy of the truly titanic team-up of Emmy-winning artist Dean Haspiel and Eisner-winning writer Mark Waid.
This unexpected yet welcome next phase in Archie Comics' reforged commitment to superheroes pulls out all of the stops, as The Fox struggles to leave superheroics behind, only to discover he is the worst kind of "Freak Magnet"!
Mark Waid (W), Dean Haspiel (A) • Archie/Red Circle Comics, $2.99
– Jason Wilkins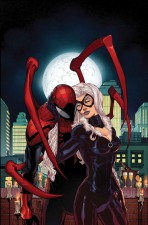 Superior Spider-Man #20
Dan Slott starts to pick up the pieces from his most recent arc, Necessary Evil, with this 20th issue of Superior Spider-Man.
It's no secret that Doc Ock has not only turned the Spider-Man dynamic on its head, but the one-time villain's mindset has added a fun, albeit controversial, tone to the decades-spanning adventures of Spider-Man. Take that direction and mix in the always exciting Black Cat, however, and readers are surely in for a treat.
Dan Slott (W), Ryan Stegman (A) • Marvel Comics, $3.99
– Jason Clyma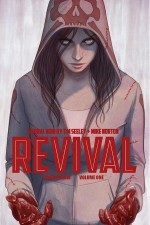 Revival HC
Coming off multiple Harvey Award nominations, the first eleven issues of Revival are collected in this oversized hardcover edition.
This series is perfect for the fan that still longs for a third season of Twin Peaks. The story follows a small rural town and its quirky residents as they deal with an entirely different type of zombie. The series has a great sense of humor to go along with an interesting story of mortality. The deluxe edition will just about catch you up to the current issue, so if you have been thinking of jumping on, this is the time.
Tim Seeley (W), Mike Norton (A) • Image Comics, $34.99
– Levi Hunt