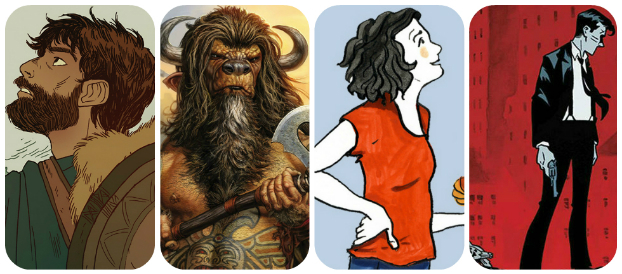 It's nearly Wednesday, and you know what that means: a fresh load of comics and graphic novels! With so many publications hitting your local comics store or digital storefront, the BF team are here to lead you through the woods with our weekly staff picks. Satisfaction guaranteed!
Comic of the Week
The Facts of Life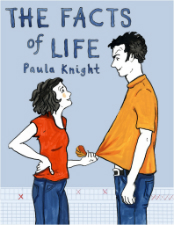 A couple of years ago at Broken Frontier I covered two of Paula Knight's self-published comics Spooky Womb and X Utero: A Cluster of Comics here. Those minicomics dealt with issues surrounding parenthood, fertility and miscarriage, and I made a point then of noting the "evocative symbolism" in Knight's work.
This week sees her long-awaited graphic novel The Facts of Life released. In 2012 Knight was one of the shortlisted creators for the very first Myriad First Graphic Novel Competition (won by Gareth Brookes for The Black Project) and, like fellow finalists Hannah Eaton (Naming Monsters) and Ian Williams (The Bad Doctor) her book was also picked up by Myriad for publication.
The Facts of Life explores childlessness and our definitions of "family" through the characters of Polly and Jack, with Knight's resonant storytelling once again proving both compelling and connective. Look for more coverage of the book in Broken Frontier's upcoming Myriad Editions Week…
Paula Knight (W/A) • Myriad Editions, £16.99
– Andy Oliver
American Gods: Shadows #1
With the TV series set to debut this April on Starz (May 1 on Amazon Prime in the UK), Neil Gaiman's multi-award winning novel finally gets the comic adaptation it deserves. Veteran artist P. Craig Russell, who also drew the comic version Gaiman's Coraline and The Graveyard Book (not to mention the classic Sandman #50) will be handling the adaptation of the script with Scott Hampton on art.
After serving time, Shadow Moon is determined to lead a clean life only to discover the world has different plans for him. His wife is dead and Shadow's search for answers leads him to the enigmatic Mr. Wednesday who employs him as his bodyguard – taking him on a tour across the country discovering the forgotten gods once brought here by immigrants from the old country, as they square of in a supernatural battle against a new generation of gods born from the dogmas of American society.
Neil Gaiman & P. Craig Russell (W), Scott Hampton (A) • Dark Horse Comics, $3.99
– Tyler Chin-Tanner

The Damned Vol. 1: Three Days Dead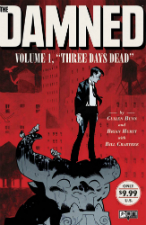 Oni Press and the fan-favourite team behind The Sixth Gun have re-released the first volume of The Damned, in preparation for May's debut of the new ongoing series. Originally published as a five-issue miniseries in 2006, The Damned is a demented crime noir tale about two warring demon crime families and the luckless, undead mobster stuck in the middle of their feud.
When the high-ranking demon who was supposed to broker peace between Big Al Aligheri and Bruno Roarke disappears before finalizing the new arrangement, it falls to Eddie to sort out the mess before he ends up dead for good this time.
Featuring newly-coloured pages by Bunn and Hurtt's partner-in-crime on The Sixth Gun, Bill Crabtree, this new edition of The Damned feels more atmospheric and textured than the original b+w version. A perfect opportunity for new readers to jump on board or old readers to refresh their memory of past events, this re-issue of The Damned is a must-read for both emerging and established fans of Bunn's work.
Cullen Bunn (W), Brian Hurtt(A), • Oni Press, $9.99
– Jason Wilkins
Mr. Punch 20th Anniversary Edition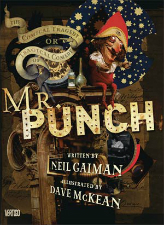 This week sees the release of the special 20th Anniversary edition of The Comical Tragedy or Tragical Comedy of Mr. Punch – the disquieting slice-of-life comics classic juxtaposing the Punch and Judy story with a young boy's summer of dark discovery at his father's seaside arcade.
Dave McKean is a visual magician, and his artistic collaborations with wordsmith Neil Gaiman continually prove the limitless potential of comics as a storytelling medium. All Gaiman and McKean fans will be captivated by this collection, so if you're planning on getting a copy better arrive at your local comics shops early on Wednesday. I'm sure they didn't order enough copies.
Neil Gaiman (W), Dave McKean (A) • DC/Vertigo, $14.99
– Karen O'Brien
Cadmus #1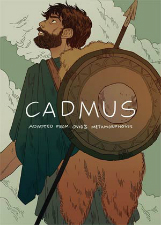 The ancient past comes alive this week with the release of Cadmus #1 from Antarctic Press, a re-telling of the eons-old story of the Phoenician prince and founder of the grand city of Thebes. Adapted from the legend found in Ovid's Metamorphoses, the new short-run series is written and drawn by Toronto native Samantha Beck.
Sent by his father to rescue his sister, Europa, after she is abducted by Zeus, Cadmus wanders far and wide, finally arriving to the holy city of Delphi. The famous oracle foretells that, by following a sacred cow, he will found a great city on the spot where it stops from exhaustion. He obeys and is led to a place guarded by a dragon. He slays the beast, and the gods instruct him to sow the dragon's teeth in the ground like seeds. A crop of fierce warriors emerges from the earth and Cadmus bests all but five of them. Those who remain assist him in erecting the walls of Thebes, a powerful city that would play a major role in the ancient history of Greece.
Considered by scholars to be the first in the long line of epic Greek heroes, Cadmus's story is filled with the kind of intriguing drama and exciting action that are sure to translate well into a thrilling comic!
Sam Beck (W/A) • Antarctic Press, $3.99
–  Matthew Box
Eartha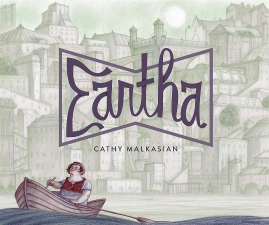 Another week and another must-buy Fantagraphics offering…
For a millennium the unfinished dreams of the City Across the Sea have arrived at Echo Fjord, taking human form and delighting the locals who revered them. But when these ethereal visitors suddenly stop arriving the inhabitants of the town are bereft. One woman decides to investigate this mystery. But how will the titular Eartha find her way to a city no one has seen in a thousand years…?
Cathy Malkasian's Eartha may, ostensibly, be a fantasy but it's also a powerful metaphor for far more contemporary themes regarding our escapist immersion in our technological addictions. This handsome hardcover is a worthy addition to your comics wishlist this week…
Cathy Malkasian (W/A) • Fantagraphics Books, $29.99
– Andy Oliver