We have something of a history with Myriad's First Graphic Novel Competition here at Broken Frontier given that our own Editor-in-Chief Andy Oliver was a judge for the 2014 edition and our team member Jenny Robins won the 2018 edition for her graphic novel Biscuits (assorted) (which can be pre-ordered here).
The competition gives aspiring creators the opportunity to have their first graphic novel published by Myriad. Other previous winners include Gareth Brookes and Jade Sarson. Over the weekend at the Lakes Festival the winner for 2020 was announced. More details about Veronika Muchitsch's Cyberman below.
'CYBERMAN' REVEALED AS WINNER OF THE MYRIAD FIRST GRAPHIC NOVEL COMPETITION 2020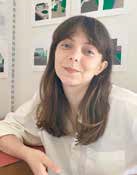 Comic artist Veronika Muchitsch from Falmouth has won Myriad's fourth First Graphic Novel Competition with an extract from her story Cyberman recording the life of a blogger who streams online 24 hours a day, hardly leaving his apartment.
'We were seduced into being unwitting voyeurs of Ari's life and conversations with his followers, as she painted what she saw on screen. This is a portrait that you can almost feel.' said Myriad Creative Director Corinne Pearlman.
'Beautiful story, beautiful artwork, very timely and prescient for where we are in the world today. We just all fell in love with that one, and when you see it you will too, I'm sure.' said fellow judge Zoe Adjonyoh, London chef and writer.
The winner was revealed in a live video on Sunday at the 2020 Lakes International Comic Arts Festival, supporters of the competition since 2018.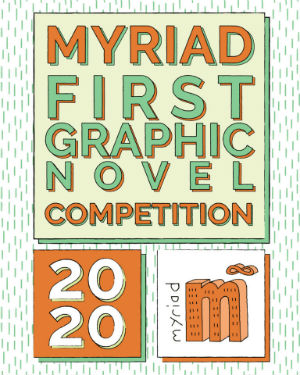 Works by Denise Dorrance, Ed Firth, Pete Shearn, Pietro Soldi, Anthony Smith & Tobias Taitt, and Myfanwy Tristram were praised by all the judges for their excellence.
Said curator and art critic Sacha Craddock: 'The experience of judging has been thrilling. The longlist had taken me all over the place, formally, conceptually and emotionally, and the shortlist, amazing, again and again. I'm madly impressed.'
Said Dr. Ian Williams, judge and former competition runner-up: The finalists were of outstanding quality. Any one of them would have been a worthy winner, but we agreed that the final winner pushed the medium of a graphic novel into areas we hadn't really seen before.'
Julie Tait, founder and director of LICAF, said: 'It really was an extraordinary shortlist and I felt very privileged to be part of the judging.'
Veronika Muchitsch said: 'I'm entirely at a loss for words but I'm working on it! I'm truly excited to be working with Myriad and I can't wait to see this project becoming a book. Ari was very happy to know that I was making a book of his life, but sadly he passed away last November.'
Cyberman Veronika Muchitsch
Ari lives in a small town in Finland, streaming his life online twenty-four hours, seven days a week. Non-fiction graphic novel about the transgressive act of online voyeurism.