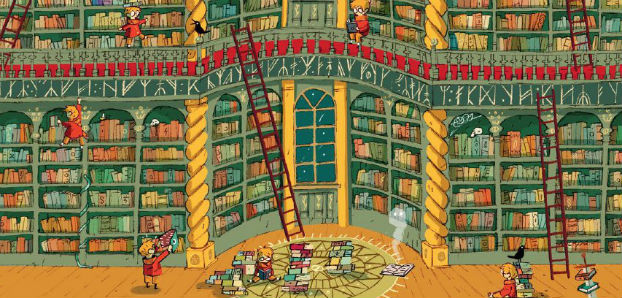 Published by Nobrow Press's children's imprint Flying Eye Books, Joe Todd-Stanton's Brownstone's Mythical Collection series combines elements of illustrated storytelling and sequential art to bring its magical tales of family lineage to life. Set many years apart, Arthur and the Golden Rope and Marcy and the Riddle of the Sphinx are nevertheless a closely linked generational saga with relatable younger heroes who provide their target audience with an immediate entry point into this fantastic world.
Narrated by the vault-keeper of the Brownstone treasures, the two books in the series to date visit the titular clan at different points in history. Arthur and the Golden Rope takes place in a slightly indeterminate past and follows the adventures of Arthur Brownstone, a precocious young boy who had already had many encounters with the supernatural beings who surrounded his small Icelandic village by the time he was called upon to save the local population from the evil of the great mythical wolf Fenrir. Sent on a quest to implore aid from the Norse God Thor, Arthur is given a series of seemingly impossible challenges to complete if he is to defeat the threat of the monstrous Fenrir and ensure the safety of the villagers…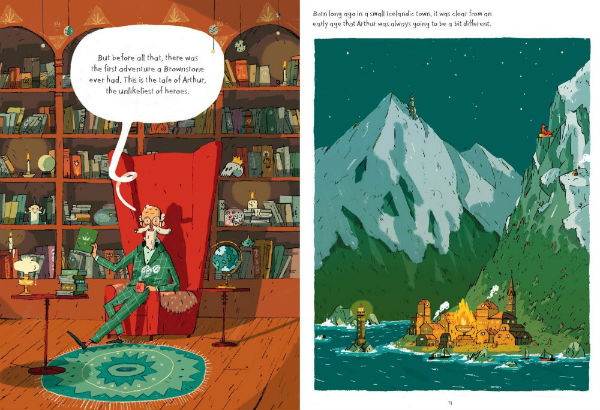 By framing Arthur's story in the context of a dynasty of Brownstone adventurers, Todd-Stanton creates a sense of epic saga from the very outset. With its quests, tests and unlikely hero proving his worth, Arthur and the Golden Rope gently reappropriates many standards of mythology in a captivatng tale that merges the classical and the (relatively) contemporary. Arthur is an appealing protagonist – unassuming yet highly competent but just fallible and vulnerable enough that the reader never takes anything for granted.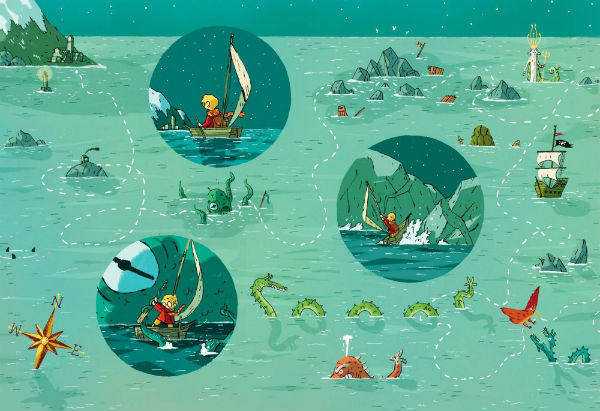 It's Todd-Stanton's visuals, though, that will more immediately capture the reader's attention with a quirky cartooning style that embodies clarity and detail in equal measure. While much of the book is arguably more accurately graphic narrative there are significant sequences of pure comics including a number of flowing action sequences that are skilfully paced, often carefully evoking the passage of time by depicting multiple Arthurs in the confines of a single illustration. One double-page spread (above), as Arthur sets sail on his search for Thor, is particularly memorable placing, as it does, a number of smaller panels focusing on Arthur's maritime trials on a larger map of his journey, creating an entire nautical odyseey across two pages.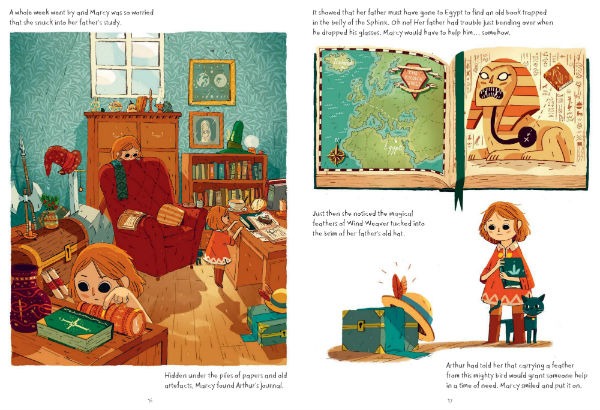 Marcy and the Riddle of the Sphinx picks up the Brownstone story many years later when Arthur, now married with a family, goes missing in Egypt. His reluctant daughter Marcy is forced to go to his rescue. But – given that Marcy has not inherited Arthur's adventurous spirit – can she conquer her fear, solve the riddle of the Sphinx and enlist the support of the Egyptian gods to free her trapped father in time?
As with the first volume, the art in the second book is full of little details that ensure younger readers will pore over every illustration to find extra parallel narratives within its pages. Marcy's story has an added thematic layer to it, allowing the audience to also identify with a child protagonist finding their way through an adult world and following up on plot threads established in the first story. Again there are echoes of those running motifs in myth and legend of mortals being caught up in the games and machinations of the gods; inspiration and narrative in fitting convergence.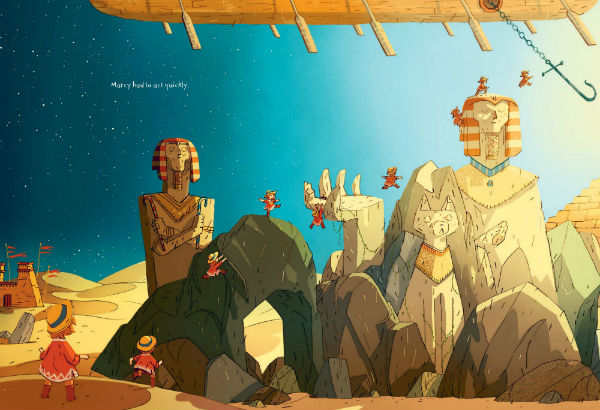 No doubt it will be Todd-Stanton's art with its ever inventive and shifting page layouts, clever character designs and truly evocative use of colour that will first grab the attention of its designated audience. But there's something quite joyous in the interactivity of the series' premise as well – that sense of legacy to the characters and the way it stimulates our imaginations with hints of stories yet to be told and an overarching bigger picture to be discovered. The prospect of a vast and sprawling jigsaw puzzle of Brownstone family adventure pieces just waiting to be fitted together is an exciting one indeed!
Joe Todd-Stanton (W/A) • Flying Eye Books, £12.99 each
Review by Andy Oliver