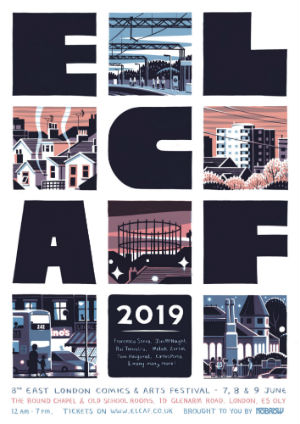 ELCAF FORTNIGHT!
Even if you're not a regular ELCAF-goer it's unlikely – given its ubiquity on social media over the last few months – that you'll have missed Jon McNaught's beautiful poster for the festival. Capturing ELCAF's East London environs it embodies that hypnotic quality of McNaught's work; capturing isolated moments in time that become entire narratives in themselves for us to lose ourselves in.
With McNaught this year's Artist-in-Residence at ELCAF it seemed only fitting on the opening day of our 2019 ELCAF Fortnight to look back on his comics work over the years with reference to past Broken Frontier coverage. Two years back P.M. Buchan reported back for Broken Frontier on an event at Plymouth College of Art where McNaught spoke to students, giving insight into his creative process and his practice to date. When talking of his debut book Birchfield Close (below, published by Nobrow Press, 2010) McNaught spoke about the genesis of his sequential work saying:
"After graduating I continued making prints to exhibit, approaching scenes of suburban roads in Bristol and Winchester as landscapes. The more I made, the more I started to bring in comic elements. I was never really confident at making up stories, and to this day it still doesn't come naturally to me, so I started doing images based on old childhood photos. The images became stories about completely silent kids wandering around landscapes, based on memories of me and my brothers. That process eventually became Birchfield Close, my first book."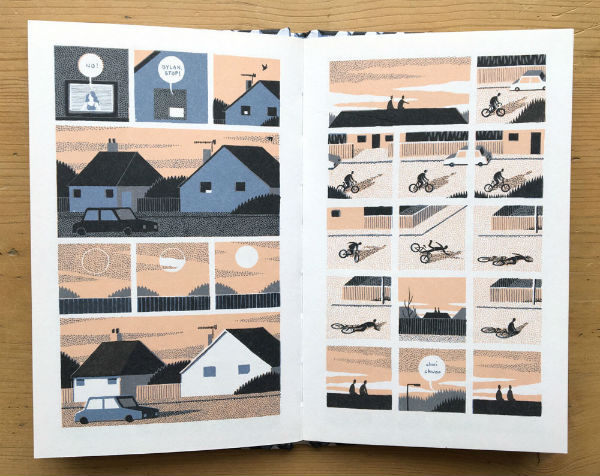 His next book Pebble Island (below, 2010) further explored those motifs of a child's eye view of the world, taking inspiration from a childhood home on the Falkland Islands. I said of it here at Broken Frontier:
"In McNaught's pensive memoir of remote island life, the readership is immersed in the gentle tranquillity of childhood, reminded of those neverending juvenile days when our awareness of time was distorted by our youthful sensitivities; when a year seemed like a lifetime and a single evening's play held endless possibilities for adventure. It's a book that lends nostalgia to a frame of perceptual reference rather than to the ephemeral realities of pop culture, and is all the more evocative for it."
In 2012 McNaught's Dockwood (below) was published comprising two short stories, the first of which was 'Elmview' a story that follows Mark, a young care assistant in a nursing home, as he journeys through a normal working day. This was also based on McNaught's direct experience of working in a similar environment. In 2o13 I said of this first Dockwood tale:
"Whether it's observing Mark as he embarks on the daily routine of his familiar chores or as he spends a moment of gentle reflection with one of his elderly charges, McNaught has a canny knack for finding something compelling in the humdrum and the monotonous; of imbuing each tiny moment with a flowing, rhythmical splendour of its own. There's a kind of lyrical melancholy to the construction of his pages here, with the seasonal autumnal atmosphere echoing the advancing years of Elmview's residents."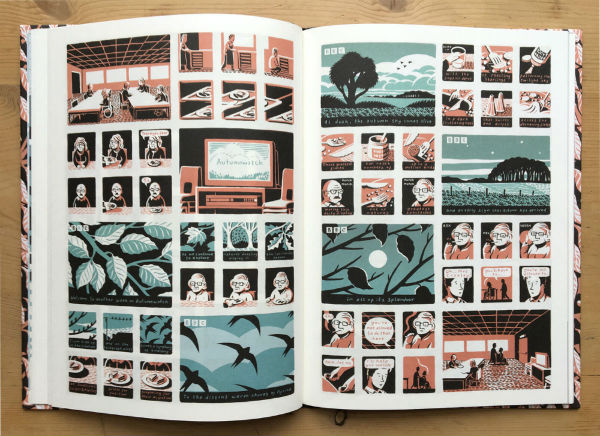 The second story in Dockwood is 'Sunset Ridge' centring on schoolboys Jake and Ryan on an evening paper round. I said of it in 2013:
"It's a delightfully understated piece that further showcases McNaught's ability to take smaller, isolated experiences and turn them into a greater whole. It also pursues that by now familiar theme of the wonder of childhood, where checking out a notorious piece of squirrel roadkill becomes an unmissable social event, and that time immersing yourself in the latest video game is the essential highlight of the day. Each page of Dockwood is assembled with unwavering precision but despite this ultra-methodical approach McNaught never loses sight of the intrinsic humanity that is such a vital part of his work. Those tight and carefully congregated panel layouts prove adept at bringing the audience into the moment by focusing on each aspect of an individual scene from different perspectives, and the subdued colour palette adds subtle extra layers to the book's tone."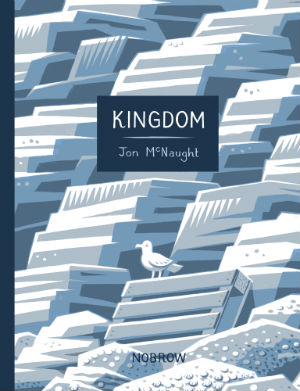 That sense of wistful nostalgia that permeates McNaught's work was explained in these terms by the artist in that 2017 interview piece:
"For me, comics are a really interesting medium. They're exciting and if you find an interesting idea, they give you the chance to recreate it. Thinking of memories, I get a sense of nostalgia at the thought of playing old Quake 2 maps and seeing violent video games with me brother. It makes me feel melancholy, thinking of the end of childhood and the clutter of a teenage bedroom. I can't really describe the feeling, which is why I try to create comics from it. You could say that what drives me in comics is the desire to recreate a feeling that was important to me."
Last year saw McNaught's most acclaimed book to date, the stunning Kingdom (below), which  followed a family holiday as a mother takes her children Andrew and Suzie on a weekend trip to a caravan park near the seaside. Gaining McNaught a double nomination in our 2018 Broken Frontier Awards, it's also a book that I considered a quietly melancholic masterpiece and a tour de force of slice-of-life comics when I reviewed it last year at Broken Frontier:
"The lyrical symmetry of McNaught's art is as beautiful in construction here as ever with the monochrome hues building up the most affecting sense of mood and atmosphere. His densely packed pages create a sense of movement and of the rapid passage of time, and yet also invite us to linger on the detail of each panel, gleaning their hidden truths and thematic vitality in isolation but also inviting us to consider not just what is happening between panels but just off them as well. Similarly, McNaught paints a picture of the family's complex inter-relationships with a graceful and delicate narrative economy that works on intuition rather than exposition."
You can read the full review here.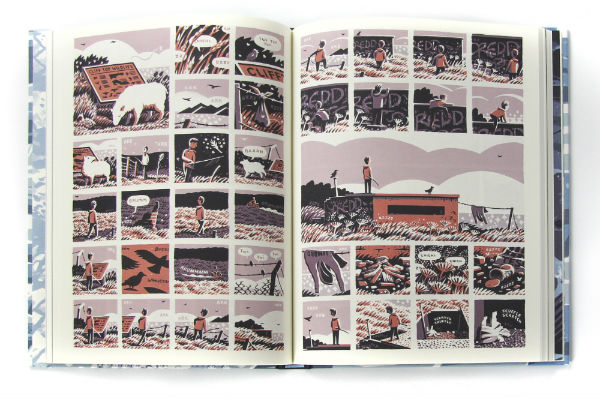 Imbuing the psychogeographical with a subtlety and a delicacy that's flavoured with nostalgic poignancy, McNaught is one of the most important talents to have emerged in the British indie scene in the last decade. If you're visiting ELCAF this June and you haven't picked up Kingdom yet make sure to grab a copy from the ELCAF table.
Feature by Andy Oliver
Jon McNaught is this year's Artist-in-Residence at ELCAF. Visit his site here and follow him on Twitter here. For more on ELCAF 2019 visit the festival site here and follow them on Twitter here.