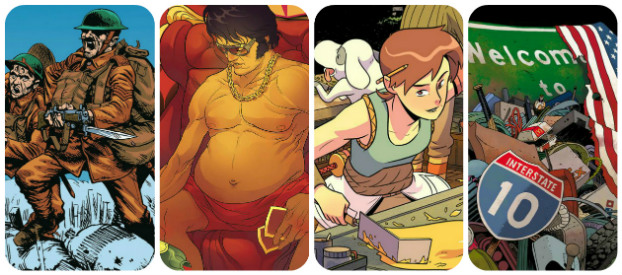 It's nearly Wednesday, and you know what that means: a fresh load of comics and graphic novels! With so many publications hitting your local comics store, comics events or digital storefront, the BF team are here to lead you through the woods with our weekly staff picks. Satisfaction guaranteed!
Comic of the Week
Charley's War: The Definitive Collection Vol. 2 – Brothers in Arms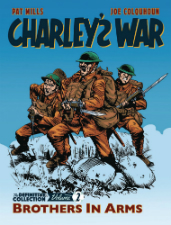 We spoke last month about Pat Mills and Joe Colquhoun's Charley's War from the 1970s Battle weekly and how their uncompromising account of young Charley Bourne's time in the trenches of the First World War was a true masterpiece of comics. Finally seeing the first volume of Rebellion's definitive edition of the saga in its physical incarnation shortly after simply underlined the fantastic job the 2000 AD publisher is doing in bringing back to print some of the true classics of British comics.
This month sees the second bumper compilation of Charley's War from their Broken Frontier Award-winning Treasury of British Comics line. This volume includes Charley's return to wartime London, the cutaway story of French Foreign Legion deserter Blue, and more of Mills's scathing commentary on the inhumanity of those who treated their own forces as disposable resources. Utterly essential reading.
Pat Mills (W), Joe Colquhoun (A) • Rebellion, £19.99
– Andy Oliver
Flavor #1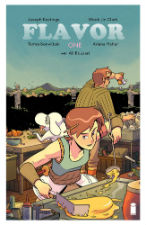 In Flavor's  sun-soaked, bureaucratic semi-steampunkish dystopian walled city, you need a license for everything – even cooking and parenting – so underage unlicensed chef Xoo is a shoo-in for quirky underdog of the year. Throw in a mysterious monster or two lurking outside of the walls and the involvement of  renowned food scientist Ali Bouzari and your palette must be piqued.
Not many comics list a culinary consultant alongside writer (Joseph Keatinge) and artist (Wook Jin Clark) so it seems like food is going to be a big part of the narrative here. Tamra Bonvillain also does a great job as colourist in this new Image title, using evocative lighting and textures that suits the East meets West artwork which has hints of mid-Eighties Miyazaki world-building with a dash of Hergé.
Joseph Keatinge (W), Wook Jin Clark (A), Tamra Bonvillain (C), Ariana Maher (L) • Image Comics, $3.99
– Jenny Robins
Barrier #3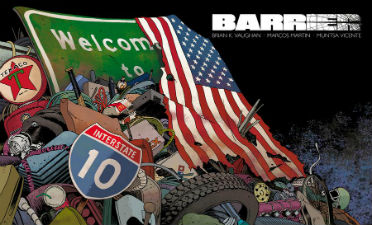 A timely print edition of Marcos Martin and Brian K. Vaughan's sci-fi border patrol story jogs effortlessly past its midway point. This third issue marks the point where the story expands from a small-town crime tale to an intergalactic epic whose grand scope is grounded in reality, as it plays on contemporary anxieties regarding illegal immigration, a hot button topic which has only grown more scalding since the advent of the Trump presidency.
Originally published online through the pair's Panel Syndicate imprint, these oversized weekly publications have proven to be a welcome platform for Martin and colourist Muntsa Vicente's widescreen storytelling, with pacing reminiscent of a southern-flavoured thriller and a palette that gestures towards both the initial desert setting and the alien landscapes it develops into, reminiscent of the William Friedkin film Sorcerer.
Brian K Vaughan (W), Marcos Martin (A) Muntsa Vicente (C) • Image Comics, $3.99
– Tom Baker
The Ballad of Halo Jones Vol.1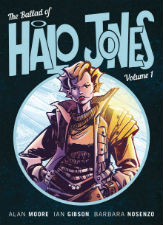 In a week of notable Rebellion releases this new presentation of Halo Jones looks to bring Alan Moore and Ian Gibson's space opera character – a rare female protagonist in 2000 AD's early years – to a new audience of readers. It follows its unemployed titular heroine as she attempts to escape from The Hoop, a floating 50th-century housing estate; an act which is the catalyst for an epic journey that will eventually take her out to the stars and into the depths of an interstellar war.
Halo Jones is perhaps comics' greatest "if only" and we can but wonder as to where this potentially epic saga would have taken us had the series progressed beyond the three arcs to the much-rumoured planned volumes thereafter. The big talking point of this new edition is, of course, the addition of Barbara Nosenzo's colours to the previous black and white visuals. It's no doubt an understandably controversial move as far as the purists are concerned but having seen an advance copy of the book there's no denying Nosenzo's respectful and atmospheric hues add another layer to the storytelling.
Alan Moore (W), Ian Gibson (W), Barbara Nosenzo (C) • Rebellion, £9.99/$9.99
– Andy Oliver
Infidel #3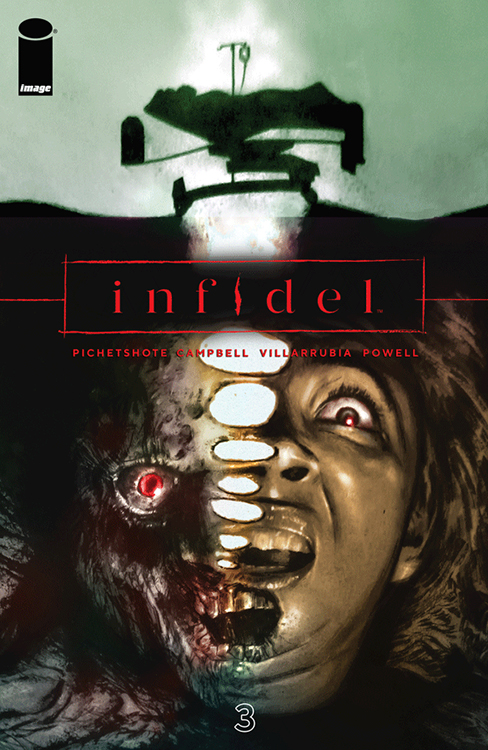 While the debut issue grabbed readers' attention and earned glowing reviews, this new series recently had a spike in interest when the news broke that TriStar optioned it for a movie.
But it's what happening within the pages that should be getting you to pick up these issue. That is, if you're in the mood for being terrified. This modern horror story is a twist on the classic haunted house trope that could only be told now.
A Muslim-American student, Aisha, moves into a building that was the site of a terrorist bombing and that seems to be haunted. She's seeing disturbing visions, terrible things are happening to the other tenants, and of course she's the one taking the blame.
Pornsak Pichetshote (W), Aaron Campbell (A), José Villarrubia (C), Jeff Powell (L) • Image Comics, $3.99
– Tyler Chin-Tanner
The Wicked + The Divine #36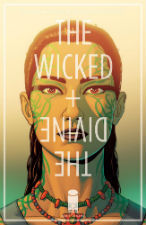 In a popular media vernacular that increasingly tends towards all sizzle, no steak — comics which start full of bluster and high concepts before failing to stick the landing, movies which show off puzzle boxes and then disappoint with the contents when they're finally revealed — The Wicked + The Divine impresses as one of the few stories that has grown richer over time, rather than losing its lustre as its premise develops and evolves in surprising ways.
What began as a fun allegorical romp where teens become pop stars with actual god-like powers has, after some somewhat confounding plot twists and turns, grown into a mature meditation on artistry, influence, power and responsibility. One which still has plenty of time for puns, musical numbers and bloody murders. Speaking of, as the series enters the final furlong, expect things to get especially grim. The cliffhanger ending of last issue, a disturbing (and cannily timed) revelation about Kanye-esque deity Baal, is surely setting up a destructive climax to this wonderful series.
Kieron Gillen (W), Jamie McKelvie (A), Matt Wilson (C) • Image Comics, $3.99
– Tom Baker
Judge Dredd Megazine #396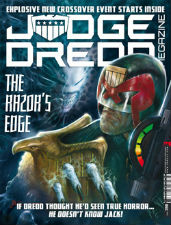 Unlikely crossovers are always fun and those that revisit perhaps hidden corners of comics history have an extra allure for the diehard continuity buff. This month's Judge Dredd Megazine sees the Lawman of the Future face off against the demonic, other-dimensional Razorjack and her mission of destruction in a tale written by Michael Carroll and with art by Razorjack creator (and Watchmen colourist) John Higgins.
Razorjack has a long history that includes a trade paperback from Com.X a decade or so ago (you can read my review on the old Broken Frontier site here as well as a two-part Razorjack interview with John Higgins here and here). Higgins himself has said of this team-up ""The Razorjack/Judge Dredd crossover is my dream job, the culmination of many talks over a very long time with writer Michael Carroll, at conventions and bars all over the world. Finally to have my own character appear in the universe of my favourite character of all time seems like all the successful deadlines I ever hit and all the best commissions I have ever received – rolled into one just bliss!"
Also featuring this month are The Returners, Chopper, Cursed Earth Koburn, Judge Dredd: The Dead World and the usual extra helping of classic reprint material.
Anthology – Various creators • Rebellion, £5.99
– Andy Oliver
Bubba Ho-Tep and the Cosmic Blood-Suckers #1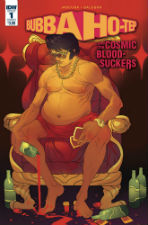 IDW couldn't have chosen a better — or stranger — first addition to their stable of licensed titles which reaches beyond the realms of action figures and cult TV shows. Joe R. Lansdale's short story 'Bubba Ho-Tep', adapted to a film starring Bruce Campbell and Ossie Davis, follows an elderly Elvis Presley doing battle with a soul-sucking mummy in a retirement home (also he gets help from a fellow resident, who believes himself to be a similarly wizened JFK).
Joshua Jabcuga and Tadd Galusha, working from a story by Lansdale, here reach back to an earlier run-in between Presley and the supernatural, as President Richard Nixon calls on The King and bodyguard Johnny Smack to do battle with vampiric aliens. Chances are this won't hit the same strangely poignant vibe as the original, but it looks plenty scatalogical and gonzo enough to enthrall the mondo movie crowd.
Joshua Jabcuga (W), Tadd Galusha (A), Ryan Hill (C), Baldemar Rivas and Tim Truman (CA) • IDW Publishing, $3.99
– Tom Baker