Buck Slaughter's Book of Rock'n'Roll Facts, writer/publisher Ken Eppstein's first fully solo release, is both a straightforward collection of vignettes inspired by his record store days and a gently mocking send-up of obsessive fandom – one that channels the same DIY energy as the garage and punk rock music it celebrates.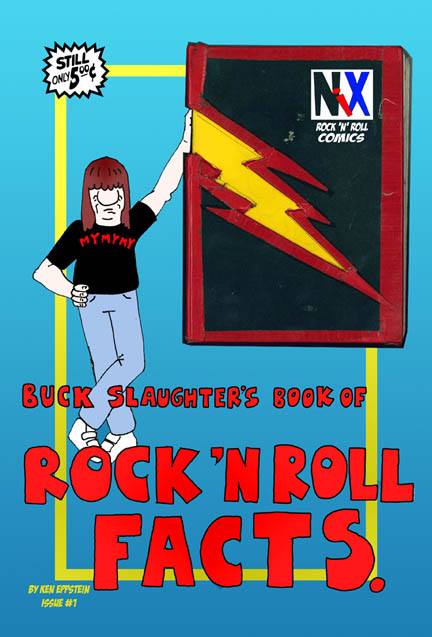 Eppstein's book, which fittingly debuted on Record Store Day at Columbus, Ohio's Lost Weekend Records, is also a good reminder of the perils of mixing business with pleasure. Eppstein's own experiences informed the character of Buck Slaughter, unassuming record store proprietor and host of the issue's interwoven short stories.
Slaughter us a rock n' roll fiend with the best selection in town. Now if he could only find some customers…
As a funny-book host, Slaughter may not have the gravitas of EC's Crypt Keeper or the Old Witch. But he's a genial raconteur if you've got some time to kill, and you might find yourself swept up in his passion along the way.
Eppstein has a knack for detail and caricature that helps to ground the character of Slaughter, along with his two repeat customers: the Wiener Kid, on the quest to write the "Greatest Rock 'n Roll Song Ever!", and Sleepy Kay, a student of music history's obscure annals and frequent foil to Buck's rock 'n' roll authority. These characters should feel familiar to anyone who's ever spent a lazy Saturday afternoon arguing the merits of the Stooges versus the New York Dolls – and it's not hard to see the parallels with our own focus of interest.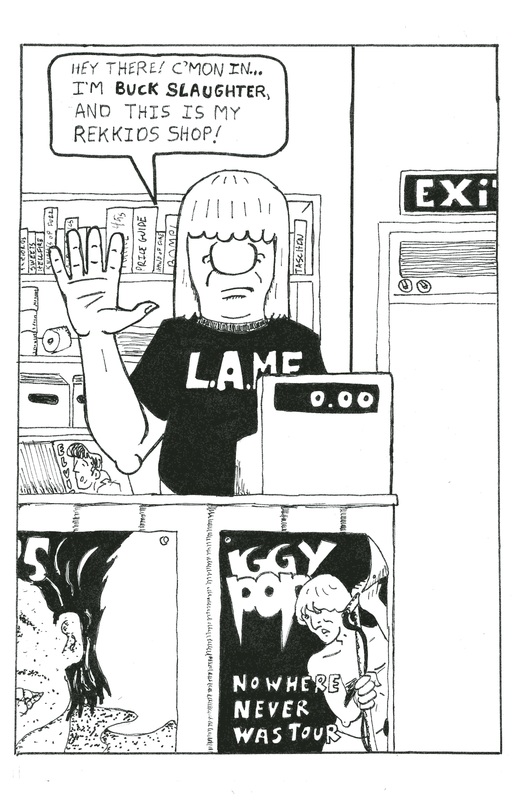 The stories include Buck's first meetings with his two patrons, the naming of the Wiener Kid's band, and some suspenseful encounters with potential customers. These flash-fiction pieces are interspersed with miscellanea such as a guide to "rekkid" grades and a Top 5 list of songs about crime.
Given our emphasis on diversity and inclusiveness in the comics scene, Buck Slaughter could easily come across as a dinosaur with his critique of customers' record choices and penchant for shouting out self-proclaimed rock n' roll facts. However, his sheer good nature illustrates something that's often lost when discussing any hobby that spurs strong feelings: it's possible (and okay) to argue for your passions and share your interests without standing in the way of a new generation of fans.
After all, that's how communities are built – in record and comic shops, in school hallways, after the late-night show of your new favorite band. Most of us owe a debt to at least one individual who set us down the inevitable path of fandom, whether it's the older sister who introduced you to your first Cure album or the friend who let you leaf through his old copies of Marvel Essentials.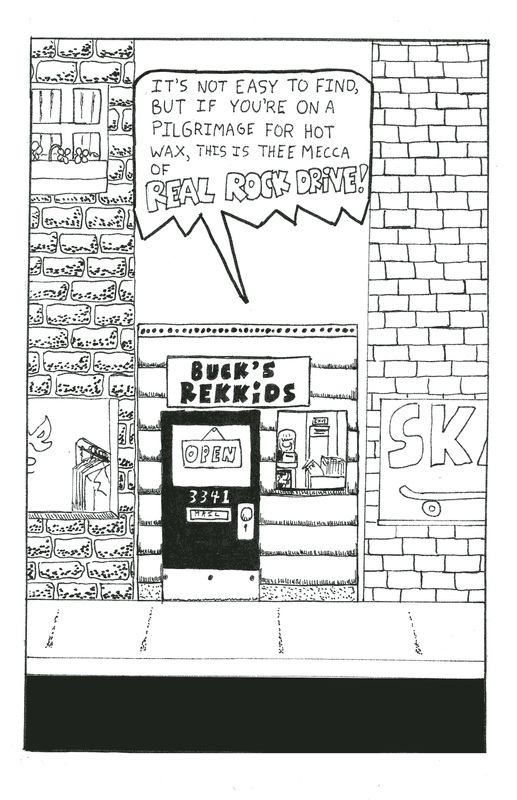 But the most valuable aspect of Buck Slaughter has to be its motivating power to move beyond mere consumption and create something new, best summarized in an opening note from the creator: "When I was getting depressed over my inability to create polished comic pages like the pros, I should have been just making what comics I could and enjoying the rough edges."
Yeah, Eppstein's art and lettering are crude (yet bluntly effective), and you might not get all of his lovingly rendered album and zine references. But there's one thing you can't deny: the door is open for you to bring your own passions into the world, whatever form that takes. And for that, Buck Slaughter certainly deserves our thanks.
Ken Eppstein (W/A) • Nix Comics, $5.00