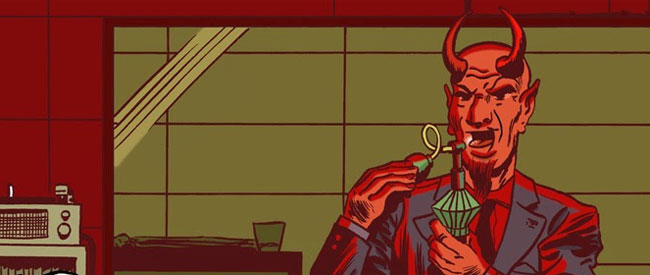 Unabashedly "retro", Nix Comics Quarterly – Ken Eppstein's regular collection of the weird and wonderful world of rock – lambasts modern trends and tastes with tongue firmly planted in cheek.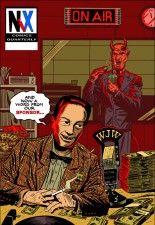 Despite an obvious nod to the classic EC horror comics of the 1950s, Nix Comics Quarterly isn't afraid to offend sensibilities. No longer beholden to the draconian censorship laws of the past, a comic of this particularly dark and bloody stripe doesn't have to worry about public or political backlash against the terrifyingly funny stories of death, demons, and downloads contained within its pages.
Featuring eight disturbing chillers of varying length, Ken Eppstein's tribute to his twin passions of horror fiction and classic punk rock pokes fun at some of the more lamentable trends afflicting the modern music industry today.
From the pandemonium gripping corporate rock radio stations to MP3 zombies drooling for the next big download to atmospheric tales of revenge, this issue of NCQ refuses to pull its punches – or take itself too seriously.
It's a delicate balance to achieve, and it takes a deft editorial touch to corral a stable of talented artists and writers with strong creative voices of their own into such confines. Eppstein, who pens a few of the anthology's features himself, never loses sight of his creative mandate or the niche that NCQ occupies in an medium starved of originality and artistic vision.
NCQ harkens back to a tradition of bold, raw underground works from comics' adolescence that in many ways responded to the censorship besieging the aforementioned horror comics produced by EC and others. Each story utilizes wonderfully textured artwork, oozing with impeccably spotted blacks and vibrant color to evoke at various times satire, dread, or tragedy.
Among my personal favorites is 'Sanctuary', Eppstein's collaboration with popular album cover artist Darren Merinuk, in which a vengeful Bohemian revenant stalks her own paranoid strangler.
The story is perhaps the quietest of the collection and plays to Merinuk's strengths as a designer and old-school inker of the pen-and-brush variety. Heavy blacks and a lurid color palette combine to create an electrified atmosphere of paranoia perfectly suited to the most serious piece in the book.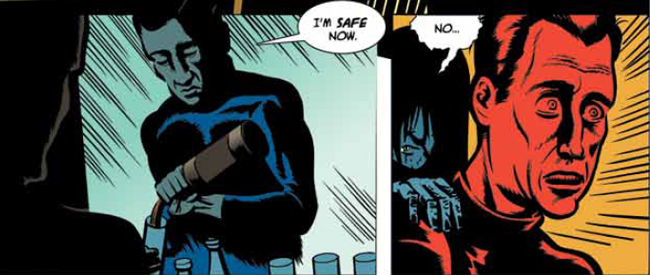 'MP3s of Madness' by Christian Hoffer and Derek Stewart is a fun twist on the seemingly indefatigable zombie craze, bemoaning the modern consumer's unquenchable desire to download digital (and often pirated) copies of their favorite mainstream musicians, rather than embrace the almost-dead analog formats of vinyl and cassette. A special treat for U2 fans, to be sure…
And finally, 'Do This for Chuck' is a satirical romp by Eppstein and Jess L'Heureux that features girls, guns, and gravedigging, while lampooning Charlton Heston and the NRA. These last two stories made me laugh out loud: relevant, damning, and just damn funny, they're both perfect examples of NCQ's raison d'être.
Peppered with a variety of shorter features, including one-page comic stories, urban rock legends, and Eppstein's personal column, NCQ is the total package, with a little something for the aging punk or secret hipster in all of us.
Various (W, A) • Nix Comics, $5.00.