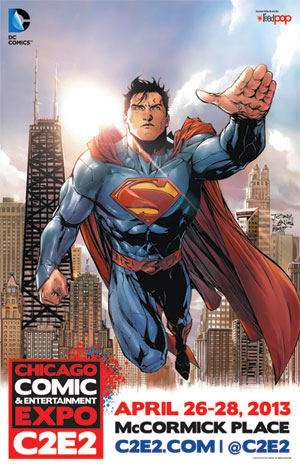 The Chicago Comics and Entertainment Expo, now in its fourth year, continues to be one of the best pop cultural events in the Windy City. While keeping comics at the forefront, C2E2 has also become a lightning rod for all things related to science fiction, fantasy, movies, television, puppetry, anime, and all forms of geek culture.
Guests this year included Kevin Smith, Burt Ward, Julie Newmar, Patton Oswalt, Ron Perlman, Felicia Day, Fifth Doctor Peter Davison, Natalie Dormer and James Cosmo of Game of Thrones, True Blood's Janina Gavankar, Buffy and Husbands writer Jane Espenson, numerous Pirates of the Caribbean, and many more. While the reality remains that autographs from these celebrities can cost a pretty penny, some were willing to pose for impromptu photos and all seemed happy to meet and interact with enthusiastic fans.
The Variant Stage has been a constant since C2E2's first year and it once again offered great entertainment and amusing distractions during the show. Comedy troupe the Pineapple-Shaped Lamps performed a "shadowcast" of the Buffy musical "Once More With Feeling." Their rendition of the episode was delightfully creative and charmingly tongue-in-cheek about their limited, er, special effects (a fire truck was portrayed by a girl in a t-shirt that read "I am the Fire Truck"). A group called the Nerdologues performed sketch comedy, showed amusing videos, and shared personal reminiscences of growing up a part of the geek sub-culture. Several events which took place in panel rooms in the past were moved to the Variant Stage this year and given a wider audience. Among these was YouTube star, ItsJustSomeRandomGuy, and his popular Marvel/DC action figure parodies. The latest episode of his "Zero Hour" series debuted at C2E2.
The Silver Age Trivia Challenge, now a Chicago con tradition, was also moved to the Variant Stage. A team of fans was once again pitted against writer Mark Waid, practically a savant of the Silver Age (needless to say, he trounced them). In fact, there was a heavy focus on trivia and fan competitions this year. Silver Age Trivia was joined by The Big Quiz Thing, a live quiz show, and a live version of Wikia Qwizards, an online competition where the contestants ask each other questions. This year C2E2 embraced in a big way the minutiae and trivia that we nerds hold so dear.
An interesting change this year was the lack of a DC Comics booth. This was an unusual development, for DC definitely had a presence at the con. Several panels covered the New 52 reboot and the guest list included DC creators such as Brian Azzarello, Doug Mahnke, Chris Burnham, Amanda Conner, Peter Tomasi, Tony Daniel, and others. DC chose this year to participate only in the panels and other programming. It's unknown at this time what prompted this decision or if this will be their policy in the future.
As for the other half of the Big Two, Marvel was surprisingly forthright this year on certain topics, including how fans can achieve their dreams of breaking into comics. At a panel devoted to this very subject, editor C.B. Cebulski discussed what Marvel looks for in their writers, artists, and editors. Several creators shared the stories of their big break, including Declan Shalvey, Ramon Perez, Ryan Stegman, and Shawn Crystal. The panel stressed perseverance and social media networking and also suggested websites where aspiring creators can post samples such as digitalwebbing.com and penciljack.com. If writing is your craft, it's important to have finished comics work to show an editor, whether self-published or done with small press companies. To prove this was not just lip service, Cebulski even accepted comics samples from several members of the audience.
C2E2 was once again a blast for comics and media fans. There were so many events, panels, contests, and performances, and so much art and comics on display that even three days is not enough to experience it all. Let the countdown for next year begin!