Over the years the Central Canada Comic Con, or C4, has evolved from a small, local fan expo hidden away in Winnipeg, Manitoba, Canada to a full-fledged comic book convention drawing fans and creators from across North America. Featuring an impressive line-up of comics talent and celebrities spanning the pop culture spectrum, this year's show saw approximately 35,000 people file through the doors this past weekend.
Spanning two floors of Winnipeg's RBC Convention Center, C4 offers a little something for everyone: comics, gaming, LARPing, a celebrity custom car show, CWE Wrestling starring Ted Dibiase and Tommy Dreamer, high profile celebrities such as James Marsters and Ron Perlman, and an extensive list of comic book talent from across the continent, headlined by the legendary Neal Adams.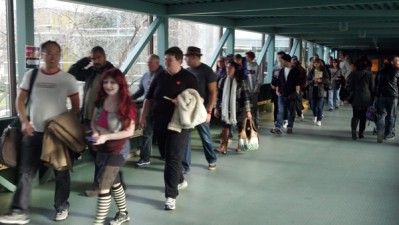 Having missed the con for several years, I was duly impressed with the level of organization, the eclectic programming, and the overriding feeling of celebration permeating the floor as volunteers, cosplayers, talent, and fans bantered, snapped pics, and meandered the maze of tables in that wonderful, hectic orchestrated chaos characteristic of any good comic book convention. Dazzling costumes, down-to-earth artists sketching and drawing for fans, strangers posing for pictures with strangers, and a line-up of happy geeks that literally snaked over and across city blocks, through Winnipeg's interconnecting Skywalk, ensured this was a con to remember.
Although I missed the call for interviews this year with C4's headliners, all of the talent was extremely approachable and I had a great time meeting Facebook friends in person, including past interview and review subjects such as Mark Sparacio (The Omega Paradox, Battle for L.A.) and Chris Chuckry (The Unwritten). I made a new friend in Richard Pace of Ashes fame (despite myself, I might add). A veritable host of local artists and writers from across the Prairies and Ontario also showed that Canadian comics talent will continue to be a force to be reckoned with for years to come. Justin Shauf, Donovan Yaciuk, and Vince Sunico, are just some of the creative upstarts I had the pleasure of meeting during the weekend.
I witnessed a near-fatal bludgeoning during a LARP battle royal that had me rolling in the aisle with laughter and the sudden urge to urinate, and willingly submitted myself to the unmistakable reek of gamer B.O. by walking through (okay, near) the gaming tables. It's kind of like a fart in an elevator. You just can't help but take a whiff.
By far though, the best memory of C4 was one I'll hold dear for the rest of my life, no matter how brief or fleeting: Having five minutes of Neal Adams time, uninterrupted and not as a reviewer or writer or anything else other than a fan. It turns out we're both huge fans of the CW's Arrow (I always wondered!) and I even let him on the Black Canary reveal which he missed. We talked Ollie Queen. I watched him ink a drawing. I shook the man's hand. It was more than enough.
For more information about C4 and their other events, check out: http://www.c4con.com/