Earlier this week we reported here on the new line-up of members on the British Comic Awards Committee which includes Broken Frontier's own Editor in Chief Andy Oliver. This year's awards are in partnership with award-winning and acclaimed Nottingham comic shop Page 45.
Today the BCA announced 2015's Call for Entries with a new entry form procedure to nominate your favourite work published since September 1 2014. And, as ever with the British Comic Awards it's a very open call for submissions.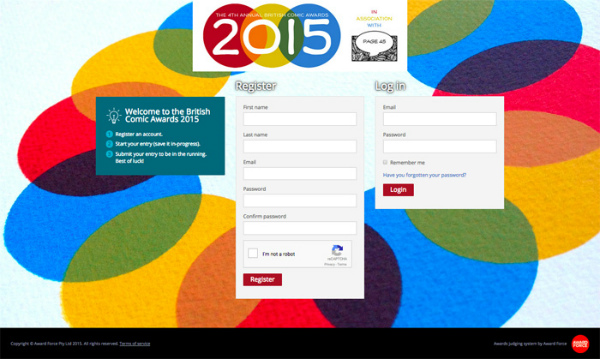 From the BCA site:
READERS! Tell us about the best comic or graphic novel you've read in the last 10 months. Have you read a great comic for kids? Let us know! Have an idea for who should be in our Hall of Fame? Tell us!
CREATORS! Don't be shy, submit your own work for consideration or put yourself forward for our Emerging Talent category. Get involved!
With our new form you can easily submit as many entries as you like, duplicate entries for multiple categories and even edit your entries all the way up until the deadline of 31st August 2015!
The British Comic Award winners will be revealed later this year at the Thought Bubble festival in Leeds in November. In the meantime get nominating and get your voice heard!