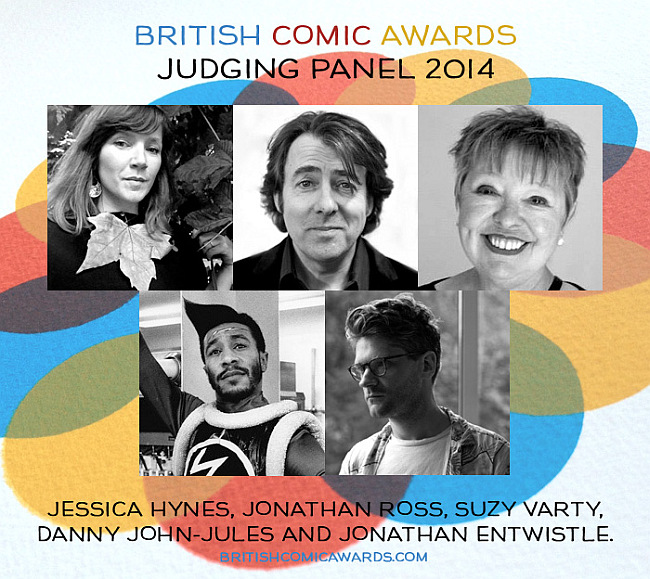 With Thought Bubble rapidly approaching the usual round of announcements of books to be launched at the influential festival has already begun. But, lest we forget, this is also the time of year that the British Comic Awards are announced. While we await the shortlists later this month, the names of those involved on the judging panel has been released this morning, ready for the big event itself in November.
The full press release is below. And, as seems obligatory with any mention of the BCAs now, here's the customary link to Joe Decie's cartoon account of not winning the Best British Comic Award in 2012.
###
The British Comic Awards are an annual celebration of the very best in comics and graphic novels created in the UK. We aim to promote the finest examples of the medium to a wider audience and act as a highly recommended starting point for new readers and schools, libraries and  book shops seeking to expand their horizons.
The Awards consist of just 5 categories; Best Comic, Best Book, Emerging Talent, Young People's Comic Award (voted for by young readers) and Hall of Fame.
The British Comic Awards are very happy to announce this year's Judging Panel. The judges will decide the winning title from the Best Comic,  Best Book and Emerging Talent categories. Our judges are:
Jonathan Entwistle – A film director currently developing a UK based adaptation of Charles Forsman's The End of the F*cking World (or TEOTFW).
Jessica Hynes – An award winning actor and writer known to many as Daisy Steiner from the influential sitcom Spaced.
Danny John-Jules – An actor, singer and dancer who has appeared in numerous musicals and films. Best known for his role as Cat in Red Dwarf.
Jonathan Ross – The infamous television and radio presenter and comic book writer.
Suzy Varty – Comics creator and tutor known for her work in the British Women's Comic movement of the 1970s.
More info on all our judges can be found here: http://britishcomicawards.com/judges/
The shortlists for all our categories will be announced on Friday 17th October. The winners will be announced at the 3rd Annual British Comics Awards Ceremony on Saturday 15th November as part of the Thought Bubble Festival in Leeds.
Today also sees the publication of the longlists for all of the BCA categories. These lists contains nearly 200 titles across the Best Comic, Best Book and Young People's Comic Award categories as well as 93 entrants for this year's Emerging Talent category.
The full longlists can be found here: http://britishcomicawards.com/previous-years/longlist-201314/
The shortlists and this year's Hall of Fame entrant will be chosen by the BCA Committee. More info on this year's Committee can be found here: http://britishcomicawards.com/committee/
For more information the BCAs, please visit our website, or follow us on Twitter or Facebook.