If you follow UK comics social media to any degree then you will surely have come across the work of artist Lyndon White, even if you don't immediately recognise his name. White has been self-publishing and collaborating with others on the scene for several years now, and once seen his genuinely stunning visuals and gorgeous application of colour can never be forgotten. Somehow, though, his comics have never had the kind of higher profile they deserve; something that hopefully will change now that his fantasy graphic novel Candles has been published by eclectic newer publishing outfit on the block Cast Iron Books.
Candles is an all-ages offering with a strong focus on ideas of family (whether biological or found). It takes place in a land where the use of magic is strictly prohibited, but also one where a mystical plague known as the Dark-bark is infecting animals and the villagers alike. While the beasts of the realm become a fearsome threat when affected the humans are instead drawn trance-like into the boundaries of the local enchanted forest.
Young Grace ignores her father's orders and sets about on a journey to confront the witch she believes responsible for their plight. Meanwhile the magician Idris and his companion Ava have been thrown out of their town by a populace intolerant of magic. Similarly concerned about the curse of the Dark-bark they too begin a parallel quest to discover its origins…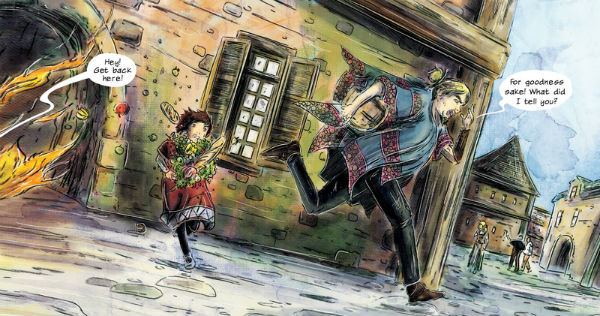 With its appealing characters and fantastical elements Candles will be an instant draw for a younger reader. But this book's "all-ages" billing means precisely that because this is a genre tale that has as much to offer an older audience. White's plot is quietly sophisticated in construction, cleverly wrong-footing the reader, and employing a neat narrative sleight-of-hand as the two main storylines converge. Both exuberantly joyous and deeply poignant Candles can effortlessly switch from moments of expertly-paced comedic slapstick to scenes of devastating tragedy. It's to White's credit that in such a relatively short page count he ensures our immediate investment in the small cast of characters, paying dividends as the book builds up to its finale.
But, of course, it's White's manga-esque visuals that will be the first thing to capture the casual reader's attention when browsing Candles. Beautifully rendered, White creates a world here that seems ripe for further exploration; one full of dragons, giant wolves and mystics but also one that is home to a familiar and oddly relatable human element. Colour plays a vital role with the eerie scenes within the  forest being particularly memorable, and White's use of lettering to mirror emotional states or expand on the book's fantasy elements should not go underappreciated.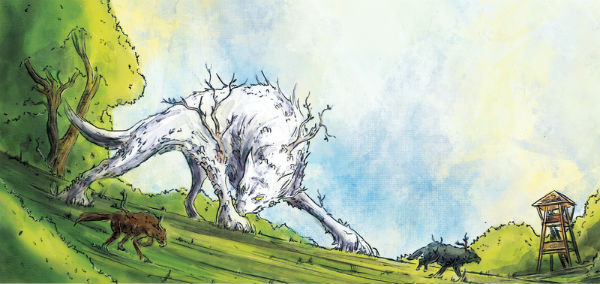 To date Cast Iron Books have put out the kind of eclectic line-up of work that all lovers of the medium's many possibilities will want to check out but arguably Candles is the most accessible graphic novel on their publishing slate so far, and a much deserved moment in the spotlight for the stunning visuals of Lyndon White.
Lyndon White (W/A) • Cast Iron Books, £15.99
Review by Andy Oliver