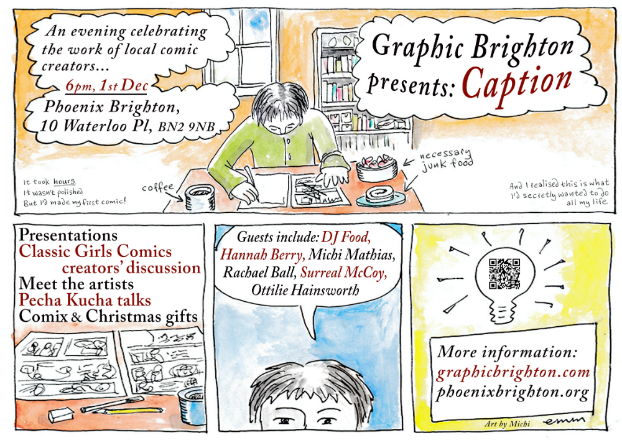 Alex Fitch of Panel Borders has been in touch to let BF know that Caption – the UK's longest-running small press festival which originally took place between 1992 and 2013 is back this December in Brighton for its 25th anniversary with a special evening event!
Press release details are below and you can find out more from the official Caption site here.
The Caption 2017 programme has been released!
Caption is back after a two year hiatus as an evening event on 1st December in Brighton, at The Phoenix, an artists' studios and exhibition space (10–14 Waterloo Place Brighton BN2 9NB)
Here's info about the line-up of talks and presentations at Caption 2017:
Friday Dec 1st, The Phoenix Brighton
6pm doors open
6.30pm Intro to Caption – Alex Fitch & Jenni Scott
6.45pm 'Music and Comics' panel discussion with The Surreal McCoy and DJ Food
7.30pm 'Pecha Kucha' presentations by Rachael Ball, Tom Cleary, Ottilie Hainsworth, Jaime Huxtable, Daniel Locke, Michi Mathias and Myfanwy Tristram
8.30pm 'Misty and the legacy of classic girls comics' panel discussion with Hannah Berry, Hannah Eaton and Jenni Scott
10pm close
Related events:
Also on Dec 1st: Bozboz Gallery private view, 30 Richmond Place, BN2 9NA
7.45pm Exhibition launch for the 'Art of Snub 23', featuring a DJ set by DJ Food
Saturday Dec 2nd:
Mapping Your Own World @ Phoenix Brighton
11 am – 1 pm and 2 – 4 pm, free drop-in
Creative sessions for all the family with Phoenix artists including Ottilie Hainsworth. Enjoy exploring and making together. Children 3 – 14 years old must be accompanied by a parent or carer.
Maps & Lives exhibition celebration day @ Phoenix Brighton
2 – 8 pm in the gallery and at Phoenix Community Centre
Join us for a celebration of the Maps & Lives exhibition, a 'rear view' instead of a 'private view' and a last chance to contribute artwork to the community project.
Rose Tinted Spectacular Zine Fair @ Rose Hill Tavern – meet artists and buy 'zines and comics by local creators
3pm – 11pm The Rose Hill Tavern, Rose Hill Terrace, London Road, Brighton BN1 4JL