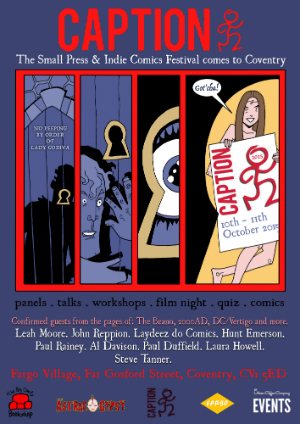 As we all know it's festival season in the UK again and after last week's Bristol Comic and Zine Fair – and before LICAF and Thought Bubble descend upon us – it's time for Caption this weekend, the previously Oxford-based event which this year comes to us from its new venue of Fargo Village in Coventry.
Caption is the longest-running British festival having begun way back in 1992 and its philosophy is to showcase both small press and professional creators alike. This year's guest list includes Laura Howell – the first woman artist to feature in The Beano – whose The Bizarre Adventures of Gilbert & Sullivan was recently published by Soaring Penguin Press. Also in attendance is 2000 AD writer Ian Edginton (Leviathan, The Red Seas, Scarlet Traces), Leah Moore (Albion, Sherlock Holmes, Black Shuck) and Paul Duffield (FreakAngels, The Phoenix).
There's an eclectic programming line-up which includes family-themed sessions like Beano Drawing Classes with Hunt Emerson and Laura Howell, and a panel on all-ages comics with Howell and Paul Duffield. Other highlights are Leah Moore on digital platforms for comics, Paul B. Rainey talking about his book There's No Time Like the Present from Escape Books, Al Davison on drawing fantasy environments, Jenni Scott discussing small press appreciation in the Midlands, and a bumper Laydeez Do Comics meeting curated by Charlotte Bailey and involving former Broken Frontier staff writer Joe Krawec on the panel.
Full details on Caption 2015 can be found on the official site here.