Write and Draw Your Own Comics strives to build a participatory relationship between its target audience and the medium of comics.
How do we get children more involved with comics? It is, of course, one of the big questions for the medium in the UK in 2015. While the form continues to grow and evolve for every other demographic, the available opportunities for kids in the UK to engross themselves in comic strip worlds specifically tailored just for them are restricted in serial form to just a few valiant publications like The Phoenix and The Beano.
Within the small press scene over the last couple of years there has been a significant growing trend, though, of creators self-publishing work directly targeted at a younger age range – Boo!, Astrodog, Loaf Magazine and of course Jamie Smart and his many contributors on Moose Kid Comics, to name just a few. Indeed, Smart made some very pertinent comments about just this point in my interview with him here last summer, arguing that kids are just as excited now as they have ever been to engage with comics – it's simply that their options are so limited.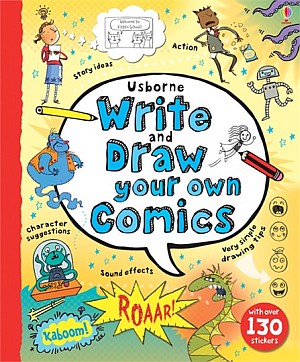 Usborne's Write and Draw Your Own Comics gives children a chance connect with the comic page from a completely different perspective; as creators rather than readers. After all, how better to awaken that sense of passion about comics in kids than getting them to create their own?
Written by Louie Stowell with art by Jess Bradley, Neill Cameron, Freya Harrison, Laura Howell, Adam Larkum and Igor Sinkovec, this is a "how to" book pitched at a much younger audience than Cameron's similarly themed, and recently collected, How to Make Awesome Comics strip in The Phoenix. In that regard the first thing you notice about Write and Draw Your Own Comics is how its very physicality lends itself to a younger audience. Part instruction manual and part exercise book, it's ring bound to allow kids easy access to the sections where they will, eventually, be fashioning their very own graphic narratives!
The first section is essentially a junior Understanding Comics, explaining to its target readership the way in which comics work in a clear and accessible way. It begins with the visual basics – covering everything from character design to speech balloons and sound effects, through to how a sense of movement works on the page – before moving on to the writing and plotting side of the creative process. Each topic provides an exercise for the reader to participate in, both underlining in their minds as to the roles of each of aspect of the form, and giving a practical opportunity to re-enforce what they have just learnt in order to build up their storytelling skills on the journey towards ultimately producing something a little longer-form.
The great strength of Write and Draw Your Own Comics is in its element of interactivity. The balance between explaining and "doing" has been carefully considered throughout and readers are constantly invited to switch between the two, meaning their attention is unlikely to wane. It's a clever piece of pacing that gently guides the would-be comicker and ensures imaginations are stimulated while, at the same time, a sense of autonomy is retained. Added to this there's a tactile element as well, with pull-out stickers allowing the debutant artists to practice things like speech balloon or sound effect placement.
The multi-artist approach to the sections also emphasises the diversity of the form, reminding kids that comics can be funny, creepy, action-packed or wacky depending on their subject matter… in short, as we all well know, anything you want them to be! But, of course, the visual appeal of the book would be redundant without an engaging narrator to elucidate, explain and make suggestions. Louie Stowell fills that role admirably, communicating the "secrets" behind the structure of the comic strip and how to design your own in a manner that is suitably economical but always informative.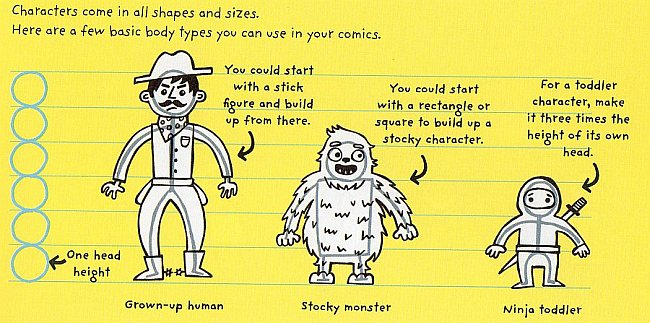 The final two thirds of Write and Draw Your Own Comics are a try-out section where the artists give a one-page comics premise for a strip – 'Secret Agents', 'How to be a Cat', 'Dinos in Danger', 'Pirates and Treasure' and so on – and the reader is then provided with a number of empty, panelled pages to continue the story idea. If you're worried that this sounds like you're paying out for a book full of blank pages then let me allay those fears – the tops, bottoms and margins of each of these areas are replete with illustrated story ideas and potential plot points designed to nudge and inspire the newbie junior practitioner in their creative adventures.
Cleverly designed to make this a full-on creative experience rather than a dry step-by-step guide, Write and Draw Your Own Comics strives to build a participatory relationship between its target audience and the medium of comics. An excellent and absorbing introduction to the mechanics of sequential art for the younger reader.
Louie Stowell (W), Jess Bradley, Neill Cameron, Freya Harrison, Laura Howell, Adam Larkum and Igor Sinkovec (A), Russell Punter (Designer) Usborne Books, £9.99, October 2014