Founded by comics writer and former care manager Jonathan Clode, in conjunction with Cardiff University and with funding from ESRC Impact Acceleration, All Is Not Well (AINW) is a new online space for independent comics creators to explore the experiences of caregivers and people who receive care through graphic narratives. The practical and emotional support provided by care givers to those with physical as well as mental needs is something rarely discussed in mainstream media, despite the fact that three in five people in the UK will be carers at some point in their lives. Overjoyed to learn that this crucial, yet oft overlooked, subject would be given a platform on my favourite medium, I spoke with Jonathan to find out more about his motivations and aspirations for this vital initiative.
BROKEN FRONTIER: First of all, thank you for birthing this project. As someone with a close family member who requires care, it's of especial significance for me to see comics being used to shine a rare spotlight on people who work in care, as well as those who need it. The whole team at Broken Frontier was eager to take on this interview with you, which itself speaks volumes for the communicative power of what you're doing.
What inspired you to choose comic strips as the medium for sharing these stories?
JONATHAN CLODE: I've been captivated by comics since I was tiny, and for me they are the most diverse and fascinating way to tell a story. Representations of care and carers are hard to find, and what is around tends to be documentary based and usually exposing something awful. Comics are such a great tool for communicating different feelings and perspectives, and people who aren't your typical comic fans are really starting to see this I think. And hopefully this is something fresh for people who are interested in what comics are capable of.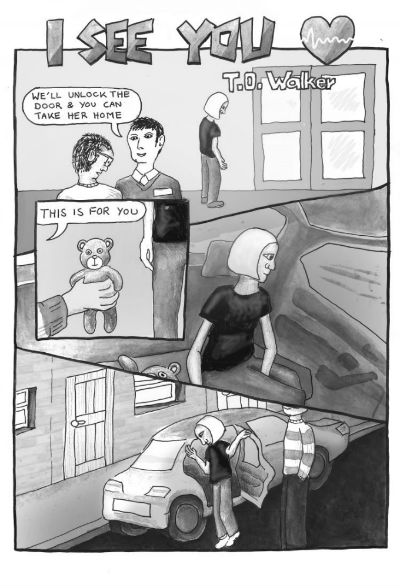 We've seen comics increasingly tackle uncomfortable and untouched subjects with the evolution of independent and online publishing. Are there any such works/artists/sites that have had a particular impact on you as a comics writer and reader?
When I started taking writing seriously a few years back, I got really interested in what we'd probably call graphic memoirs. The first big project I worked on was the WW1 anthology To End All Wars, and through doing that I got really interested in comics that could capture people's experiences, particularly the ones we find difficult to articulate or that get overlooked. The Graphic Medicine site was a fantastic way in to so many amazing books and projects, but the one that really struck a chord with me was a book called And Yet We Rise by David Borden [see video below]. It tells the story of his daughter who was born with profound disabilities and pretty much written off by everyone. It's a story about care in the purest, most beautiful, brutally honest way I've ever read and lit a bit of a spark under what had just been one of those 'one day I'd like to do…' sort of ideas.
Can you tell us a bit about your background as a care manager and what that role entails?
I worked in learning disability support for about 12 years and almost 8 of those were as a manager. That meant working for people who lived in their own homes and being responsible for the staff teams who provided the day to day to support. For years it was my ideal job and I'd like to think I was pretty good at it. After the initial austerity cuts in 2010 the organisation I worked for, like most of them, had to downsize which meant my workload trebled. I left almost 2 years ago, partly to work on comics and partly because the job had morphed into something I'd never apply for. The gap between care and the process of appearing to care while just ticking boxes got so big I was in danger of getting swallowed up inside it.
Will we see some of your own comics on the site sometime soon?
Yes! I've written two strips, one about the changes to care in the community and the notion of what a carer signs up for vs what they are expected to do, and another, more irreverent (and possibly cathartic) strip that's a middle management jargon buster. I still can't hear the word 'outcome' without crying a little bit! I'm also working on a strip about the future of care for elderly people, which has a slight Future Shocks vibe to it.

It's so crucial to see more authentic representations of disability and people requiring care in comics and all other forms of popular media, and for this to happen, people with first-hand experience should be leading the way and guiding those narratives. The first comics entry on AINW, 'I See You' by T.O. Walker, exemplifies this with its intangible nuance, depicting how small, thoughtful gestures and the passage of time can mean so much to someone's healing process. How did the T.O. Walker involvement come about, and secondly, do you have a particular selection process for your contributors?
I'm really glad that was our first strip as metal health needs in children is woefully underacknowledged and poorly resourced. T.O. came on board after the Graphic Medicine site was kind enough to put a call out for us. Her book Not My Shame [from Singing Dragon below] was something I'd been meaning to get my hands on and having been on both sides of the care system, her work comes from a place of complete honesty but without being dramatic. For me that was a key thing in developing this project; getting away from shocking exposure stories and instead capture the voices of people who have been part of the care system in this country, be it through needing help or working to give it. As far as selection goes, we don't have a strict process, just that the story is based on a real experience. Not even necessarily that of the creator; it would be great if people got in touch with their own personal stories and we adapted them into comics. What's great is we've had people from outside the UK get involved so we can widen the scope and look at the differences in care standards across the world.
AINW is a unique way of encouraging conversations about care giving and disability. What are a couple of ways we can channel these conversations into actionable, positive change for this overlooked area in society? Are there any particular organisations leading the charge in the UK?
I think the main thing is hearing what people have to say and acting on it. Too often we're told by leading figures what we need to make things better, whether it's our jobs or our quality of life, and I can tell you from experience the same is true of the care industry. The fact that it's commodified and is even considered an industry is the bulk of the problem, and that's kind of where the name All Is Not Well came from. But in doing this we wanted to make sure that we represented the amazing things carers do and not just see them as a ubiquitous part of our society who only have a face when we need them or when they do something scandalous. Carers are incredibly vulnerable and it would be good to see some representative groups come around that could stand specifically just for them.

Can you tell us a bit more about Cardiff University's involvement in AINW?
A while back I got in touch with a few of the lecturers from their School of Modern Languages because I saw they were doing some work with the Lakes International Comic Art Festival. A lot of it chimed with what I was writing at the time, so I got involved with a few events they were running at the university. Ryan Prout co-runs the site with me and he has to get a lot of credit as he secured all the funding for us. We were both interested in how to capture the memories and experiences of under or misrepresented people. I mentioned the idea of comics about care and it developed from there.
I read that you hope to compile the strips into a print publication, which would be amazing! Do you have a date in mind for this?
No date as yet. We're aiming to try and release new strips and creators Q&As every few weeks, and then once we have a volume of strips that would fill a decent sized book we'll look to see if we can get it printed. What's exciting at the moment is seeing what different people are coming up with, so hopefully by the time we do get it into a physical copy we'll have a range of stories that can reflect the whole concept of care and what it means to people.
For more on All is Not Well visit the site here. You can all follow Jonathan Clode on Twitter here. And check out the hashtag #CarersRightsDay on Twitter for more information on the issues touched on in this interview.