London's Cartoon Museum and publisher SelfMadeHero have announced a new online exhibition centred around the recent Catalyst anthology, a collection of stories designed to put a spotlight on emerging creators of colour. Catalyst was published in 2021 as part of SelfMadeHero's Graphic Anthology Programme and this development represents a great opportunity to get the talented artists involved in front of a wider international audience. The book also features two Broken Frontier 'Six to Watch' creators Dominique Duong (2020) and Jason Chuang (2022). More details in the press release below.
SELFMADEHERO AND THE CARTOON MUSEUM SHOWCASE THE ANTHOLOGY CATALYST WITH EXHIBITION OF WORK BY UK'S EMERGING CREATORS OF COLOUR                                                             
ONLINE FROM 1st MARCH TO 31st MAY 2022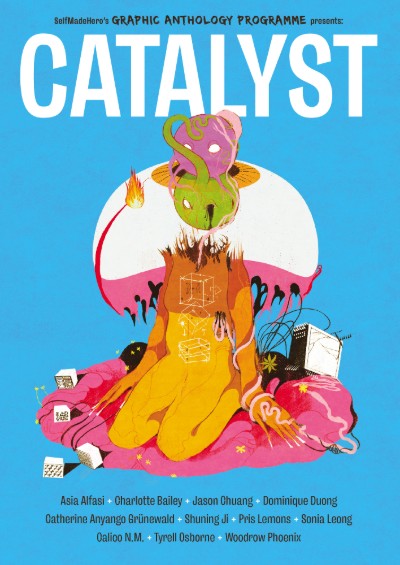 SelfMadeHero, the UK's leading independent graphic novel publisher is teaming up with The Cartoon Museum to curate an online exhibition celebrating SelfMadeHero's 2021 Graphic Anthology Programme (GAP), which was designed to develop, publish and promote emerging creators of colour from across the UK. The exhibition, which showcases work from the anthology Catalyst, goes live on The Cartoon Museum's website from 1st March until 31st May.
"We are delighted to share the work of the artists who participated in Catalyst through an online exhibition," says Joe Sullivan, Director of The Cartoon Museum. "It is an incredibly valuable project and we are very happy to see SelfMadeHero making an active decision to create a platform for artists who are under-represented in the comics industry. I hope that the online exhibition will share the artist's amazing work and experiences, and encourage others to pick up a pencil and tell their own stories through drawing comics."
Art by Jason Chuang
Catalyst editor Ayoola Solarin says: "There is a vast array of talent in UK comics, but, like many other creative sectors, it has a long way to go in acknowledging and showcasing the contribution of artists of colour to the industry. My hope is that the launch of SelfMadeHero's Graphic Anthology Programme will go a little way towards dissolving the gatekeeping that still permeates the UK comics scene, while giving space for new, innovative voices to be heard."
The GAP programme, the first of its kind for SelfMadeHero, saw seven participants complete an intensive 12 weeks of comics mentoring and masterclasses. This culminated in each participant – along with their mentors – producing an eight-page graphic short story, all of which have been combined into this anthology which is out now in the UK and US.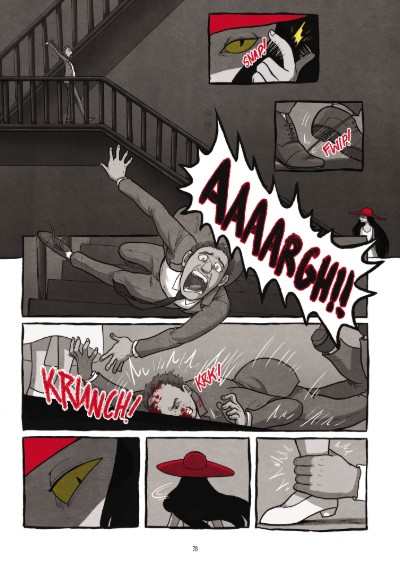 Art by Dominique Duong
Collecting stories from a range of artists across the UK, this comics anthology unites their voices under a single theme: 'catalyst'. In one story, the accidental witnessing of a horrific scene turns a regular day into a nightmare; in another, the truth of what it really took to put a man on the moon is revealed. From tales of misplaced memories to battles with the id, Catalyst offers a look at the consequences of big and small acts alike.
Showcasing a mix of established and emerging artists, this collection imagines the myriad ways in which a chain of events might end in either euphoria or catastrophe. Sometimes both. Edited by Ayoola Solarin, this provocative, intriguing and revelatory anthology invites readers to consider the situations, people and events that might accelerate change in their own lives and in our society as a whole.
The book can be pre-ordered through The Cartoon Museum's online shop now.
The Cartoon Museum can be found at 63 Wells Street, Fitzrovia, London, W1A 3AE. Tel: 020 7580 8155