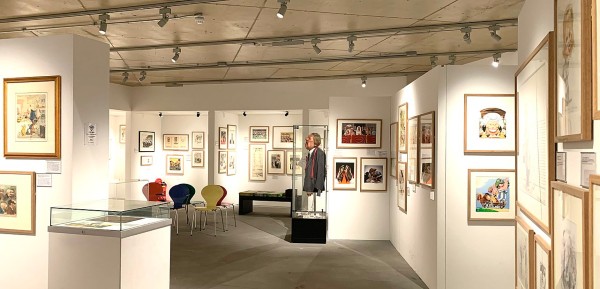 We're huge fans of the work of London's Cartoon Museum at Broken Frontier and its recent relocation to a wonderful new space has ensured that every event there is a highlight on the capital's comics calendar. Closed since March due to the pandemic the Museum is now facing considerable challenges in the months ahead given the loss of revenue from admissions, its shop and its programme of events. We're adding our voice to those urging readers to support the Museum if they possibly can in these difficult times. It's too valuable to lose and there's an online fundraising campaign for it here if you feel you can make a contribution. Even sharing that link online will be a huge show of support!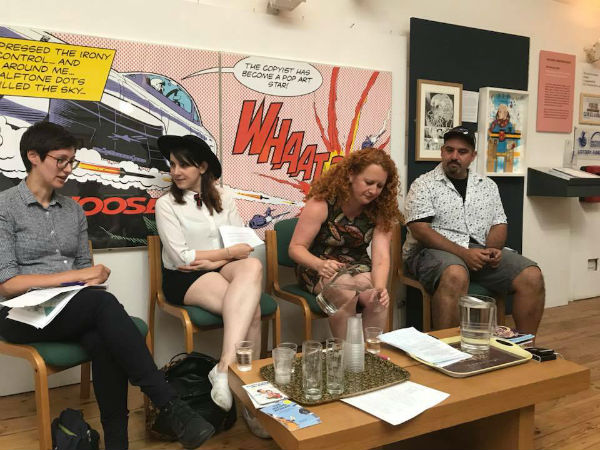 Comics Laureate Hannah Berry, graphic novelist Karrie Fransman, the Cartoon Museums's Becky Jefcoate and Sha Nazir (BHP Comics) on one of the 'Sustaining Comics' panels in 2018 at the old Cartoon Museum venue
Broken Frontier has been involved with a number of events at the museum over the years. I've given talks on BF's work and sat on a number of panels there, including the 'Sustaining Comics' one in 2018 and one on breaking into comics in 2017. Our EdieOP has also had her work exhibited there in The Inking Woman exhibition which featured many BF favourites. You can see a video interview with Edie at the old museum space below.
Broken Frontier's EdieOP interviewed at the Cartoon Museum in 2017 and below with her work (above her top right) at 'The Inking Woman' exhibition that year.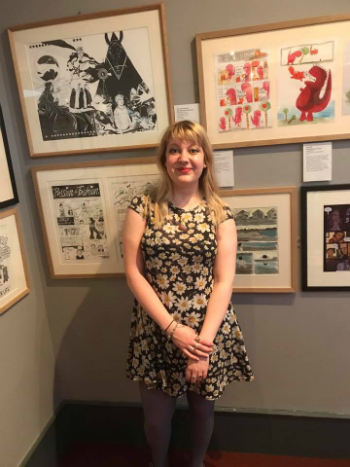 For more on the Museum's work visit their site here and here's that link to donate one more time. We simply can't afford to lose this gem of an institution and all the work they do in both celebrating the form and boosting our community!