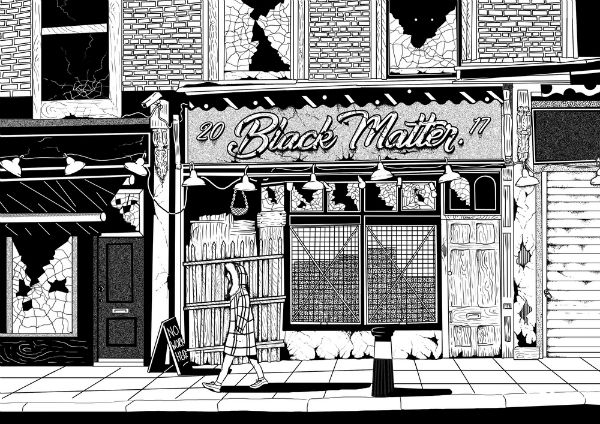 ELCAF FORTNIGHT!
In 2017 a number of esteemed UK indie creators suggested I took a closer look at the work of artist Cat Sims for potential inclusion in Broken Frontier's annual 'Six Small Press Creators to Watch' initiative. They were not wrong in those recommendations.
When we announced our 2018 'Six to Watch' – which it goes without saying included Sims' name in their number – I acknowledged that, saying "From the synthesis of psychogeography, incisive social commentary and genre influences in her comic Black Matter to her celebration of social housing in the zine Space it's proven to be very sage advice indeed. Every image enhances the thematic whole, every panel overflows with detail; this is work that can effortlessly shift between realism and surrealism, the urban and the macabre."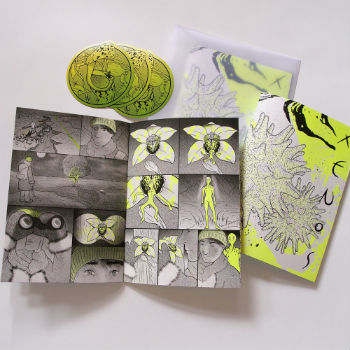 Sims tackles contemporary issues in work that is as much comics social activism as it is narrative. Her visuals are intricate, her storytelling sometimes deliberately oblique, and the material is always guaranteed to stay in your thoughts long after you've put the comic down. I talk to Cat today about her practice, her creative process and her new comic Xenos (right), debuting at this year's ELCAF…
ANDY OLIVER: Can we begin, Cat, with you telling us a little bit about your artistic background and your route into comics?
CAT SIMS: I've worked on and off as an illustrator for ten years, following a foundation course in Art and Design at Winchester School of Art and a degree in Graphic Design many moons ago at LCP (London College of Printing (now London College of Communication)). I've always loved comics and moving into the medium has felt like a natural progression, largely because the format provides a platform for much bigger ideas to be explored and picked apart.
AO: Many Broken Frontier readers will be familiar with your work given that you're one of our 2018 'Six Small Press Creators to Watch' but for those discovering your sequential art for the first time in this interview could you give us a very brief overview of your published comics to date?
SIMS: Black Matter was my first foray into comics, started in 2014, when I found myself compelled to draw the changing environment of where I was living. The work, put simply, showcases the stark contrasts between those who have everything and the helplessness of those who are left behind. It's bleak, yet absurd. And there's a cameo from Yinka Shonibare, which I added after I was lucky enough to meet him. He is a remarkable person and has the most powerful presence. There's a look in his eyes that suggests he knows something we don't.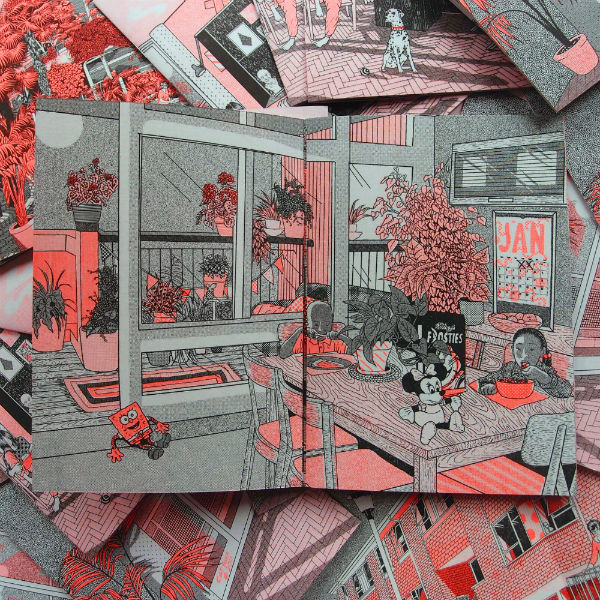 SPACE (above) was my second piece of sequential art (or whatever you may call it), which I was working on at the same time as Black Matter and derives from the same ideas, but instead, this work is full of hope and celebration of architecture and public spaces that were in there very essence, designed and built to make people feel good. All people. Not just the wealthy.
Graves was a very short zine that dealt with my experience and recovery from Graves' disease. It was purely a cathartic process and helped me to get through a very difficult time (last year) where I was extremely unwell. It's not something I'll ever reprint I don't think.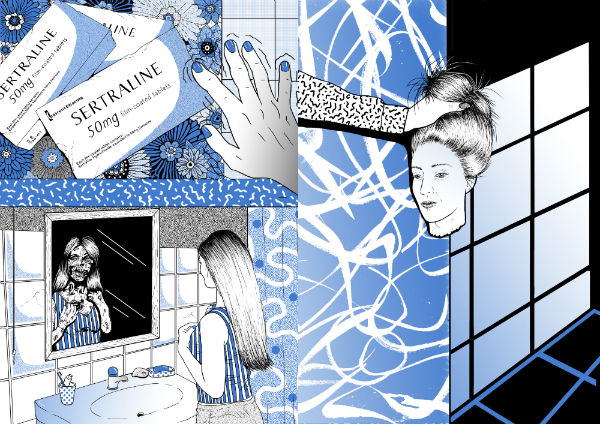 AO: Powerful and acutely observed social commentary is at the heart of your practice. What is it for you about comics as a form that makes them so effective in communicating and sharing those messages with an audience?
SIMS: I suppose simply that more can be said in sequence as opposed to just one isolated image. That said, I'm keen on not giving too much away. I want the reader to think for themselves and draw their own conclusions from my work. I almost completely gave up on illustration a few years back as I couldn't see much beyond decorative pictures and started to question the function of (my own) illustrative work, but considering comics as a medium really changed things for me and opened up so many new possibilities. I'm so glad I gave it a go, I'm hooked! I must say that I have found the comic community to be overwhelmingly supportive too, which is such a contrast to the competitive nature of illustration.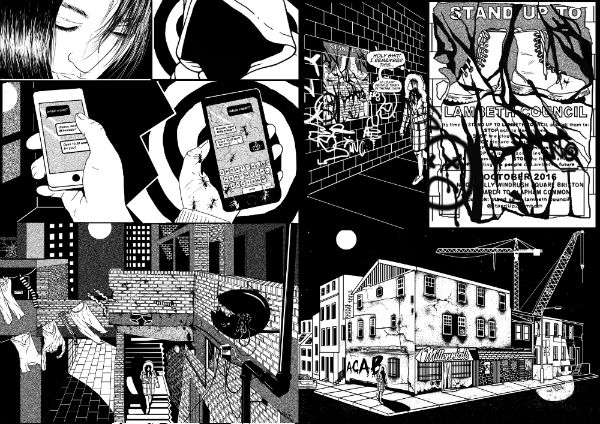 AO: Architecture and the psychogeographical are also central motifs in your work. You use them memorably to express themes of space, connection and community in publications like Black Matter and your SPACE zine. What most intrigues you about exploring those convergences of place, social inequality and political change?
SIMS: For me these themes are unavoidable and are the central focus that drives me to continue making work.
AO: Black Matter (above) is a publication that had a long gestation period. Can you tell us about the origins of the comic and how you refashioned original illustrations into what is almost a parallel narrative?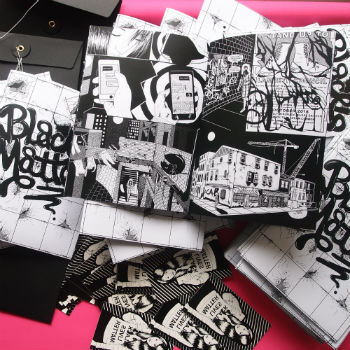 SIMS: Black Matter came together very naturally piece by piece, but I took my time over it and edited many parts out that I thought were too forceful or contrived. The multiple layers of narrative are present in each spread, but it wasn't a story that I wrote or even planned. The scenes throughout the comic represent so much on their own that the narrative was driven by the unanswered questions behind each panel and what they represent in the real world.
AO: There's an intriguing blend of stark realism and overt visual metaphor in Black Matter. How important a part of the comic's narrative structure was it for you to make the audience interpret and draw their own conclusions about its themes and subject matter?
SIMS: A lot of the subtleties of Black Matter's themes are lost on many readers, as the narrative isn't overtly obvious, but I definitely wanted it to be a challenge to read and digest it. I had thought about adding an extreme visual to put the message across very clearly, but that unforgettable image of Grenfell Tower going up in flames says more than I ever could have dreamed up.
AO: Can you give us some insights into your comics creative process and the broader range of mediums you work in?
SIMS: I honestly don't work in too many mediums – largely, ink, digital and risograph. I like to combine detailed computer-generated lines with loose brush strokes or splatters and scratches of ink to cut through the order of the compositions. I wouldn't rule out working with any medium and would like to develop a much richer use of colour, possibly with watercolour.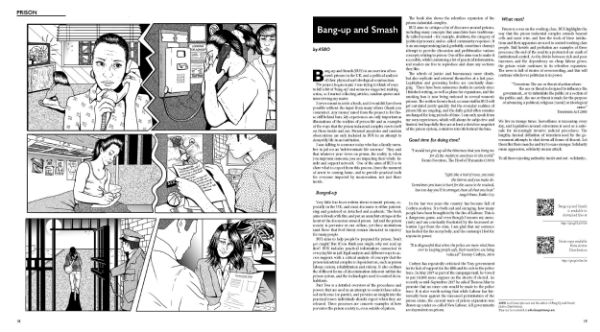 AO: Comics are just one part of your wider practice. Where else has your illustrative work been seen in recent years?
SIMS: I've worked on illustration projects for the V&A, Sisters Uncut, various political publications such as STRIKE! and DOPE (above) magazines and I sell prints at the Barbican and on People of Print's Department Store, which have been very popular over the past year or so. I recently joined Illustration Ltd. who represent me as an illustrator's agent, and have started working with clients in America and across Europe which is very exciting.
AO: You have a new comic debuting at ELCAF. What's the premise of Xenos and what are you exploring in its pages?
SIMS: Xenos: At the Edge of Life is a comic about environmental collapse and is comprised of a series of disaster scenarios divided into five sections. Some are set in what JG Ballard would have called "the near future" or "the next five minutes", while others are set in 'the near past' or the 'last five minutes', which might nevertheless be a possible future. The work has an overarching concern with the consequences of technological progress on nature, in particular, how technological progress has altered nature. The work loosely explores ideas of waste and overproduction, the experiences of Chinese migrant workers, intensive animal farming and emergent infectious diseases, and the future of the Arctic permafrost. It's quite an abstract piece, grounded in very real issues.
AO: From your experiences of self-publishing what would be your one piece of advice to newer creators for getting their work seen by wider audiences?
SIMS: Social media is a great way to reach a very wide audience, although it can often feel like your voice gets lost amidst the chaos of selfies. I think a lot can be said for sticking things out. It's taken me a very long time to develop a style of work that I feel comfortable presenting to the world, so if whatever you're doing isn't working for you, take your time and reflect on what it is that you want to achieve. Once you get that defined, the strength of your work will speak for itself.
AO: And, finally, what's next for Cat Sims? Where can we look to see your work (both in comics and outside of it) in the coming months?
SIMS: Amongst several commercial commissions, I'm about to get to work on illustrating an entire book, aimed at young adults, so that's something I very excited about. As well as that, I'm planning a sequel to Black Matter and a longer comic about the internet. I'd love to do a riso residency somewhere too. If you know of one, let me know!
Cat Sims will be exhibiting at ELCAF. For more on her work visit her site here and follow her on Twitter here and Instagram here. You can find her online store here. 
For regular updates on all things small press follow Andy Oliver on Twitter here.
Catch up on all our ELCAF Fortnight articles to date here. ELCAF runs from June 22nd-24th. Full details on the ELCAF site here and you can also follow the festival on Twitter here.