Titan's latest Doctor Who crossover comes to a dramatic end in this concluding special as the Doctors' individual timestreams converge and the mystery of the universal threat of the Void, and the white holes it's tearing in reality, is finally solved.
Warning: While overt plot points are avoided below there are general references to previous chapters of the series. Those looking to read the book in collected form may consider those spoilers and wish to avoid reading further.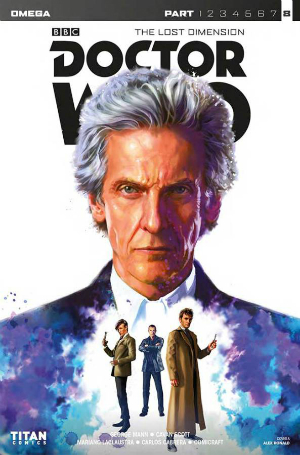 Crossovers are rarely a smooth ride, flowing as they do through the otherwise contained narratives of other titles and, by necessity, requiring transitional jumps that can feel awkward and forced. The Lost Dimension has had its share of jarring shifts and, more noticeably, some sideways story shuffles that felt somewhat extraneous to the main plot. But when pared down to its core narrative it's proved to be a tale that neatly and cleverly toyed with Gallifreyan history to a degree that it did that one thing that so many event comics rarely manage – it felt genuinely epic within the confines of the continuity that spawned it.
The highlights coming into this finale have included the Eleventh Doctor becoming an integral part of the '80s show's Cartmel Masterplan in a way that we would never have anticipated, some sly Big Finish audio play references, the central role of Jenny the "Doctor's daughter", a meshing of Silurian society from Classic Who and NuWho, and the return of a number of monsters from the original series who – let's face it – we'll never see given screen time in the revamped show.
In this concluding episode writers George Mann and Cavan Scott continue this continuity-fest with a denouement that brings the Doctor's selves together – in a way that tops even that air-punching 'Day of the Doctor' sequence – as they seek to finally stop the white holes that have been appearing throughout history and consuming the universe. What strikes the reader immediately is how "on brand" each Doctor sounds, with their individual inflections and characters perfectly captured in their dialogue and interplay. And they have plenty to discuss in a resolution that is wonderfully cosmic in scale and features a threat that echoes back to the early days of Time Lord society.
Artist Mariano Laclaustra (with assists from Fer Centurion) has a lot to do here in both emphasising the metaphysical subject matter and ensuring each of this expansive cast is portrayed with all their trademark eccentric body language. It's Laclaustra who reminds us of the sheer scope of the peril that endangers all of reality while deftly underlining the very personal nature of the Doctor's involvement in scenes that powerfully symbolise his conflicting role in the story arc. The use of "moving" panels within panels towards the end of the issue as Tardises converge is particularly inspired and "pure comics" while Carlos Cabrera (with Mony Castillo) on the colouring duties adds a suitably electrifying atmosphere throughout.
A clever and inventive self-referential plot, spectacular visuals and more timey-wimey than you can shake a sonic screwdriver at, ensures that The Lost Dimension ranks up there with the very best multi-Doctor stories in any medium. However Titan choose to collect this arc in future those who feared it was one multiple Doctor story too many are in for a surprise. An excellent example of the ever entertaining work Titan are putting out from this much-loved franchise.
George Mann & Cavan Scott (W), Mariano Laclaustra & Fer Centurion (A), Carlos Cabrera & Mony Castillo (C), Richard Starkings and Comicraft's Jimmy Betancourt (L) • Titan Comics, $4.99