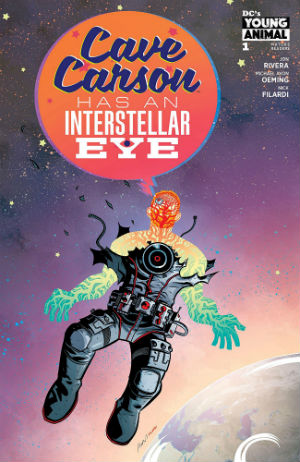 DC's Young Animal line was set up to try new approaches to storytelling, and last year's Cave Carson Has a Cybernetic Eye fully embraced that mission statement, resurrecting a near forgotten Silver Age character whose only previous claim to fame was fighting underground monsters in his "Mighty Mole" and pitting him against a threat of cosmic proportions in a bewildering but compelling twelve-issue storyline which also reintroduced short-lived street level character Wild Dog to the DCU.
Now, relaunched as Cave Carson Has an Interstellar Eye, the series is taking Carson and his daughter Chloe (but not Wild Dog, sadly, though he does get an amusing mention) to a whole new level of weirdness on a cosmic scale, as the bearded spelunker finds himself lost in outer space after an encounter with Star Adam, an alien rock star who Cave apparently knew in his misspent youth.
The series is a difficult one to describe, and almost impossible to pigeonhole. At times, it seems more like a stream of consciousness than a story plotted in the traditional manner, and it's pretty much impossible to predict where it's going. But Cave Carson himself is a oddly appealing figure, and while the central story in this opening issue is at times hard to get a grip on, the short back-up piece, focusing on how Cave's original team fell apart, paints him as a sympathetic figure trying to come to terms with tragedies in his past that have left him lonely, estranged from his daughter for years, and with a grip on reality that sometimes seems rather tenuous.
It'll be interesting to see where this latest chapter in Jon Rivera and Michael Avon Oeming's surreal saga takes him and his new compatriots. Who knows, maybe we'll even find out why he has a cybernetic eye, because I still don't know…
Jon Rivera (W), Michael Avon Oeming (A), Nick Filardi (C) • DC Comics/Young Animal, $3.99
Review by Tony Ingram