It's nearly Wednesday, and you know what that means: a fresh load of comics and graphic novels! With so many publications hitting your local comics store or digital storefront, the BF staff is here to lead you through the woods with our weekly staff picks. Satisfaction guaranteed!
Don't forget we also have 25 picks of new comics from this weekend's Thought Bubble festival going up daily this week at Broken Frontier. Check here for details.
Comic of the Week
Ghost Stories of an Antiquary Volume 1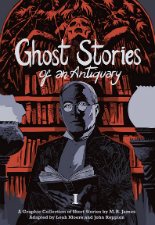 If you're already an aficionado of the work of M.R. James then you will be well aware of his arguably peerless and undoubtedly seminal approach to the ghost story form. His short stories – published in the early part of the 20th century – often revolve around the awakening of macabre forces that would have been best left alone with terrifying consequences for those involved.
SelfMadeHero have made adaptations of literary classics a staple of their output and this first volume in a hopefully ongoing series bringing James's tales to the comics pages includes some of his most chilling output 'The Mezzotint', 'Canon Alberic's Scrapbook', 'The Ash Tree' and 'Lost Hearts'. Writers Leah Moore and John Reppion are joined by artists Fouad Mezher, Aneke, Alisdair Wood and Kit Buss.
Look for a full Broken Frontier review very soon.
Leah Moore and John Reppion (W), Fouad Mezher, Aneke, Alisdair Wood and Kit Buss (A) • SelfMadeHero, £9.99
– Andy Oliver
Aleister & Adolf

Media theorist and comic book creator Douglas Rushkoff (Testament) is renowned for his incisive point of view and his thoughts on media and consciousness. His latest graphic novel, in collaboration with award-winning artist Michael Avon Oeming (Powers), delves into the secret occult war waged by the infamous mage Aleister Crowley against the black magic of Nazi Germany. A fast-paced, dizzying read, this sleek tome challenges the reader's understanding of World War Two, the Holocaust, and the use of propaganda during the conflict.
Rushkoff and Oeming expose a secret history steeped in the supernatural ritual and sex magick lurking beneath the veneer of the established historical record. Impeccably researched and gorgeously illustrated, Aleister & Adolf is a thoroughly engrossing read, all the more thrilling and frightening due to its basis in actual fact.
Douglas Rushkoff (W), Michael Avon Oeming (A) • Dark Horse Comics, $19.99
– Jason Wilkins
Motro #1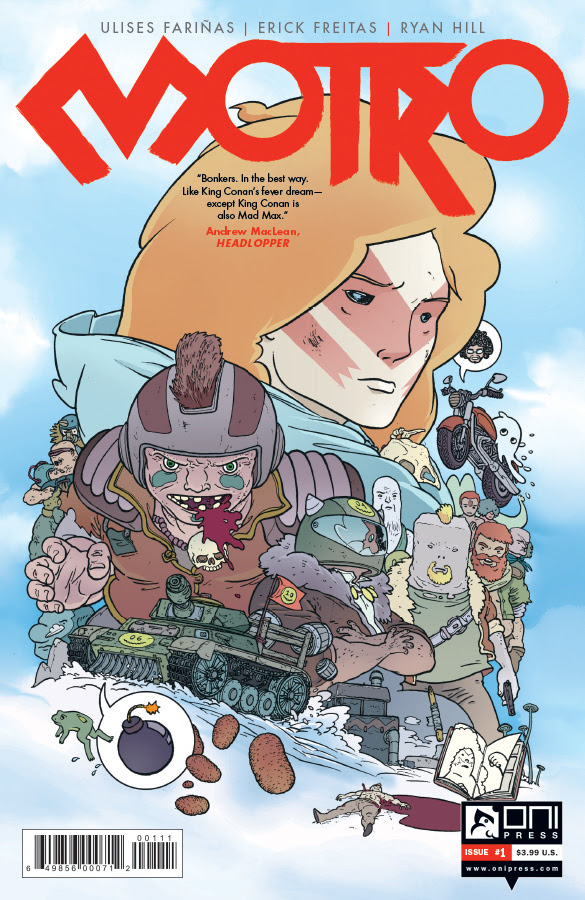 Motro is the culmination of a project Ulises Fariñas began in his twenties, but transmuted by the distance of a decade and Fariñas' ongoing artistic development in books like Gamma and Amazing Forest. With co-writer Erick Freitas and colorist Ryan Hill, this new series traces the life and times of an empathetic fantasy hero who struggles with the violence he leaves in his wake.
Each issue will jump forward in time approximately ten years to reveal how Motro's perspective and motivations change with age. In a real-life parallel, the original pages that Fariñas drew in his twenties now appear as the main character's diary pages. This first issue reveal the events which inspire Motro to pick up the sword and introduce the series' bizarro world, including a motorcycle sidekick and ghosts that feed off of human emotions.
Ulises Fariñas & Erick Freitas (W); Ulises Fariñas (A), Ryan Hill (C) • Oni Press, $3.99
– Paul Mirek
Mayday #1

This week, Alex De Campi (No Mercy) and Tony Parker (This Damned Band) offer up a chilling espionage thriller about two Russian operatives who are sent to California to kill a defector in 1971, during the height of the Cold War. The loyalty of the two operatives is tested when their mission falls apart, spiralling out of control in a dervish of sex, drugs, and violence.
As the first of cycle of miniseries exploring the Cold War through a filter of rock n' roll and pop culture, Mayday provides readers with a window into an era that still informs politics and diplomacy to this very day. This opening salvo is a beautifully-crafted introduction to the period: subversive, paranoid, and surreal.
Alex De Campi (W), Tony Parker (A),Blond (C) • Image Comics, $3.99
– Jason Wilkins