On a surface level level Richy K. Chandler's work to date has been notable for its cartoony aesthetic and cleverly comedic pacing. The long-time UK small press mainstay is known for his long-running Lucy the Octopus webcomic after all and for collaborations like Bang! Crash! Whizz! with Sally-Anne Hickman or his multi-creator Tempo Lush Tales anthologies.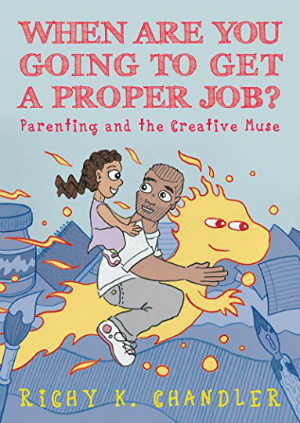 But to appreciate his comics on only that superficial layer would be to miss their broader themes. Chandler's work has a profoundness to it that often utilises the standards of traditional comic strip narratives to bring home a deeper message – whether that be the subjects of bullying and childhood isolation in Lucy the Octopus or the explorations of the power of positive change in his curated Tempo Lush anthology Tales of the Tanoox.
Chandler's first longer-form book launched just a few short weeks ago from Singing Dragon and moves his approach to social commentary from the allegorical to a more direct slice-of-life emphasis. When Are You Going to Get a Proper Job?: Parenting and the Creative Muse is the story of Tariq, an aspiring artist, and details his struggle to balance his work commitments with his family ones bringing up his daughter Natasha with wife Susan.
Accompanied throughout by Malcolm, his imaginary sprite-like muse, Tariq's days are a mix of procrastination, artistic block, bursts of creativity and child care issues. Chandler traces the highs and lows of his on-page avatar's career choice including casual dismissals of his occupation as frivolous and unimportant, expectations of work for exposure, having to take on freelance jobs in other areas to make ends meet, and coping strategies in the school holidays for a parent working at home.
The book is full of interweaved asides to the main narrative that dissect all aspects of Tariq's always packed days like the guilt-ridden time management difficulties of a creative parent's schedule, his continuing self-doubt, a relationship where one parent is employed and one is self-employed, and the experiences of both himself and fellow creatives arranging work round bringing up children. When Are You Going to Get a Proper Job? acts not just as a narrative account of the issues involved but also as something of a self-help book or informal survival guide for others in a similar situation.
Chandler utilises the tricks of the comics trade to great effect. Tariq's own work becomes a mini meta commentary on his situation, characters stroll through their own artwork and differently styled visual cutaways underline the similar experiences of other members of the cast. Malcolm, too, acts as a neat expositional tool for the protagonist to interact with in sharing his creative and familial setbacks and successes. And, throughout, Chandler's uncomplicated yet busily energetic visuals pull the reader into the lives of his characters ensuring our empathy with them and leading into a touchingly cyclical finale.
A witty yet poignant exploration of the challenges, frustrations and ultimate triumphs of juggling a creative career with the responsibilities of parenthood, When Are You Going to Get a Proper Job? is an inspiring use of the form to communicate and share experience with an ever accessible and thoroughly engaging visual approach.
Richy K. Chandler (W/A) • Singing Dragon, £11.99
Review by Andy Oliver
Richy K. Chandler is a guest speaker at London's Laydeez do Comics event on Monday January 8th. Full details on booking and location on their site here.