Some of you will undoubtedly head to the beach this summer for a relaxing holiday of sunshine and surf. But, as members of the towel-wrapped, sunburned herd tracking sand and suntan lotion through the everyday lives of the beach's year-round residents, will you stop to wonder what lurks beneath the touristy facade of the place where you spend your week of escape?
Australian writer Ryan K. Lindsay and Finnish artist Sami Kivela, creators of the superb Deer Editor, explore this very subject matter in their latest effort for ComixTribe. They've teamed up with colorist Mark Dale and The Fix's letter-man Nick J. Shaw to create Chum, a fast-paced, three-issue crime story aptly described as "surf noir". Lindsay and Kivela discussed some details behind this fantastic series recently with your writer.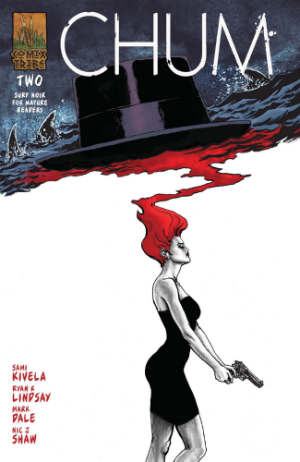 "The initial seed was me goofing around with noir hashtags, stumbling across '#beachnoir', and just having it feel right," says Lindsay. "From there, I got the island, and then started populating it with people and having them interact in my head. It was through how they all related to each other that the story was born. I can't surf, but I've lived in coastal towns a fair bit and I know the culture as it permeates Australian living. Marrying that to some sordid crime just came naturally from there."
The island to which Lindsay refers is Kingsford Island, a spot of sandy real estate that serves as a haven for surfers and ex-pats looking to flee the rat-race and adopt the beachcomber lifestyle. However, for all of its whispering-palms-and-crashing-waves allure, the island is a veritable Hotel California for those who reside there – they can check out any time they like, but they can (almost) never leave.
"Although Chum takes place in a bit of a different setting than crime stories usually do, we wanted to include some familiar noir elements in it," explains Kivela.
Lindsay explains further: "I wanted this to feel very realistic, in place and tone as well as character interactions and motivations, but there are also definite aspects of [noir] archetypes I wanted to play with: the femme, the crime boss, the worn-down cop, the journalist, the patsy. Hopefully we brought some unique spins to it, but it should also feel familiar and comfortable."
At the eye of Chum's storm is Summer, the sexy red-headed barmaid/sole proprietor of the island's local dive-bar. Having grown up on the island, she's witnessed the decline and fall of Kingsford from paradise to purgatory, and she dreams of leaving to find a better life.
But, as Chum unfolds, it becomes clear that Summer has cunningly adopted the role of the distressed damsel in need of a white knight – she's actually a cold, calculating temptress who knows how to use what she's got to get what she wants, convinced that "men are suckers for redheads and greenbacks."
Summer, it turns out, has an intimate history with some of the island's powerful men, namely Standard (the "worn-out cop" who's also her soon-to-be-ex-husband) and Penny (the island's drug-dealing crime boss). She uses her animal magnetism to bide her time until she can cook up a plan to seduce Gus ("the patsy"), a roughneck surfer who's jaded with Penny's crew, and manipulate him into killing one of Penny's bag-men in order to score a cash-filled duffle bag that will be her ticket off the island.
The unravelling of plans is often the lifeblood of a good noir plot, and Chum doesn't disappoint. As the first issue sets things up, you can feel the proverbial sharks beneath the surface circling for a feeding frenzy. Then, as things begin to fall apart for Summer, the plot takes off like a cigarette boat at full-throttle to the series' (blood-soaked) conclusion.
At the back of issue #1, Lindsay writes that "I love old pulp crime stories. So stripped back. So focused. So lean. There's a reason this mini series comes in at 3 issues: We want to move this narrative like it's a runaway freight-train. We want to get in and out and leave all of our characters broken in our wake. This is the ethos of Underwood, this is the code of the pulp."
Chum ends, surprisingly, with a bit of a question mark (sorry…you'll get no spoilers here!), as if the constraints of telling the story in three issues prevented a tidy resolution. However, Lindsay explains, "I toyed with other endings, actually, and tweaked those final pages many times before Sami ever had to lock into art mode with them, but, once this button-hook ending came to me it was simply a matter of making it work just right across those final pages for pacing and impact. This tale, these characters and their arcs, even the genre pushed me to make this whole affair terse and tight. It had to read like a 150 page pulp paperback."
The pace of Chum is remarkably refreshing to be sure, but the real strength of this series is the evident chemistry between the creative team – a component of all great comics and the main reason why it's worth your time.
"We just seem to click very well," says Kivela, whose incredible art and panel layouts have an effect on Lindsay's narrative not unlike that of the moon over the ocean's tides. "I really dig Ryan's writing, and drawing from his scripts feels very natural, comfortable, and challenging in a good way."
"I think the chemistry comes from that electric moment where I open a file from Sami and fall in love instantly," Lindsay continues. "Every panel he's ever drawn from a script of mine has propelled me to want to write 5 more pages for him. I start to see things as I know he'll create them and I get giddy, and usually the best stuff comes from him using my script as a springboard to make something even better. In short, great communication, deep respect, and an honest appreciation of each other is probably what brings all this together."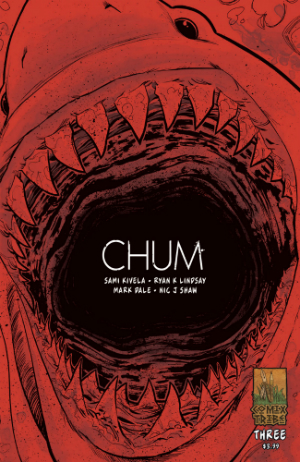 Chum delves into the murky depths of humanity's dark side. Desire, greed, regret: these things are, in essence, the chum which whets the appetites of Kingsford Island's castaways, each an apex-predator in their own right. The taut pacing and unique conclusion will undoubtedly stun readers like a lightning-fast shark attack.
So, what's next for this dynamic creative team…?
"Ryan and I are working on a new pitch as we speak," says Kivela. "We both are very excited about it, so hopefully there's more to tell sometime soon."
"I am so excited about this pitch with Sami," adds Lindsay. "He's drawn the best pages of his career so far in it. I really hope we get into a place to make this book because it's got me tingling like all those best projects make you."
If their next project is half-as-good as Chum or Deer Editor, it'll surely have readers leaping like dolphins. Surf's up!
Ryan K Lindsay's Negative Space (with artist Owen Gieni) is out in trade paperback form on July 6 from Dark Horse. And, I highly recommend subscribing to The Two-Fisted Homeopape (his weekly newsletter) for updates on his work and entertaining musings on life and culture.
Sami Kivela, who creates comics as his day job (when he's not mosh-ing to his favorite metal band), has a great blog that features his ever-growing portfolio here.