The new ComixTribe one-shot Find is the story of a young boy and the night that changes everything. With an emotional density that belies its page count, it's easy to see why this tale from writer Sam Read, artist Alex Cormack, and letterer Tyler James is winning praise from the likes of Si Spurrier and Adam P. Knave.
Most people have at least one night from which they can trace a divergence in their lives. These nights may start in different ways – coming across an old friend, taking a different (physical or metaphorical) path – but in the end they all come down to a choice that opens up a whole new realm of possibilities.
These types of story can enrapture and inspire in ways few others can, and Find falls neatly in this versatile genre. Along the way, Find also takes a close look at one young boy's love of comics and the ways in which this love transforms the way he views the world.
Broken Frontier spoke with writer Sam Read about the inspiration behind Find, the power of stories, and his own path to the issue's release.
It's not uncommon to see comics presented as an escape or retreat (especially in stories from other media), but Find showcases their power to inspire. Could you start by talking briefly about what you think makes the medium so dynamic?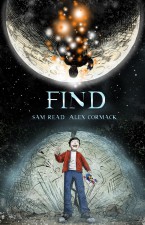 Sam Read: For me, comics communicate with their readers – especially younger audiences – in a really interesting way. Thanks to the visual element, they don't necessarily require the same sort of sophisticated understanding of language that prose sometimes can do in order to get immersed, yet unlike film or television they still involve having to apply your imagination to proceedings.
It's an active experience, and one that I think can be pretty intense at a young age. This means profound themes can be dropped in through using the aesthetics, helping to give readers access to concepts that might be trickier to absorb from more passive story forms.
As for being viewed as a retreat; I've always thought that, unlike cinema or TV, you can't watch a single comic simultaneously with a group. A book spoken out loud can be a shared experience, but I don't think a comic can be communal in the same way; everyone takes in the information on the page a little differently.  So perhaps that plays some role in the way comics are viewed; you really go into them and experience them alone.  And I find that pretty exciting.
In Find, you and Alex Cormack tell a very nostalgic kind of tale – not only in terms of setting and influences, but also in the way you present a fully-formed world over the course of a single issue. How did you determine that the one-shot format was the best fit for this story?
Sam: Ever since I began writing for comics I've worked on shorts; starting out with three-page pieces in anthologies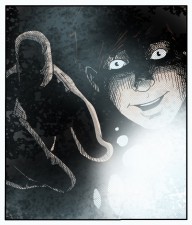 by the Glasgow League of Writers, and progressing to producing a number of varying length with the excellent US publisher Grayhaven Comics, for their Gathering series of books.
From this I got hooked on process of breaking down an idea to its core elements and working out how to deliver that to an audience. In Find, this central theme is how the experience Teddy has changes him, and how he carries that change through his life.
It's hopefully going to have people think about similar moments in their own lives; we've certainly all had moments impact on us like that (I know I have). As such, the format helps to leave a certain degree of ambiguity about Teddy's life; what we learn about him is really limited to how he reacts to events, and hopefully helps people relate to him and put themselves in his shoes a little.
One of Find's main themes is the conflicting perspectives between children and adults, the latter exemplified in Teddy's parents as well as in the reaction to his "discovery". What was it like contrasting these very different viewpoints during the development of the story, given the fact that it's not always easy to hold onto a natural curiosity like Teddy's after childhood?
Sam: There are definitely contrasting perspectives about how to go through life present in the book, and some of those come from characters of different ages, but I don't know if I'd set out to make it reflect a conflict specifically.
In Find there is a lot of the DNA from a certain type of film I grew up watching as a child, like Explorers and Stand by Me. They tended to drop you into the lives of young people, often experiencing some kind of change, with the fantastic elements often working as stand-in for more grounded, real-life equivalent events.
What really set these films apart in my eyes was that they tended to be firmly from the perspective of the young people who the stories centred on. They didn't delineate between the life of 'adult' or 'kids'; they just showed how the world was to their protagonists, and the results of them interacting with it, including things like consequences.
It's one of the things that I think can sometime be missing in books 'designed' for or aimed at kids; the corners get sanded down, or they are so far removed from reality as to be complete and utter escapism, without trying to make their (young) audience think at all.
Find is set up to reflect the nature of those old films, where the attributes you mention like curiosity aren't seen as 'childish', just characteristics. The aim was to try and make something sincere but kid-friendly and not twee, and to perhaps consciously avoid cynicism; I guess we'll have to see if that resonates with people when it hits the shelves!
Alex Cormack is tasked with illustrating both the mundane and the magical in Find, and delivers wonderfully. What led you two to this collaboration?
Sam: I first saw Alex's work in Comixtribe's first Oxymoron anthology, and when the opportunity to put together a book with them came up, so did the chance to work with Alex.
He has such an incredible range; he's able to come up with such imaginative designs, as well as poignant emotional moments. But, above it all, he is a brilliant storyteller. I'm not too proud to say that much of Find's strength comes from Alex's art.
I'd encourage everyone to familiarise themselves with his other work, such as Future Proof with Bliss on Tap and the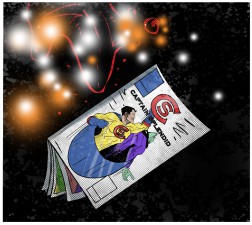 upcoming Oxymoron: The Loveliest Nightmare mini-series written by Tyler James and John Lees. Alex really already has all the skills in place to go as far as he wants in comics; he is truly brilliant.
While this is your first release through the international direct market, you previously self-published four issues of your title Exit Generation. Could you describe your experience in the UK small press scene, and the channels which led you to this project with ComixTribe?
Sam: I feel like I'm a pretty new face in UK small press comics, in all honesty; I only released my first self-published book (Exit Generation #1) at Thought Bubble 2013, with the fourth and final issue being released at the same event in 2014.  So it's only about 18 months or so I've been involved in creating comics.
I think that the UK really has a phenomenal energy for the medium right now; it's really inspiring. Since I stared making comics, I've met so many talented and enthusiastic folks.  People are really encouraging of one another too, and for me it is that aspect that keeps me getting back behind the keyboard and trying to put out the best work possible.
As for Find going out via a US publisher; I mentioned previously that I started my writing for comics with Glasgow League of Writers. It was there I met John Lees (who many will know from his and Iain Laurie's And Then Emily Was Gone), who was at that stage working on his series The Standard with Comixtribe.
Later, when they were producing their first Oxymoron anthology, the chance to create something new and original with them came up. So Find was developed by working with their team; everyone at Comixtribe is a creator themselves, so I was able to draw on their knowledge and skills, which was a brilliant experience. Much of their great insight and advice can actually be found on their website, if people were interested.
You're a frequent attendee at conventions like Dublin International Comic Expo (DICE) and Thought Bubble. Considering the newly available digital channels that are available, as well as the rapidly increasing number of conventions, what are the most important benefits you see to being in-person at these events?
Sam: There really is no experience like setting up at an event and having someone who has never heard of you before come over, enjoy what they see from a book you've worked on, then purchase it. Really; no other sensation comes close for me. It is the most motivating thing.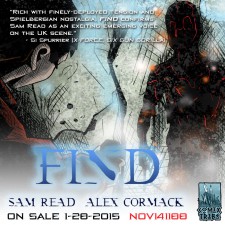 Obviously, that helps me to keep on keeping on when it comes to writing and organising projects, but there are more practical benefits too. You get the chance to meet other creators at various levels; folks with their first books, and professionals working both on their own work and for others. There is a massive amount of knowledge that you can draw on across the full spectrum, and that is probably the best resource available for creators at events.
Although I'm usually too busy nowadays at my table to get away and go to them, I've always found panels and talks great for improving my learning about the craft and business of making comics. Back in 2013 I went to the excellent Dublin International Comic Expo, and a talk that year called 'Breaking into Comics' was one of the single most important experiences for me in terms of getting to grips with writing for the medium.
Do you have any other projects in the works following Find? Where should fans look for you next?
Sam: I'm lucky enough to have several different things underway with some really talented folks just now, and although I'm obviously really keen to see what the world thinks of Find I am also excited to see what people will make of the new and pretty different work I have lined up.
As mentioned before, I self-published Exit Generation across 2013-14, and I'm open about the fact I think that the work put into that by the team of Caio Oliveira, Marissa Louise, Ramon Villalobos, Ruth Redmond, Colin Bell and Adam P. Knave deserves a wider audience than I can give it through just putting it out myself, so I am hoping we'll see that on the direct market this year.
But people can keep an eye on me via Twitter (@bronzetrex) and my blog (samreadwrites.com); those'll be the first places I announce new stuff!
Find #1 goes on sale on January 28, with a cover price of $3.99.