ComixTribe has provided BF with their pre-order information for shipping in November 2103.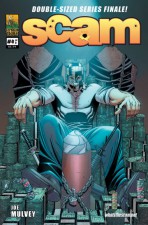 SCAM #4 (of 4) FINALE
WRITER: Joe Mulvey
ARTIST: Joe Mulvey
COLORISTS: Chris Sotomayor
LETTERS: AndWorld Design
EDITOR: Steve Colle
PUBLISHER: ComixTribe
PRICE: $3.99
RATING: Teen + Up
FORMAT: 48 pages, color (#4 of 4 mini series)
Double-sized Series Finale!
With Crosswords preparing for all out war, and Tru's plan hanging by a thread, the team of super-powered conmen must decide whether to fold or go ALL IN!  When the dust settles, will anyone be left standing in Vegas?
Diamond Code: SEP131049
SCAM is "X-Men meets Oceans 11″ and involves a team of super-powered grifters on the biggest con of their lives… taking down a Vegas casino and getting revenge on a former teammate who double-crossed them.
Two Variants Available!