Sci-fi fans are used to visions of the future that are less than ideal. Sam Read and Caio Oliveira's Exit Generation pivots the other way, imagining a future that's truly a "paradise". However, it turns out that even heaven can be a teenage wasteland, as one bored punk has to face the galaxy's most voracious carnivores.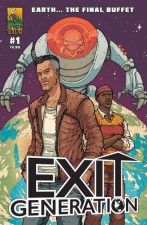 Jack is a twenty-year-old orphan who's never known his parents, growing up on a fertile Earth devoid of war and famine. His father left before Jack was born, as part of the EXIT project – an intergalactic evacuation of 95% of the planet's population in response to worldwide rioting and resource crises (conveyed in a terse but effective spread that has the feel of a historic record). Jack's mother remained, only to flee and leave her newborn son in the care of family friends.
Like Peter Quill in a certain Marvel summer blockbuster, Jack finds solace in the music of the past (particularly the Dropkick Murphys), as well as classic action films ("Because they're full of excitement, danger, explosions and crazy," he tells his adoptive brother. "All the awesome things you never see anymore.") This interest in the transformative power of the stories we love is a recurring theme of Read's; in his earlier one-shot Find, a childhood love for comics sets the tone for a young boy's life.
You don't have to be a fan of the material Read references to enjoy Exit Generation, but it certainly doesn't hurt. There's a kinetic energy to this first issue that should be familiar to anyone who's ever turned their headphones up loud to escape from reality, mundane or otherwise.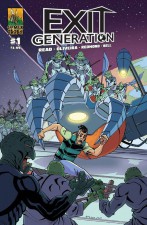 Given that this first issue covers over half a century in its 22 pages, the art team of Caio Oliveira (Super Ego) and Ruth Redmond (Deadpool) deserve kudos for their versatile storytelling. The pair are equally adept at capturing the gaudy landscapes of pre-EXIT Earth and its pastoral aftermath. In the best DIY tradition, Oliveira pares his penciling down for a style that's lean but effective. His well-drawn characters occupy the foreground for the most part, but he's also capable of packing crowd scenes with a surprising amount of detail (as in the bright lights of a downtown metropolis).
Exit Generation has a difficult balancing act to pull off, juxtaposing popcorn cinema theatrics with realistic emotional drama. In this first issue, the book feels at its strongest when it's at its most over-the-top, especially in the introduction of the series' main antagonists, late in the issue.
Some may find its idyllic vision of Earth hard to swallow; Jack's restlessness is itself proof that plenty of wide open spaces isn't always enough to soothe humanity's deeper longings. But you can't deny the beating heart at the core of the series. This is clearly a team dedicated to making comics they love, and that's good news for everyone – and yet another indication that ComixTribe is a publisher worthy of consideration.
Sam Read (W), Caio Oliveira (A), Ruth Redmond (C) • ComixTribe, $3.99, September 23