To open a new book like The City of Belgium by Brecht Evens is the equivalent of breaking out a bottle of fine wine: It marks a special occasion, warrants careful consideration, and is best savoured slowly. Those familiar with the work of this award-winning Belgian illustrator will have a very good inkling of what to expect, but it is new admirers who stand to benefit most, because one can almost imagine the surprise and delight flickering across their faces when confronted with his lush, almost dreamlike approach to storytelling.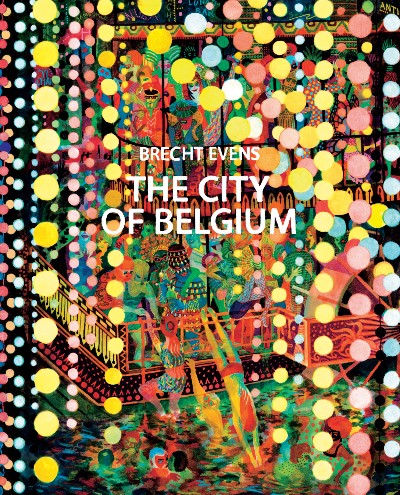 The City of Belgium can be obliquely described as three intersecting stories, with the city in which it is set occupying a prominent fourth role. None of these tales follows a linear path, in the sense that there is no clearly defined resolution. One follows a designer named Jona who is preparing to leave for Berlin but wants one last raucous night on the town; the second involves a perennially ill Rodolphe who fights misery to embrace life; and then there is Victoria, trying to break away from the stifling influence of her sister and husband. Each of them has a motive, trying in their own way to snatch a few moments of happiness from a place that promises it all but doesn't necessarily deliver.
Other characters appear and disappear: the odd hypnotherapist, a couple of gangsters, even representatives from Evens's earlier work like Panther.
This isn't a happy book, in the sense that it leaves one more with a sense of foreboding than well-being. It is undeniably moving though, teetering just on the edge of something unpleasant and otherworldly, using techniques that Evens has long managed to master. His use of colour, for instance, has always made an instant impression, partly because he has admitted to associating specific combinations with emotions or characters, and partly because the retro hues and tones clash in strange and unpredictable ways, upending traditional notions of what a comic must look like.
Evens once detailed his approach at length in an interview, explaining how he worked in stages, starting with a sketch, moving to drawing, then adding layers of transparent colour inks to create an image of light as well as space. What one is left with, as a result of this technique, is something that seems almost deliberately unfinished on some pages, as if to compel a reader to fill in the blanks. The City of Belgium is also written in this manner, with more left unsaid than said, leading to the approximation of a fever dream rather than a straightforward narrative.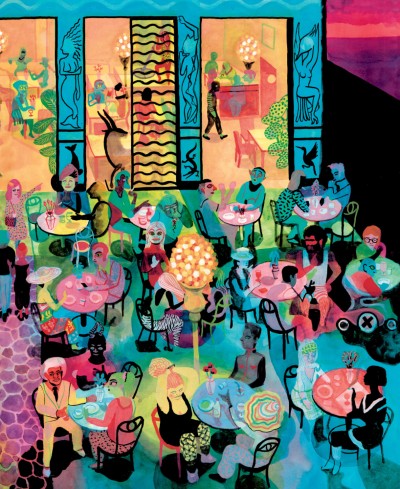 Ultimately, it functions as a work of art, an attempt to make a medium bend to its creator's will in ways that can stumble, but almost always work. When everything clicks—such as the double-spread panels less than 15 pages in, depicting patrons at a popular restaurant sitting indoors and spilling out onto the patio— one can't help but be overwhelmed at the ease with which Evens deploys his skill as an artist and colourist. Each of his figures is captured in a moment of action, some clearly defined, others fluid. Some have colours that make their faces pop; others wear distinct expressions that convey the existence of interior lives.
Taken together, it is a bit like magic, just one more addition to a body of work that has only grown stronger since The Wrong Place made him famous over a decade ago.
Brecht Evens (W/A) • Drawn & Quarterly, $34.95 CAD/$29.95 USD
Buy The City of Belgium online here
Review by Lindsay Pereira