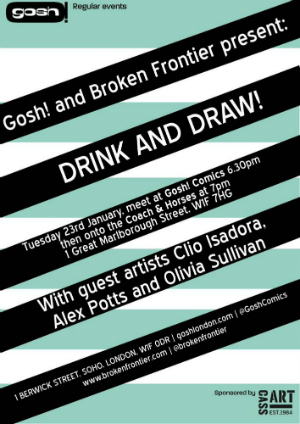 The first Gosh! Comics and Broken Frontier Drink and Draw of 2018 is nearly upon us! And what a cracking line-up we've got for you next Tuesday January 23rd as Alex Potts, Olivia Sullivan and Clio Isadora join us for an overdue spot of imbibing and illustrating…
As usual we're at our regular home, upstairs in the Coach and Horses pub on Great Marlborough Street and, as ever, your co-hosts for the night are myself (Broken Frontier Editor-in-Chief Andy Oliver) and Gosh's very own Nora Goldberg. The evening begins at 6.30pm at Gosh on Berwick Street before we head off for our sketching and drinking antics at 7pm. Don't forget you can join the official Facebook event here.
Alex Potts is a true mainstay of the UK small press scene whose work has a darkly comedic tone to it. He's been a frequent contributor to anthologies, perhaps most notably in the pages of the fondly remembered The Comix Reader but also in books like A Bit of Undigested Potato, Dirty Rotten Comics and our very own first Broken Frontier Small Press Yearbook in 2016.
Alex has self-published a number of comics including Underpants and Hand. In 2014 his comic A Quiet Disaster – a bleakly comedic account of an unsuccessful day off work – was published by Avery Hill. The South London publisher also released Alex's first graphic novel It's Cold in the River at Night last year. I reviewed this fatalistic psychological drama that combines existential angst, boat-shaped coffins and a house on stilts here earlier this week.
Olivia Sullivan was one of our Broken Frontier 'Six Small Press Creators to Watch' for 2017 and was also nominated in the Best One-Shot category in the 2017 Broken Frontier Awards for her first longer-form work SID from Good Comics. I first spotted Olivia's work a few years back in anthology series Dirty Rotten Comics and was intrigued by the constant experimentation in her practice in comics like The Nose: Uncovered and Annotated (an adaptation of a Nikolai Gogol short story) and her autobiographical I Drank Holy Water (below).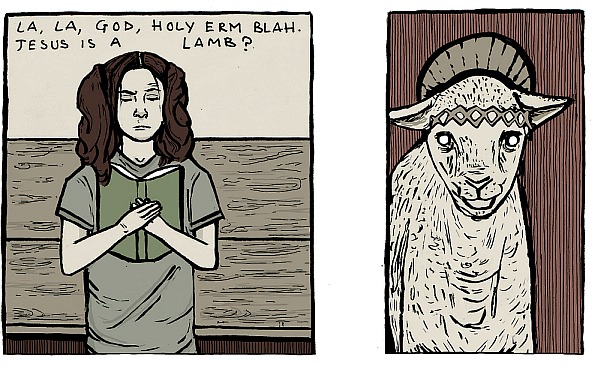 I said of SID (below) last year here at Broken Frontier "Olivia Sullivan has struck me as an artist on a determined journey of creative self-discovery, constantly developing by refining and experimenting with her craft. SID is her finest offering to date – an intense, sprawling, psychological journey through a fractured mindscape from a truly unique new voice on the UK indie scene. The remarkable Olivia Sullivan speaks the language of comics with a dialect that is all her own."
Our third guest artist is London illustrator Clio Isadora who has been featured in Style Bubble, Beware Magazine and Printed.com. Clio has self-published the comics Damp Candy – Dribble Kisses and Damp Candy – Mouldy Feels. She describes Mouldy Feels as "a sad and spicy risograph comic on being into deep in a casual relationship" and Dribble Kisses as "a short comic about a future existential crisis in a nowhere town. Check out her expressive cartooning style below.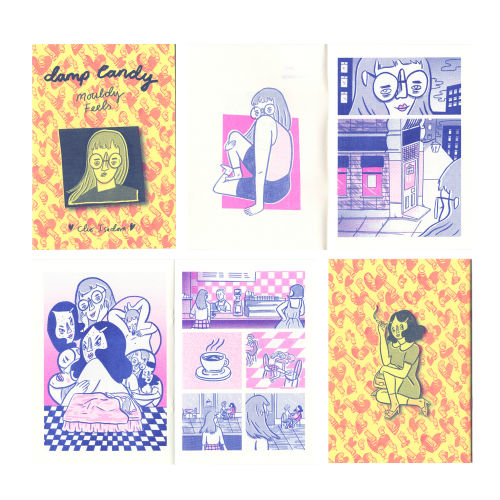 Join us on Tuesday January 23rd, then, for another fun evening of drinking, drawing and comics camaraderie. We kick off at 6.30pm in Gosh with a chance to get hold of signed comics and books from all our featured creators before moving over to the The Coach and Horses for 7. We look forward to seeing you then!