It's Thought Bubble, and you know what that means: a fresh load of debut small press comics and graphic novels! With so many publications hitting the festival tables, BF's resident small press specialist Andy Oliver is here to lead you through the woods with his Thought Bubble staff picks. Satisfaction guaranteed!
Comic of the Festival
SID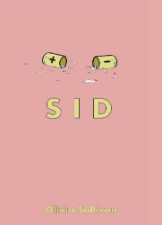 Olivia Sullivan is one of our 2017 Broken Frontier 'Six Small Press Creators to Watch' but her presence on the site throughout this year has been limited to anthology appearances. That's because the Dirty Rotten Comics contributor has been working away this year on her first longer-form graphic narrative and it was well worth the wait! Because SID is an outstanding comic from a remarkable new voice on the UK indie scene.
A journey into one man's mental detioration this is a triumph of recurring motif, visual metaphor and raw pathos. Graphic medicine unlike any you will have read before it's without a doubt the breakout comic that signals Olivia Sullivan's position as one of the most exciting new talents on the UK indie scene in many years.
You can read a full review at Broken Frontier here.
Olivia Sullivan (W/A) • Good Comics, £9.00
Buy it from Good Comics at Table 36 in the Cookridge Street Marquee
Cafe Suada Cup 6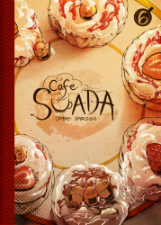 Jade Sarson's For the Love of God, Marie! won the Myriad First Graphic Novel Competition in 2014 and was hugely acclaimed on its publication last year. Before she was chronicling Marie's adventures though, Sarson was providing us regular webcomic updates on the sprawling cast whose adventures revolved around the Piyo Piyo tea house and the next door Dark Moon coffee house.
The series began as a romcom rivalry between shop owners Geraldine and Ewan but has evolved into so much more. Cup 6 in the series has been a little while coming in print but Sarson's gorgeous visuals and character-led storytelling are worth the wait.
Jade Sarson (W/A)  • Self-published
Jade is at Table 160 in the ComiXology Marquee
Self-Care and Vegetables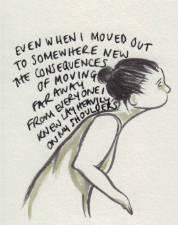 Rozi Hathaway won the Breakout Talent category in the 2016 Broken Frontier Awards so that should be reason enough for any regular BF reader to check out her latest minicomics offering at Thought Bubble this weekend.
Hathaway has become renowned for her short narratives on themes of belonging, loneliness and discovery through the use of magic realism, often centring on the world being seen through younger eyes, and also for her stunning use of colour.
This year has seen her practice move and evolve as she's explored more personal themes, notably in Cosmos & Other Stories from Good Comics. Self-Care and Vegetables is an autobio offering that deals with the consequences of a difficult and fractious break-up. This is Hathaway work with a raw honesty unlike anything you may have seen from her before. Highly recommended.
You can read a full review at Broken Frontier here.
Rozi Hathaway (W/A) • Self-published, £3.00
Buty it from Rozi Hathaway at Table 37b in the Cookridge Street Marquee
Habitat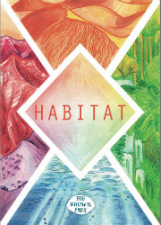 It's such a pleasure to see so many of our Broken Frontier 'Six to Watch' creators at Thought Bubble this year but it's also equally wonderful to see so many of them between the covers of this anthology offering from the Big Brown Eyes Collective (comprising sisters Freya, Karis and 2016 'Six to Watch' artist Emily Lambert).
Combining short comic strips and "narrative illustrations" this collection of stories is based on themes of home environment, the spaces we inhabit and our relationships with them. It includes work from Peony Gent, Emma Raby, Anja Uhren, Rozi Hathaway, Joe Latham, Myfanwy Tristram and many more.
You can read a full review at Broken Frontier here.
Anthology – Various creators • Big Brown Eyes Collective
Buy it from the Big Brown Eyes Collective at Table 82a in the Cookridge Street Marquee
Cindy & Biscuit: Sundays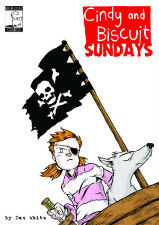 With multiple British Comic Award nominations and widespread critical acclaim Dan White's Cindy & Biscuit is an all-ages delight. It follows the adventures of one little girl and her canine chum as they fight ghosts, monsters and aliens in their local neighbourhood.
An often poignant and touching series this is one of the truly great treats of the UK small press world. The latest entry takes place on a number of Sundays throughout the year and is an absolute Festival must-buy.
Dan White (W/A) • Milk the Cat Press
You can find Dan on on the Mindless Ones and Silence! table at Thought Bubble – #76 in the Cookridge Street Marquee
Street Dawgz: Boxlife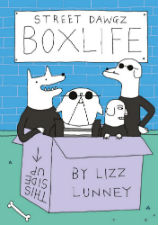 Lizz Lunney's last foray into the world of her Street Dawgz characters – a colourful canine crew consisting of Jekyll, Ian, Dingo and Rossetti – marked an interesting experiment for her practice. Lunney presented the book without editing refinements, using it as an exercise in capturing her creative process, mistakes and all, in its open and honest glory. As she said at the time it allowed the "energy and mental anguish of the first time the pen hits the paper" to be retained in the end product.
She returns to the misadventures of the foursome in a new minicomics this weekend at Thought Bubble that sees the gang dealing with "housing" issues, social media and a feline interloper. Lunney's comic always have something more profound than the surface level hijinks and it's great to see her return to Leeds after a couple of years away.
Lizz Lunney (W/A)  • Self-published
You can find Lizz at Table 52 at the Cookridge Street Marquee