THOUGHT BUBBLE 2023! One of the joys of our Thought Bubble coverage is not just in discovering new artists through review submissions but also in being able to point people in the direction of creators or projects that they may not have experienced before. Colossive Press's Colossive Cartographies are a series of creator-focussed zines with a tactile, fold-out quality that have now reached their fiftieth edition. They allow artists from multiple disciplines to showcase their practice, with a large number of contributors coming from the small press comics world. The latest issues #49 and #50 – both of which are undeniably comics – will be available for your consideration at Thought Bubble 2023.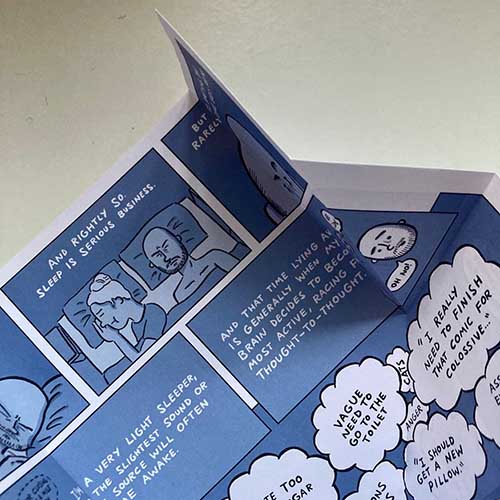 Colossive Cartographies #49 comes to us from UK indie stalwart Joe Stone and has the playful title 'Sleep Less'. Stone's comic strip deals with the problems of light sleeping and insomnia and is presented with his signature accessible but cleverly constructed cartooning style. Stone's comics always display considered use of the tools of the form and here his uses of speech balloons and lettering to portray the overwhelming nature of the thoughts that keep him awake at night is exemplary. This is also a very witty entry in the series with the folds of the zine giving Stone an opportunity to further elaborate on the causes of his sleeplessness.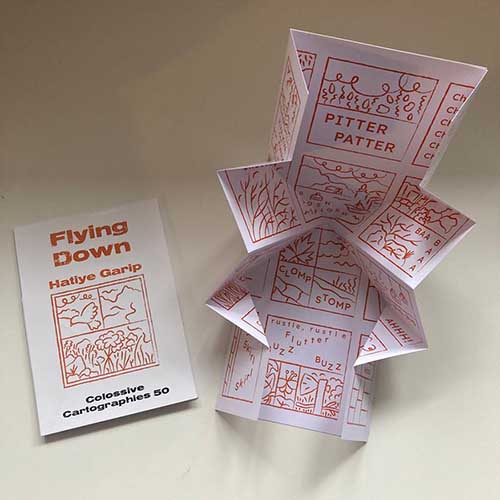 In the landmark issue #50's 'Flying Down', Hatiye Garip coincidentally also uses lettering and sound effects as a major storytelling device; one that is supplemented by this being the first multimedia comic in the Colossive Cartographies series. A QR code allows the reader to also listen to the onomatopoeic single panel scenes – the swooshing of wind in the branches, the ringing of bells, the buzzing of insects and so on. The fascinating exercise here for the reader is seeing how their interactions with the page change from reading it without sound and then re-reading it with the audio accompaniment.
You can read our previous coverage of the series here at Broken Frontier and I would recommend perusing the list of UK small pressers included ready for attending Thought Bubble this year. The Colossive Cartographies are one the true gems of the UK indie publishing scene and they're waiting for you in Harrogate this November.
Joe Stone, Hatiye Garip (W/A) • Colossive Press, £2.00 each
Colossive Press are at Table A6 in the Redshirt Hall at Thought Bubble 2023
Review by Andy Oliver