THOUGHT BUBBLE 2023! Our reviews and interview coverage of Thought Bubble takes a quick sidestep today with news about the TB Art Trail in Leeds City Centre. Details in the press release below.
THOUGHT BUBBLE FESTIVAL LAUNCHES LEEDS CITY CENTRE ART TRAIL
CITY WIDE COMIC ART EXHIBITION LAUNCHES ANNUAL FESTIVAL AND CONVENTION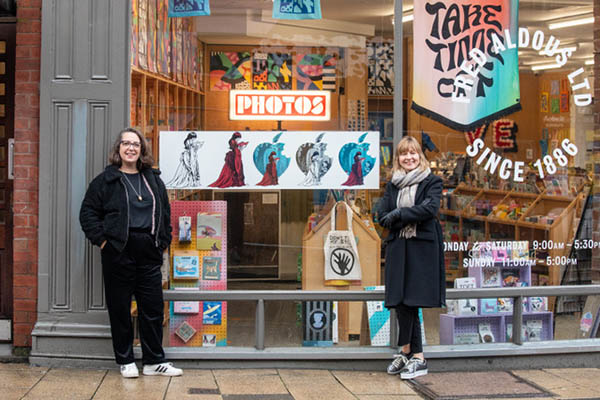 Martha Julian (Thought Bubble) & Karen Butler (LeedsBID) with one of the sixteen pieces – Credit: Hanglands
Acclaimed comic art festival Thought Bubble are set to launch their week-long festival & convention championing comic art and culture, taking place across Leeds & Yorkshire between 6th – 12th of November. Teaming up once again with partners LeedsBID, Thought Bubble Festival 2023 has a programme packed full of talks, workshops, exhibitions, public art installations, film screenings, venue takeovers and much more.
Getting Leeds in the comic book spirit ahead of the festival is the city-wide Art Trail installation, which opens today. A large-format exhibition celebrating all of the images commissioned by the festival each year by renowned and ground-breaking artists including Becky Cloonan, Tula Lotay, Choo, Natalie Andrewson and many more; the 2023 Art Trail will be hosted across sixteen independent and much loved venues throughout the city centre.
The Art Trail aims to introduce the city to comic art whilst encouraging visitors to explore and experience the best that Leeds has to offer, with large-scale, high-quality prints installed at Miles and Co., OK Comics, The Belgrave Music Hall & Canteen, Kapow Coffee, Crash Records, Northern Guitars, Water Lane Boathouse, The Bookish Type, Nation of Shopkeepers, Jumbo Records, Travelling Man, Fred Aldous, North Taproom, Eat Your Greens, The Social Bar, and Outlaws Yacht Club.
Kicking off officially on Monday 6th November, the week-long Thought Bubble Festival includes exclusive events such as Vice Press presents: Batman (1989) in partnership with Everyman, which sees the renowned printmakers bringing an exclusive selection of limited edition art posters and prints alongside a special screening of the film; the official UK Launch Party of radical new comic publishing house DSTLRY who aim to create a more sustainable and equitable future for creators, and an informative and empowering talk in collaboration with Leeds Arts University's Creative Networks series featuring the multiple Eisner Award-winning ND Stevenson and Forbes' 30 Under 30 Molly Knox Ostertag.
Amongst much more, Thought Bubble will also be taking over the newly renovated Hyde Park Picture House for an animation inspired all-dayer in partnership with Leeds International Film Festival, The British Book Awards Illustrator of the Year Dapo Adeola will be hosting a family-friendly comic book character draw-along and Free Comic Day makes a welcome return on November 10th when, thanks to Diamond Comics, libraries across Yorkshire will have a wide selection of all-ages graphic novels to give away.
Thought Bubble Festival leads up to the internationally acclaimed Thought Bubble Comic Convention. Now in its sixteenth year, Thought Bubble is taking over Harrogate Convention Centre over 11th – 12th of November to gather together some of the most influential writers, artists and creators in the world, whilst also celebrating Britain's own grassroots comics community. Alongside iconic guests including Jeff Lemire, Jock, Zoe Thorogood, Jason Aaron and Becky Cloonan, Thought Bubble Convention 2023 will be packed with panels on everything from classic comics to contemporary offerings as well as invaluable Q&As for budding creators and seasoned aficionados alike and, of course, more artwork and memorabilia than you can imagine.
Tickets for Thought Bubble Comic Convention are on sale now with under 12s, carers and over 65s tickets totally free. Tickets give access to all events within the comic convention weekend; panels, workshops, guest signings, as well as the three huge halls of over 400 exhibitors, publishers and much more.
Martha Julian, Thought Bubble Festival Director said:
We're as proud as ever to be bringing this week-long celebration of comics to our beloved city of Leeds. The art trail in particular will take visitors round some of our favourite haunts, displaying some incredible images from the past 16 years of Thought Bubble. Our aim is that the festival has something for everyone – from die-hard fans, to those who have never picked up a comic before! We can't wait to see everyone.
Karen Butler, LeedsBID Director of Place & Engagement said:
"It will be great to see shops and venues across Leeds city centre animated with comic art, celebrating Thought Bubble through the years while paying homage to its origins in its hometown of Leeds."
–
For full programme, guests and events please visit:
https://www.thoughtbubblefestival.com
Press For Thought Bubble:
"The highlight of the year for comic, animation, games and film fans across Yorkshire and beyond."
The Big Issue
"So many cool guests! We got up to some really cool stuff"
WhatCulture
"this is a weekend in the comics calendar that is as much about the people attending as their chosen art form and that sense of comics community was evident throughout"
Broken Frontier